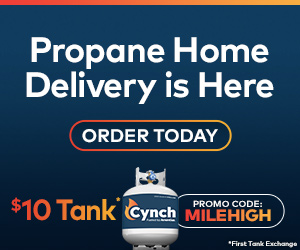 We're truly into the heat of the summer and now is that essential time when grillers and party entertainers alike have one job: jostle the propane tank. You know that feeling. After weeks of flipping burgers, grilling veggies, and lighting your fire pit under the stars, that reliable propane tank is reaching the end of its propane supply. The last thing you want to do is run out of propane while grilling or spending time with those you care about the most around the fire pit. Unfortunately, that typically means having to drag that propane tank to your car, toss it in the trunk, drive it to the nearest convenience or hardware store, wait in a never-ending line, only to do it all over again home. Who has the time? Thankfully, you don't have to any more.
Our friends at Cynch, propane home delivery, come to your house, pick up your used tank, and leave a fresh tank at the location you select – whether it's your driveway, doorstep, or porch. No muss. No fuss. Just a fresh propane tank to fuel your grilling and entertaining needs all summer long. New Cynch customers can now get their first tank exchange delivered for just $10 when you use promo code MILEHIGH at check out. The best part of this offer is that your first Cynch tank exchange is less than half the cost of an exchange at your local convenience or hardware store. Now it only takes 5 easy steps to have your propane tanks right at your door – what more could you ask for?
Go to www.cynch.com.
Enter your zip code.
Order your tanks.
Select a delivery date.
Set out your used tanks for exchange.

It doesn't get any easier than that.

Summer provides arguably the most opportunities for friends and family to come over for days around the grill and nights around the fire pit. Don't let running out of propane under the stars spoil your evening. Grill master, amateur astronomer, BBQ enthusiast, whichever category you fall into, there's a solid chance you have been in this position before or are looking for another way to make an inconvenient task into a stress-free one. Convenient and reliable, Cynch is propane tank delivery on your time and schedule. Sit back, relax, and feel enjoy the stress-free experience of knowing that Cynch will bring you a fresh propane tank while you stay cool with the AC cranked up as high as you like it.
If you don't have a propane tank to exchange, or just want to add an extra propane tank to your rotation, you're in luck! Cynch will deliver a fresh tank with no exchange required for just $59.99.
If grilling on a steamy summer day doesn't sound like your ideal summer experience, that's not a problem. There are so many ways to utilize propane for your backyard entertaining. Besides, we all know grilled food tastes just as good long after the summertime festivities have ended. Cooler weather in the evening means more chances to spend time with family on the patio around the fire table. Once you have your Cynch account created, future orders are even easier. Gather your favorite people around a fire pit without having to prepare yourself to chop wood, as well as the looming chore of cleaning out ashes. Cynch can deliver propane to fuel your clean fire pit. Even better, a propane fire pit takes less time to prepare, which makes it a great option for spontaneous meetups with friends and family!
Our friends at Cynch are the masters in utilizing propane in a variety of ways. The thing that sets them apart from industry competitors is their incredibly affordable and convenient propane delivery service.
Cynch wants to make your propane delivery hassle-free, so enjoy the convenience of getting the tank delivered and having someone else do the heavy lifting for you. Go to cynch.com to get started, so you can keep your mind on the question that really matters: what are we grilling? Give them a try today using our promo code MILEHIGH. *
*Plus sales tax where applicable. Valid through 9/30/21. Offer valid in Cynch service areas only. Certain restrictions apply. Click here for details.
Bob Wankel
Sours: https://milehighsports.com/propane-delivery-by-cynch-is-finally-here/
Cynch Propane Tank Delivery
Frequently asked questions
Where is Cynch available?
CURRENT:
Philadelphia PA, Phoenix AZ, Houston TX, Miami FL, Orlando FL, Tampa FL, San Diego CA, Sacramento CA, San Jose CA, Oakland CA, San Francisco CA, Los Angeles CA, Jacksonville FL, Las Vegas NV, San Antonio CA, Seattle WA
COMING SOON:
Portland OR, Charlotte NC, Long Beach CA, Denver CO, Baltimore MD, Boston MA, Chicago IL, North New Jersey, Pittsburgh PA, Minneapolis MN
Do I need to be home to receive a propane tank delivery?
Nope, it's easy...just give us instructions on where to leave your spare tank or access the tank you will be exchanging to help the delivery technician make the exchange or delivery efficiently. We are unable to provide delivery time windows, so it is important that you leave the tank in a secure location our driver can access, such as your driveway, in front of your garage or on your front porch. We will ask you to choose where you will be leaving your tank in the check-out process (just like package deliveries).

Is there an ongoing commitment once I try Cynch?
Not at all! There is no subscription or commitment to use us. But we hope you'll love the convenience so much that you will order again! In fact, once you've set up an account, your next order "is a Cynch"!
Can I exchange other brands' grill tanks?
Yes, but it must be a standard grill-sized tank. If you don't have an empty tank to exchange, you'll need to order a spare tank from us.
All FAQs
Sours: https://www.amerigas.com/propane-grill-tanks/cynch-propane-tank-delivery
Cynch Propane Grill Tank Delivery Straight To Your Door
Check availability to see if we are in your area.
1
Enter your delivery zip code
2
Order a propane exchange and/or spare propane grill tank(s)
3
Select your Cynch delivery date and drop off location
Cynch Propane Delivery Locations
Atlanta, GA
Austin, TX
Charlotte, NC
Chicago, IL
Dallas, TX
Denver, CO
Houston, TX
Las Vegas, NV
Los Angeles, CA
Miami, FL
Oakland, CA
Orlando, FL
Philadelphia, PA
Phoenix, AZ
Sacramento, CA
San Antonio, TX
San Diego, CA
San Francisco, CA
San Jose, CA
Seattle, WA
Tampa, FL
Washington DC
Cynch For Business
Cynch brings the gas to you! Whether you're a restaurant with patio heaters, a golf or pool club with community grills, or a paving company using propane torches, we can save you time and money with our flexible and economical delivery options.
Get a Commercial Quote for Cynch
Have you joined our referral program yet?
Friends don't let friends drive to the store to get their propane tanks. We have great offers for you, your friends, and your family to enjoy!
Sign up today! for Cynch
Powered by
Sours: https://www.cynch.com/
Cynch Propane Home Delivery How To
New No-Contact Delivery Service for Propane Grill Tanks Arrives in Chicago Area
VALLEY FORGE, Pa., May 28, 2021 (GLOBE NEWSWIRE) -- AmeriGas Propane – Today Cynch, the propane grill tank delivery service, announced its expansion into the Chicago market. During a time of increased demand for propane grill tanks, customers in the Chicago area can now schedule convenient no-contact propane tank delivery directly to their door through the company's website (www.cynch.com).

Launched in the spring of 2019, Cynch serves a rapidly growing number of select markets across the country with propane tank delivery for grills, patio heaters, fire tables and generators. The service arrives in Chicago just in time for the official start of barbecue season.
"We know people have had enough problems on their minds over the past year. Our goal at Cynch is to ensure that exchanging their propane grill tank is not one of them," explained Jonny Poe, Cynch Director. "We made the tank-exchange process as simple as ordering a T-shirt or anything else online, so our customers can spend their time enjoying their backyards or firing up their grill instead."
To schedule a tank exchange or spare tank delivery, customers may visit the Cynch website, confirm they are in the delivery area, choose their delivery date, and specify the delivery and/or exchange location. There are no subscriptions nor ongoing commitments of any kind.
As a brand of AmeriGas, Cynch provides customers with AmeriGas propane tanks for added peace of mind. Tanks that are not from Cynch can still be exchanged through the service, and customers without an exchange tank can opt to purchase a spare one. First-time Chicago-area customers can receive discounts with promo codes available on Cynch social media channels.
"As people are spending more time outdoors enjoying their propane-powered devices, we have seen an increased demand for propane grill tanks," explained Chris Cook, Vice President of Marketing, Growth and Retention for AmeriGas. "Cynch.com offers consumers an innovative way to quickly, easily and cost-effectively order propane, just in time for grilling season. We are excited to expand our service into a great area like Chicago."
Propane is a clean-burning gas, and propane tanks are fairly easy to use. In fact, according to an August 2019 consumer survey by the Hearth, Patio & Barbecue Association, 61% of grill owners use propane, making it the most popular grilling fuel. In addition, propane tank users do not have to clean up ash or wait for coals or logs to burn out when they are finished grilling or using their fire table.
In 2018, AmeriGas Propane, L.P., acquired the company Propane Taxi and officially launched the Cynch brand the following year in Philadelphia. Since then, Cynch has expanded into new markets across the country.
"More and more, we find ourselves opting for delivery services to save our sanity in today's hectic world. We are excited to bring these same benefits to Chicago-area residents when it comes to exchanging their propane tanks," explained Lynsey Hiro, Cynch product manager. "Some people find it hard to believe that such a convenient service could be real. I am happy to report that it is."
For information, visit Cynch's website at www.cynch.com.
About Cynch
Launched in 2019, Cynch is a propane grill tank delivery service available in select markets across the U.S. Through the company's website, residential and small business customers can schedule their propane tank deliveries for the date and location of their choosing, without any commitments. Cynch is a brand of AmeriGas Propane, L.P., which is headquartered in King of Prussia, PA. AmeriGas Propane is a subsidiary of UGI Corporation (NYSE: UGI). For more information, please call 1-888-525-2899 or visit www.cynch.com.
Cynch Contact:   Jennifer Slobotkin   215.360.1447    
Investor Relations Contact: Tameka Morris 610-456-6297

Sours: https://www.globenewswire.com/news-release/2021/05/28/2238425/0/en/New-No-Contact-Delivery-Service-for-Propane-Grill-Tanks-Arrives-in-Chicago-Area.html
Propane tank cynch
Propane Grill Tank Delivery In Orlando, Florida
Get propane tanks delivered with Cynch
Cynch is Available in Select Cities
$19.99 – $22.99
Exchange a used tank
$59.99
Buy a spare tank
How Cynch works
Order your replacement or additional tanks
Select your delivery date and tank drop-off location
Put your used tank outside for pickup and our drivers will handle the rest
We deliver to your home on your schedule
Order a Propane Tank
Propane grill tank delivery straight to your door. Delivery takes 1-2 days.
What a bummer! Cynch is not available in your area.
But there's still hope! We are expanding our service areas all the time!
You can leave your email and zip at cynch.com and you will be the first to know when we are available to you!
Go to Cynch.com
Or Use the Amerigas Propane Exchange Locator
Find a Location
-
Good news! Cynch is available in your area.
Your browser should have opened a new tab with details about selecting the type of delivery and times you might have available for a delivery.
Propane Taxi: Stop lugging that tank!
(Even) Faster Ordering
New! On-Demand Delivery Option only Available on App
Get a tank delivered in as little as 20 minutes! (not available in all areas)
Additional Deals and Savings
Grilling Tips at your Fingertips
Learn More about propane taxi
Sours: https://www.amerigas.com/locations/propane-service-areas/florida/orlando/grill-tank-delivery
Cynch - Don't Be Gary :60
.
You will also like:
.
271
272
273
274
275