Sonos Amp review: all kinds of power
One of the main reasons to buy into the Sonos audio ecosystem instead of the smart speakers from Amazon, Google, or Apple is overall flexibility: Sonos simply makes more kinds of audio products than any of the other players, and that means you can build a relatively custom home audio system very simply.
The unheralded key to that flexibility for years has been the $499 Sonos Connect:Amp, which is exactly what it sounds like: a small Sonos-connected amplifier that can drive any standard speakers. People (and professional smart home integrators) have used Connect:Amps in all sorts of wacky ways, from driving multiple sets of ceiling speakers in mono to hacking together TV speaker setups using a box that was never designed for that. The Connect:Amp is tremendously useful, but slightly underpowered at 55 watts per channel, and the basic hardware is getting fairly long in the tooth.
So Sonos is adding to the lineup with the new $599 Sonos Amp, which is a totally new design that offers unparalleled flexibility for a connected audio component. It is vastly more powerful than the Connect:Amp at 125 watts per channel, and vastly more capable, with AirPlay 2 support, HDMI input, and a huge variety of custom control settings and configurations.
You can use the Amp to drive a pair of bookshelf speakers. You can pair it with two more Sonos speakers and a subwoofer and build a 4.1 home theater around your TV. You can control it with Alexa (and eventually Google Assistant). You can run giant vintage speakers with it. You can rack mount it, if you are the sort of person with equipment racks in the basement. It does all of these things easily and with aplomb, and it firmly cements Sonos as the most flexible, powerful connected audio system available.
Our review of Sonos Amp
Verge Score8 out of 10
Good Stuff
Powerful
Sounds great after you adjust it
Looks super cool
Bad Stuff
A little bright-sounding out of the box
Expensive
Needs different EQ presets for music and TV
Buy for $649.00 from Sonos
The Sonos Amp is a sleek, minimal black square. There's a round depression on the top that adds a sense of high design, but also serves to make stacking multiple Amps easier. On the front, you've got the usual Sonos interface elements of an LED and touch buttons for volume and play / pause, while the back has RCA and HDMI inputs, two Ethernet jacks, a subwoofer output, the power connector, the pairing button, and the speaker connections.
Let me just say: I love the speaker connections on the Sonos Amp. The basic connectors are designed for banana plugs for a clean install, but if you're running bare speaker wire there's a very clever adapter that has standard screw terminals, which you then plug into the Amp. This sounds small, but it means you can fit the wires into the screw terminals without having to reach around the Amp itself — you connect the wires first and then just plug the adapter into the Amp. It's clever, and it makes connections in tight spots so much easier.
Once you've got everything plugged in, setup is the same as any other recent Sonos device: you open the app, open the new device setup process, and hit the pair button on the back. I was using my own speakers, as I suspect most people will do, but if you buy the special Sonos Architectural speakers made by Sonance, you can run the Trueplay tuning process. (Why can't TruePlay tune other speakers? Sonos says it can't predict what speakers you might be using and what their capabilities might be. I still think you should be allowed to try, though.)
I tested the Amp with three speaker systems in my house, all of which are very different: the Klipsch Cornwall IIIs in my living room, which are gigantic 90-pound monsters designed in the '70s, a pair of Polk Atrium5 two-way outdoor speakers that hang over our deck, and the Monitor Audio Radius 270 home theater speakers in our media room.
The Polk outdoor speakers have always been connected to a Sonos Connect:Amp, and in short tests (it's cold outside!) I can't say I noticed a huge difference in sound quality. What I did notice was a difference in volume at different points on the volume slider: the Connect:Amp was plenty powerful for that application before, and it seemed to get louder faster than the Amp. According to Benji Rappoport, principal hardware product manager at Sonos, the increased power of the Amp is only noticeable when the volume slider is over halfway up, although the company is thinking about adjusting this in a future software update.
I never really run my outdoor speakers at levels that high, so it wasn't a huge deal. If you've got a setup with Connect:Amps and you're happy with it, I don't think you're going to see enough improvement to justify an upgrade, unless you are ride-or-die for AirPlay 2 or you absolutely need more power.
The Klipsch setup was the real eye-opener. The Cornwall IIIs have a decades-old design, with massive 15-inch woofers and a powerful midrange horn. They're usually connected to a '70s vintage Kenwood solid-state amp that puts out around 100 watts, and the whole rig can get incredibly loud without losing any detail. (Fun fact: vintage amps often have less total harmonic distortion than modern ones!)
The older Connect:Amp wasn't powerful enough for these speakers, while the new Amp is definitely up to the task. But the sound out of the box is entirely too bright and precise, which is a criticism other reviewers have made as well. I had to spend some time dialing in the Amp's EQ settings in the app (which are surprisingly minimal) to get to something that sounded more suited to the speakers and the room. This is where I wish Sonos either offered Trueplay tuning for third-party speakers or had more granular controls in the app; the Amp can fit into a lot of situations, but it'll definitely need to be EQ'd out of its defaults in many of them.
Once I had the Amp dialed in, it sounded great — clean, powerful, confident. I can't say I love it as much as my vintage amp, but that is probably as emotional as anything, since the Amp doesn't have VU meters or extremely satisfying switches and knobs to play with.
There was a time when we spent entire evenings picking out records and using the vintage system; that time went away when our baby was born last year. Having those speakers directly tied to Sonos without the delicate vintage amp in the middle meant that we used them a lot more, and spent more time listening to music — which ultimately makes up for the buttons and knobs, I think.
One thing the Amp does not have is a built-in microphone for a voice assistant, which makes sense: it's often tucked away in a cabinet or rack, and it wouldn't be able to hear you anyway. But it integrates with voice assistants the same as other Sonos products, and it was great to be able to say "Alexa, play music in the living room" and have our biggest and best speakers light up. Same with AirPlay 2, which worked seamlessly.
(One thing to note if you are an insane purist: the Amp is a digital amplifier, so while you can plug a turntable into it, it will necessarily convert that audio to a digital signal. I couldn't really hear a difference, but if you really need an all-analog signal chain in your life, you'll have to look elsewhere. If you're reading this while streaming Spotify to your AirPods, you can really just move on.)
Sonos' user research around the Connect:Amp revealed that a surprising number of people use them with TVs — which required jumping through quite a few hoops to make work correctly with the old box. So the new Amp has the same HDMI ARC input system as the Sonos Beam soundbar, which means you can just plug a TV right into the Amp and get to a 2.1 system with a subwoofer. (Sonos also sells an optical-to-HDMI adapter in case you need to run optical from your TV; I tried this with the Beam and it introduced a slight delay, so I'd test it thoroughly if that's your setup.)
The TV integration worked and sounded excellent in my testing, with the same sense that the Amp might be a little bright out of the box. I definitely missed my full Atmos surround setup, but you can pair two more Sonos speakers to fill out a basic surround experience. What I surprisingly didn't miss was my center channel speaker — dialogue sounded clear and well-placed using my two Monitor Audio towers in stereo. The only thing I'd want is the ability to set different EQ settings for music and TV, which seems like a miss.
But it's hard for me to say how my experience will work for you — it's all down to what speakers you have and where they're located relative to your TV. I also can't say that it makes sense to buy a $599 high-end amp to run bookshelf speakers as TV speakers when you can buy a Sonos Beam for $200 less, but if you have ceiling speakers or you really want to consolidate your living room audio situation around some beloved bookshelf speakers, it becomes an attractive option.
Under new CEO Patrick Spence, Sonos has not only increased the pace of new product introductions, it's slowly expanded the breadth of ways it can deliver audio in your house. There's the regular set of Sonos standalone speakers and soundbars, like the Sonos One and Beam, but there's also new partnerships with traditional AV companies like Onkyo to let the Sonos Connect control receivers directly.
And now there's the new Amp, which is designed to fill in virtually every other gap with the full set of Sonos' capabilities, whether that's running a set of hidden speakers in the ceiling, making your vintage speakers connect to a modern music platform, or just making your TV play nice with your audio setup in the living room. That breadth means the Sonos home audio ecosystem is still the one to beat, and the new Amp is the sort of audio product that none of the tech giants have ever really put out: competent, focused, and complete.
Vox Media has affiliate partnerships. These do not influence editorial content, though Vox Media may earn commissions for products purchased via affiliate links. For more information, see our ethics policy.
Sours: https://www.theverge.com/2019/3/7/18254803/sonos-amp-review-speaker-specs-features-price
Set up your Sonos Connect:Amp
This article will guide you through setting up your Sonos Connect:Amp.
Before you start
Place your Connect:Amp in your desired location and connect it to power.
Download the Sonos app for iOS or Android. The app will guide you through the setup process.
Set up a new Sonos system with Connect:Amp
Open the Sonos app for iOS or Android.
Tap Set up a new system, then create or sign in to your Sonos account.
Tap Add on the popup showing your Sonos product. If using the Sonos S1 Controller, tap Continue > Set up products.
Follow the steps in the app to set up your Connect:Amp and add your music services.
Add Connect:Amp to your existing Sonos system
Open the Sonos app for iOS or Android.
From the Settings tab, tap System > Add Product.
Follow the steps in the app to add Connect:Amp to your Sonos system.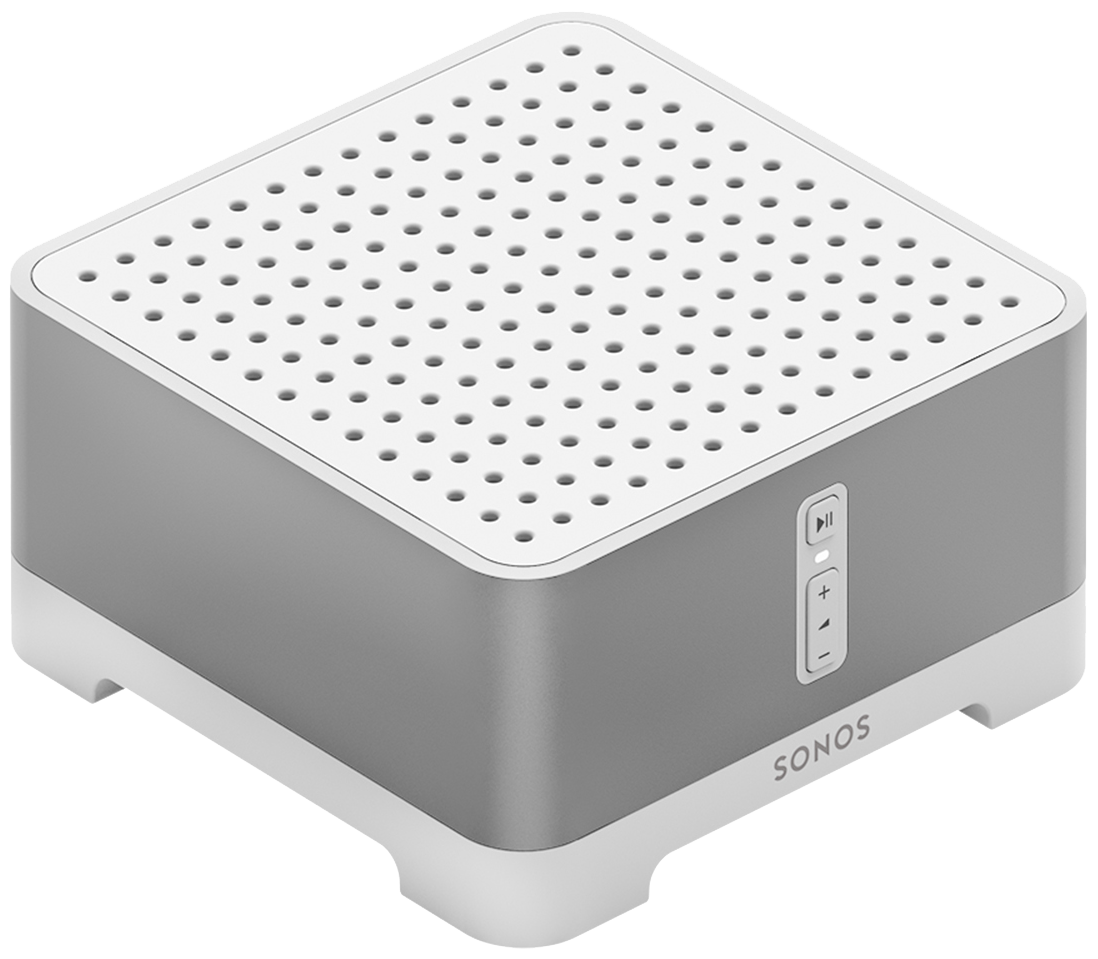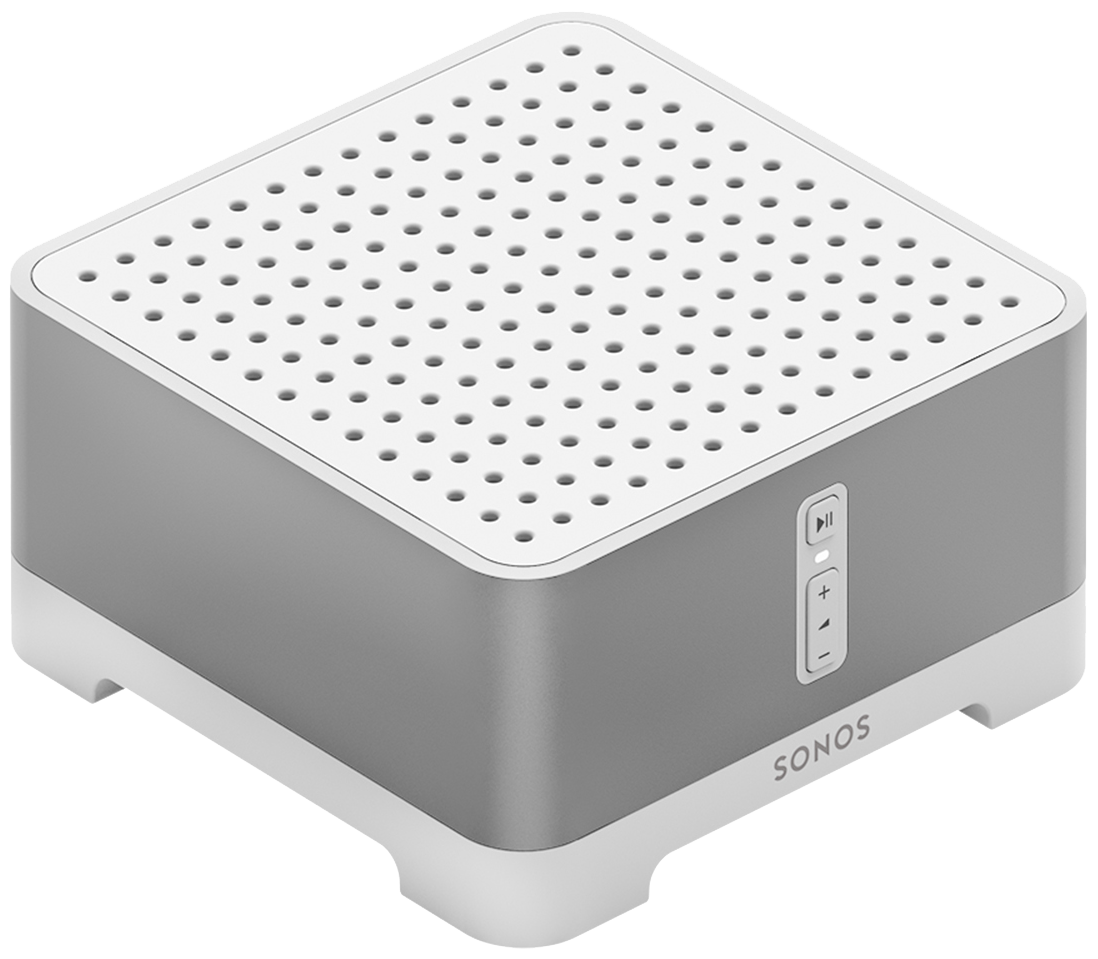 Problems during setup?
If your Sonos Connect:Amp is having trouble connecting during setup, check our "Product not found" article for some help.
Use Connect:Amp for home theater
You can use your Connect:Amp to power rear surround speakers for your Sonos home theater. Once your Connect:Amp has been set up, see our article on configuring your Connect:Amp with your Sonos home theater.
Note that Connect:Amp's subwoofer output and line input are disabled when it's used to power rear surround speakers.
Audio inputs and outputs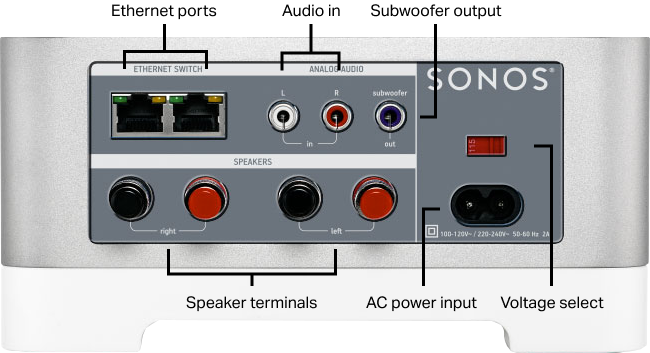 Connect speakers
We recommend using a speaker wire gauge between 12 and 16. Runs over 300ft are not recommended. Refer to our article on choosing a speaker wire gauge for more details.
If you are connecting more than two speakers, see our article on connecting four speakers to your Amp or Connect:Amp for specific instructions.
Use your thumb or finger to firmly push the spring-loaded speaker connector post inward to reveal the connection hole.
Insert the stripped end of the speaker wire into the hole, and then release. The stripped portion should be caught firmly in the connector post.

Connect:Amp works with traditional 8 ohm bookshelf speakers as well as pairs of 6 or 4 ohm speakers.
| Speaker impedance | Watts per channel |
| --- | --- |
| 8 Ohms | 55 Watts |
| 6 Ohms | 82.5 Watts |
| 4 Ohms | 110 Watts |
Please Note: Wattage is not a direct indicator of audio quality but represents required wattage for attached speakers.
Line-in devices and third-party subwoofers
See our additional articles below for more information on using the RCA audio inputs and the RCA subwoofer output on your Amp.
Sours: https://support.sonos.com/s/article/4722?language=en_US
Single Voice Coil Wiring Options
The following diagrams are the most popular wiring configurations. They show a typical single channel wiring scheme. Check the amplifier's owners manual for minimum impedance the amplifier will handle before hooking up the speakers. Remember: 4 Ohm mono is equivalent to 2 Ohm stereo.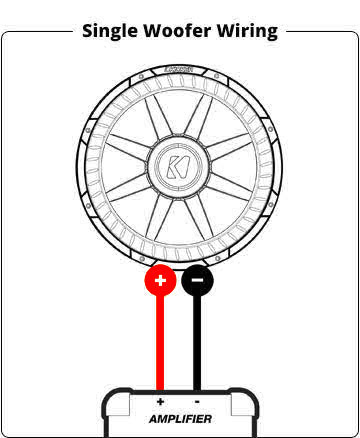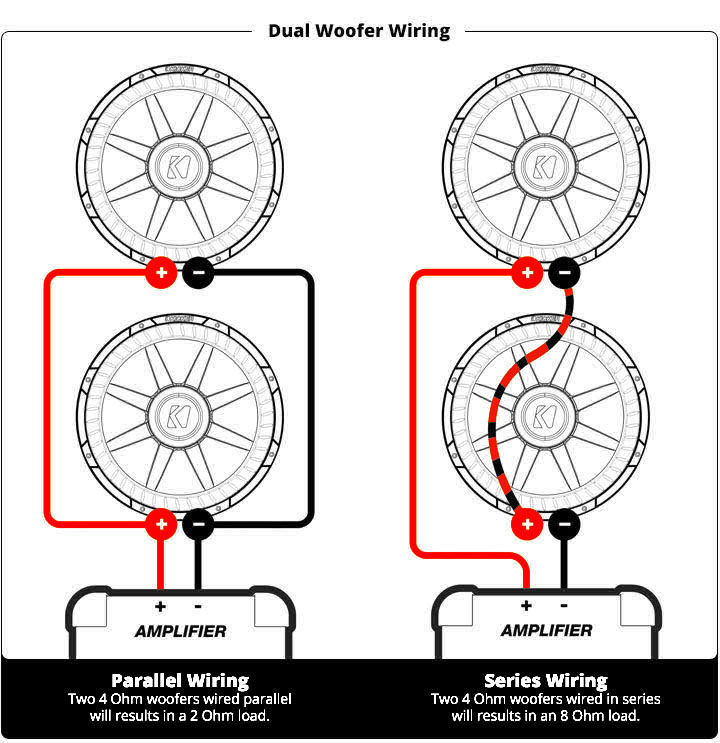 Dual Voice Coil Wiring Options
The following diagrams are the most popular wiring configurations when using Dual Voice Coil woofers. They show a typical single channel wiring scheme. Check the amplifier's owners manual for minimum impedance the amplifier will handle before hooking up the speakers. Remember: 4 ohm mono is equivalent to 2 Ohm stereo.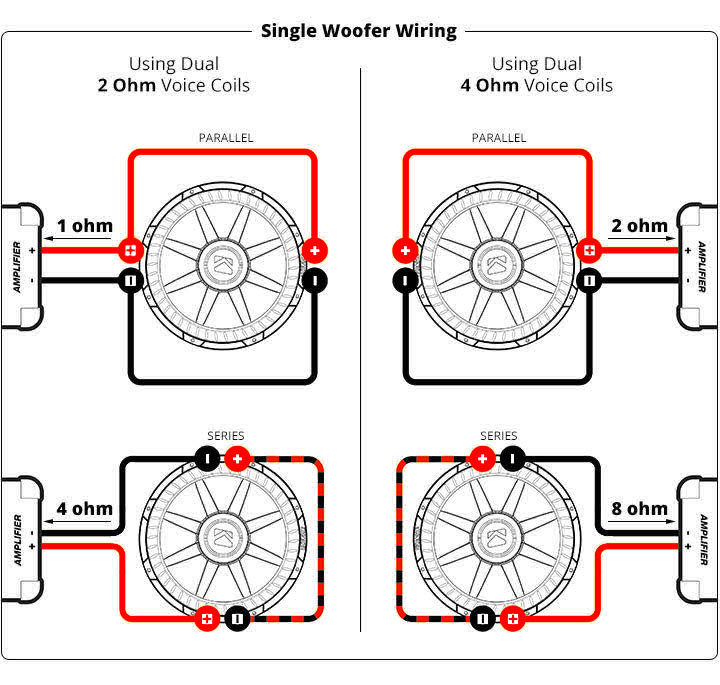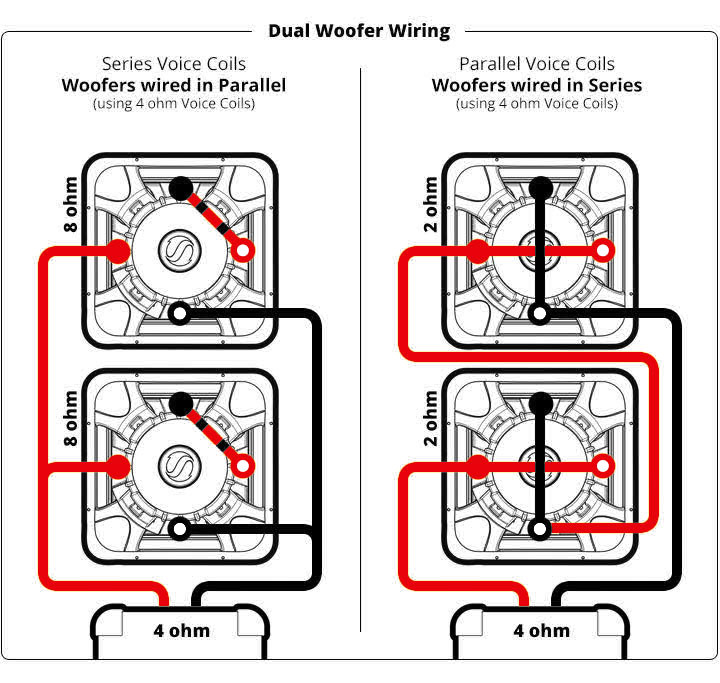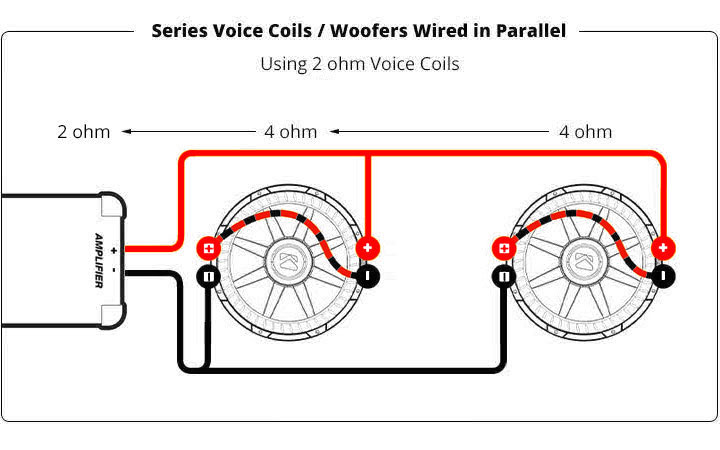 Resistance Formulas
Series resistance: Rt = R1 + R2 ...
Parallel resistance: Rt = ( R1 x R2 ) / ( R1 + R2 )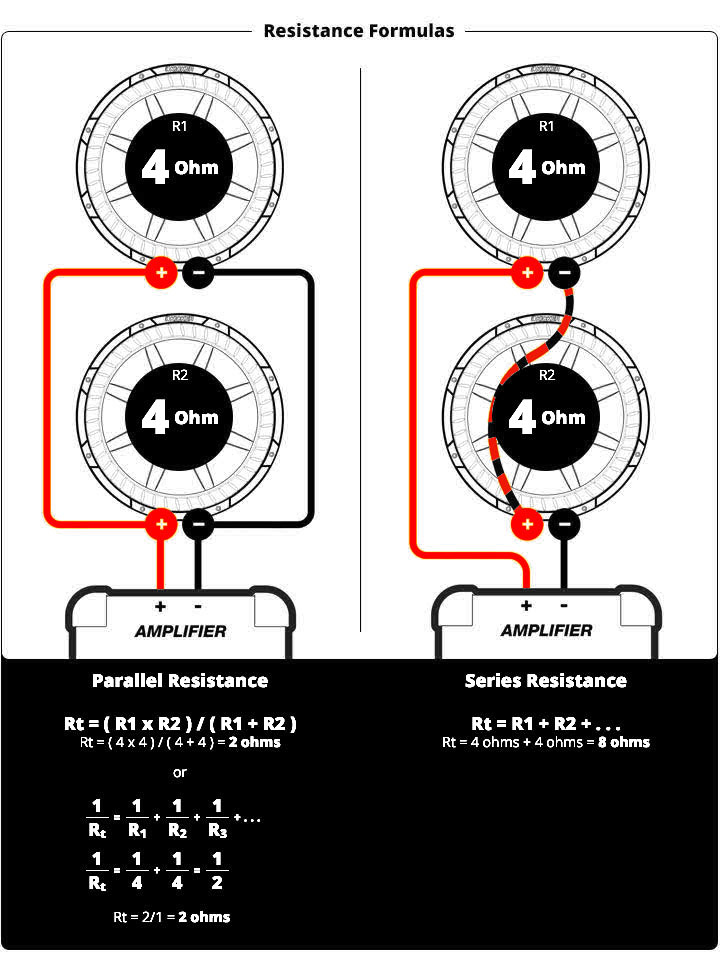 Power Cable Chart
Recommended Minimum Gauge Size
| | | | | | | | | |
| --- | --- | --- | --- | --- | --- | --- | --- | --- |
| Draw(Amps) | Up to 4 ft. | 4 to 7 ft | 7 to 10 ft | 10 to 13 ft | 13 to 16 ft | 16 to 19 ft | 19 to 22 ft | 22 to 28 ft |
| 0-20 | 8 | 8 | 8 | 8 | 8 | 8 | 8 | 8 |
| 20 - 35 | 8 | 8 | 8 | 8 | 8 | 8 | 4 | 4 |
| 35 - 50  | 8 | 8 | 8 | 8 | 4 | 4 | 4 | 4 |
| 50 - 65 | 8 | 8 | 4 | 4 | 4 | 4 | 4 | 1/0 |
| 65 - 85 | 8 | 8 | 4 | 4 | 4 | 4 | 1/0 | 1/0 |
| 85 - 105 | 4 | 4 | 4 | 4 | 4 | 1/0 | 1/0 | 1/0 |
| 105 - 125 | 4 | 4 | 4 | 4 | 1/0 | 1/0 | 1/0 | 1/0 |
| 125 - 150 | 4 | 4 | 4 | 1/0 | 1/0 | 1/0 | 1/0 | 1/0 |
Sours: https://www.kicker.com/wiring-diagrams
How To Wire Speakers and Subwoofers to Your Amplifier - 2, 3, 4 and 5 Channel - Bridged Mode
Home cinema and Hi-Fi technology are no longer as complicated for beginners as they were 20 or 30 years ago. Above all, the spread of user-friendly digital technology has simplified many things – but figuring out the back of an amplifier, AV receiver or compact system can still be quite confusing. Usually you will find several connection points there, although the purpose of each one is not immediately obvious to everyone. However, as soon as you know some basic terms and can distinguish a few cable types, it begins to get less complicated.
In addition, with a little extra knowledge, you might come across completely new possibilities: for example, when you realise that an old cassette deck could have been connected to your stereo system long ago.
AUX connections (input or output)
Alongside the inputs for various players such as Blu-ray players and connections for the speakers themselves, the most important input on the amplifier or compact system is called AUX or auxiliary. This is simply an audio input to which you can connect players of your choice. This could be anything from an old cassette deck or a modern player such as an mp3 player or smartphone. If you want to quickly and easily connect your computer, it's also best to use the AUX input.
As a rule of thumb, devices to which you can connect headphones can normally also be connected to your system via an AUX cable. However, the term AUX does not clarify exactly which cable to use. It merely describes the purpose of this connection, not whether it is a jack or RCA connection. The most common are RCA connectors – one red and one either white or black for the two stereo channels. To connect your iPod to it, you need a simple 3.5 mm jack to stereo RCA cable.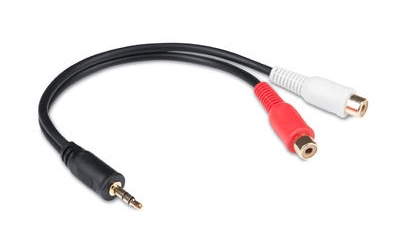 Connecting a record player to sound system – what cable to use?
Connecting record players is usually more complicated. In theory, they can also be connected to the amplifier without special cables, but whether they will actually work is another question. Often the device signal is too weak so that users of modern amplifiers can only hear a few quiet noises – if at all. The solution is a pre-amplifier. This can either be integrated into the record player itself or be part of the amplifier. If the pre-amplifier is in the record player, the AUX input of the amplifier can be used without any problems. When it is installed in the amplifier, in addition to the AUX input, there is also a so-called phono input, via which record players without integrated pre-amplifiers should be connected. Should neither amplifier nor record player has an integrated pre-amplifier, you have to reach for a phono amplifier – you can read more about this type of pre-amplifier here.
Learn more about audio amplifiers here
Relevant products from Teufel
Line-in and other connections
Some manufacturers contribute to the confusion by using many different names for the audio inputs of their devices. The amplifier may have audio inputs titled line-in, CD or Tuner. But don't worry: All these connections are basically AUX inputs, except for the previously mentioned phono input. The different designations primarily serve the order of the individual devices. That way you can quickly switch to the corresponding channel later and have the device that is located at the corresponding input already selected.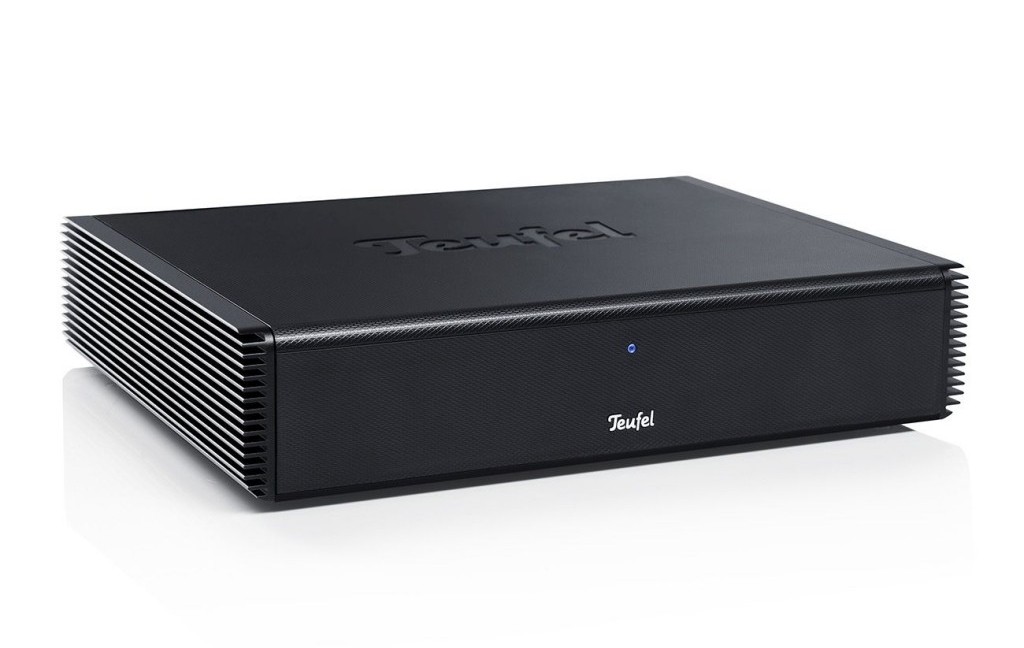 Digital connections
Most of the audio inputs, and all those that we have covered in this text so far, are analogue connectors. But there are also – especially with modern amplifiers like the CoreStation (shown above) – digital audio inputs. In this case, there is one input for one coaxial cable and two TOSLINKinputs: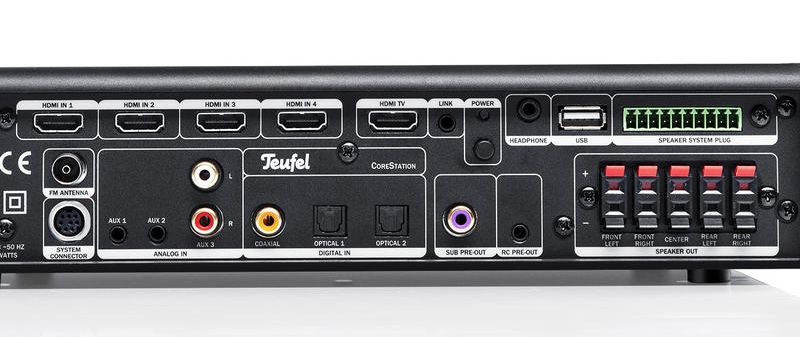 Of course, no analogue devices can be connected to digital audio inputs, only those with a digital output. This input is therefore not suitable for use with an mp3 player or another analogue playback device but can work with all digital players such as a Blu-ray player. This is usually connected via HDMI, but it is also possible to connect via a TOSLINK cable. Game consoles can also transmit their 5.1 signal to the amplifier via these digital inputs. Even if you have installed a high-quality sound card in your computer, you will usually find a TOSLINK or coaxial output there. This is usually the best way to connect your computer to the amplifier.
A better look at Teufel's CoreStation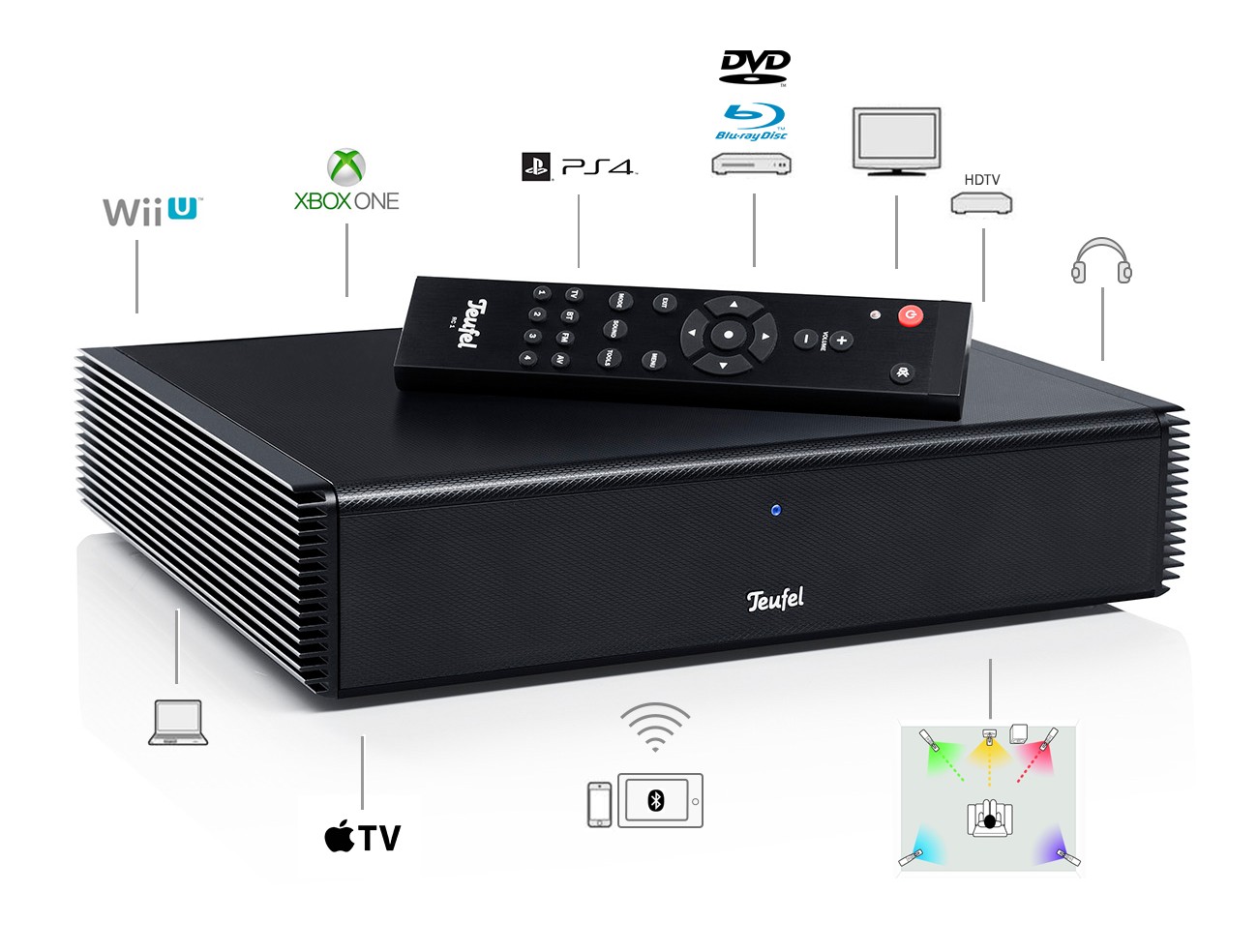 ▶ The CoreStation is your control centre: whether it's a Blu-ray player, game console, TV or system – they all find their connection, whether analogue or digital. And maybe even wirelessly, because Bluetooth can also connect the CoreStation. What's more, the 360-watt Class D amplifier ensures the best sound and the CoreStation does all its work quietly, or even completely invisible if you wish. Because you can simply hang the CoreStation on your TV like a backpack: It couldn't be more discreet.
Related products from Teufel
Conclusion
What sounds confusing at first sight turns out to be much less complicated than expected after clarifying some basic concepts.
An AUX input is basically a very normal audio input.
Which cable fits the respective AUX input varies from device to device.
There are also different names for this audio input depending on the device – but in the end, everything is more or less the same.
Only digital audio inputs such as a TOSLINK connector differ and can only be powered by devices with an appropriate connector.
For the fast "Plug & Play" with an mp3 player or computer, however, an analogue connection is best suited anyway.
Featured Image: © Iwan Gabovitch "Yamaha AV Receiver/Amplifier Back Panel for RCA Jack, TOSLINK S/PDIF, Cinch, RCA and Speaker Connector Cable Plugs (Public Domain Photo)"
All rights reserved. Source: Flickr.com
Sours: https://blog.teufelaudio.com/aux-amplifier-connections/
Connection amp
.
BASIC POWER AMP SETUP - Mixer \u0026 Speaker Connection - Stereo-Parallel-Bridge Mode Guide - TUT
.
You will also be interested:
.
387
388
389
390
391