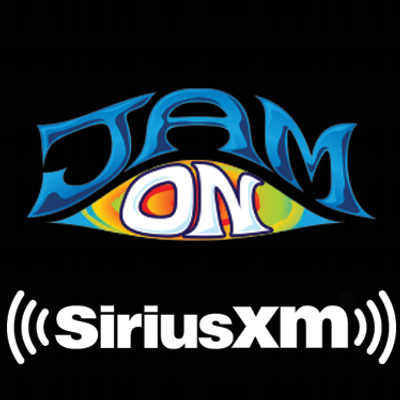 Written by Jeff Modzelewski.
The jam band community was struck a blow last month when SiriusXM made the decision to remove Jam On from their regular radio lineup.  The station, which had been a part of SiriusXM for over a decade, was a tremendous resource for bands and fans alike. It was by far the largest and most widely available radio station available to jam band fans, giving fans an opportunity to listen to many of their favorite acts and discover new artists.  The station had knowledgeable DJ's that were a part of the jam band community, featured interviews and in-studio performances that you couldn't find anywhere else, and had a variety of regular shows that highlighted different areas of the jam community. There is simply no other resource for artists and fans that provides what Jam On provided.
SiriusXM has stated that Jam On isn't gone, it's simply been removed from the regular radio lineup and relegated to a streaming-only.  These are stations that subscribers can access, for an additional fee, through their computers or the SiriusXM app on their smartphones.  Accessing the station through a computer or an app, however, is a completely different experience than having the station easily accessible through the radio.  For starters, there is an additional cost to the app and streaming service. The standard SiriusXM service already costs $15.99 a month. The streaming option is an additional $5 a month.  While this is not a bank breaker, consumers have more streaming options than ever and often aren't looking to add an additional streaming service when they often already have Spotify and Nugs.  Second, not everyone has unlimited data on their phones, and even if they do internet access can be very spotty on long drives. The satellite radio service is available no matter where you are since it doesn't rely on cell phone coverage, and it takes up no phone data.  Finally, a radio is simply much easier to use while driving. Personally, I only want to use my cell phone for navigation while driving. If I'm flipping channels I don't want to have to mess with my phone to do that when the radio is much more convenient.
Jam On was replaced with Phish Radio.  Clearly, Phish is deserving of their own station.  They have decades of live recordings and studio work as well as an extremely dedicated fanbase that can support a Phish station.  To say that they have been instrumental to the jam scene is a tremendous understatement. But adding Phish Radio does not mean that there isn't a place for Jam On.  Not every jam fan is a massive Phish fan, and most Phish fans I know appreciate other jam bands as well. SiriusXM didn't cancel their 90's alternative station when they added Pearl Jam Radio and they didn't cancel their classic rock station when they added Tom Petty Radio.  There is no reason Jam On and Phish Radio couldn't coexist.
Jam On was far from a perfect station.  They played many of the same live recordings on a rotation.  The DJs often pushed many of their personal favorites as well.  But, despite some problems, Jam On was instrumental in helping me learn about the jam band scene when I first dove into the genre, and it continued to be a great way to learn about new music.  Whether it was my early discovery of Umphrey's McGeeor Yonder Mountain String Band or it was more recent artists like Turkuaz, The Main Squeeze, or Aqueous, Jam On is one of the primary ways I discover new jam music.  
A petition was created after the announcement and has gained over 15,000 signatures.  The jam band community may be a niche, but jam band fans are loyal and active.  The petition has also been shared by many bands that have benefited from exposure on Jam On.  I don't know what it might take to change the decision of SiriusXM but I know that the jam band music community will make their voice heard.  I hope thatSiriusXM listens to the voice of this community and reconsiders brings Jam On back for all of their listeners.
If you are interested, the petition to bring Jam On back to the regular SiriusXM lineup can be found here: http://chng.it/886bJKzyYv
Sours: http://www.thejamwich.com/2019/07/03/jamon-station-cancelled-siriusxm-affects-jam-fans-can/
List of Sirius XM Radio channels
Name
Format
Core artists
Satellite
Internet
SiriusXM #
Dish Network #
The Bridge
Mellow classic rock, soft rock and folk rock of the 70s
Fleetwood Mac
Eagles
Elton John
James Taylor
Billy Joel
The Beatles
Simon & Garfunkel
Jackson Browne
Van Morrison
Crosby, Stills, Nash & Young
Available
Available
17
6032
The Beatles Channel
The Beatles music
The Beatles
John Lennon
Paul McCartney
George Harrison
Ringo Starr
Available
Available
18
N/A
Bob Marley's Tuff Gong Radio
Bob Marley Music
Bob Marley
Available
Available
19
E Street Radio
Bruce Springsteen & The E Street Band Music
Bruce Springsteen & The E Street Band
Available
Available
20
6020
Underground Garage
Little Steven'sUnderground Garage (Garage rock, rock n' roll, garage rock revival, indie rock, proto-punk, punk rock, surf rock, acid rock, pub rock, glam rock, soul music, funk, roots rock, British Invasion, boogie and blues rock, various others)
The Beatles
The Ramones
The Rolling Stones
Bo Diddley
The Who
The Hives
The Yardbirds
The Byrds
The Stooges
The White Stripes
Available
Available
21
6021
Pearl Jam Radio
Pearl Jam, 24/7
Pearl Jam
Temple of the Dog
Mother Love Bone
Eddie Vedder
Led Zeppelin
Tom Petty
Soundgarden
Bruce Springsteen
The Who
Neil Young
Available
Available
22
6022
The Grateful Dead Channel
Music from the Grateful Dead
Grateful Dead
Jerry Garcia Band
RatDog
Kingfish
Old & In the Way
Furthur
7 Walkers
Available
Available
23
6023
Radio Margaritaville
Jimmy Buffett and other music appealing to Parrotheads
Jimmy Buffett
Bob Marley
Jack Johnson
Zac Brown Band
Toots and the Maytals
The Beach Boys
Little Feat
Kenny Chesney
Paul Simon
Sheryl Crow
UB40
Available
Available
24
6024
Classic Rewind (formerly Big Tracks)
Later Classic rock from the late 1970s to early 1990s and Early Mainstream rock music and hits, the "cassette era" of Classic Rock
Tom Petty
Van Halen
Aerosmith
The Cars
Boston
The Police
Journey
Genesis
Queen
John Mellencamp
AC/DC
Pink Floyd
Available
Available
25
6025
Classic Vinyl (formerly Top Tracks)
Early Classic rock from the 1960s to mid-1970s
The Beatles
The Rolling Stones
Led Zeppelin
The Who
Creedence Clearwater Revival
Eric Clapton
Eagles
The Doors
Crosby, Stills, Nash & Young
Available
Available
26
6026
Deep Tracks
Deepclassic rock, progressive rock, Album-Oriented Rock
Bob Dylan
The Allman Brothers Band
The Jimi Hendrix Experience
Led Zeppelin
The Beatles and soloists John Lennon, Paul McCartney, George Harrison and Ringo Starr
The Rolling Stones
The Who
Steely Dan
The Kinks
Steve Miller Band
Pink Floyd
Available
Available
27
6027
The Spectrum (formerly XM's XM Café)
Adult album alternative
U2
Red Hot Chili Peppers
David Bowie
The Black Keys
R.E.M.
Nathaniel Rateliff & the Night Sweats
Coldplay
Tom Petty
Hozier
Pearl Jam
Available
Available
28
6028
Phish Radio[4]
Music from Phish
Phish and other related artists
Available
Available
29
N/A
Dave Matthews Band Radio[5]
Music from Dave Matthews Band
Dave Matthews Band and other related artists
Available
Available
30
N/A
Tom Petty Radio
Music from Tom Petty
Tom Petty and other related artists
Available
Available
31
6031
U2 X-Radio[6]
Music from U2
U2 and other related artists
Available
Available
32
N/A
1st Wave
New wave, late 1970s–1980s alternative rock and Deep Classic Alternative; post-punk, first wave punk, late 70s–80s punk rock (non-hardcore); "New Pop/New Music" and 1980s synthpop; 1980s college rock
Duran Duran
The Cure
Depeche Mode
U2
R.E.M.
The Smiths
The Police
New Order
The Pretenders
The Clash
Blondie
Available
Available
33
6033
Lithium (formerly Lucy)
1990s alternative rock, grunge, and alternative metal
Nirvana
Pearl Jam
Smashing Pumpkins
Stone Temple Pilots
Soundgarden
Alice in Chains
Green Day
Red Hot Chili Peppers
Bush
The Offspring
Available
Available
34
6034
SiriusXMU (replaced XM's XMU)
Indie / College / Unsigned
Tame Impala
St. Vincent
LCD Soundsystem
Radiohead
Beach House
Interpol
Arcade Fire
Courtney Barnett
Available
Available
35
6035
Alt Nation (replaced XM's Lucy)
Modern alternative rock
Cage the Elephant
Grouplove
Bastille
Twenty One Pilots
Vampire Weekend
Available
Available
36
6036
Octane (replaced XM's xL SquiZZ)
The primary format is focused on Active rock. Octane's emphasis on their music, is Modern Hard Rock and Alternative Metal
Five Finger Death Punch
Disturbed
Shinedown
Avenged Sevenfold
Korn
Seether
Nothing More
Stone Sour
Breaking Benjamin
Papa Roach
Volbeat
Hellyeah
Available
Available
37
6037
Ozzy's Boneyard (formerly XM's xL Boneyard)
Classic hard rock and heavy metal
Ozzy Osbourne
Black Sabbath
AC/DC
Van Halen
Judas Priest
Metallica
Iron Maiden
Kiss
Dio
Guns N' Roses
Available
Available
38
6038
Hair Nation (replaced XM's Big Tracks)
Glam metal, hair metal, and hard rock music mostly from the 1980s
Bon Jovi
Mötley Crüe
Def Leppard
Skid Row
Cinderella
Poison
Dokken
Ratt
Tesla
Warrant
Whitesnake
Guns N' Roses
Available
Available
39
6039
Liquid Metal – xL
Mostly extreme metal, some hardcore, metalcore and heavy metal
Pantera
Slayer
Metallica
Lamb of God
Slipknot
Machine Head
Sepultura
Megadeth
Hatebreed
Anthrax
Available
Available
40
6040
Turbo – xL
1990s and 2000s hard rock, nu metal
Korn
Godsmack
Metallica
Linkin Park
Rage Against the Machine
Disturbed
Limp Bizkit
Available
Available
41
N/A
Jam On
Jam bands
Phish
Widespread Panic
The Allman Brothers Band
Grateful Dead
Dave Matthews Band
My Morning Jacket
Umphrey's McGee
Disco Biscuits
String Cheese Incident
The Black Crowes
Available
Available
309
6029
Rock and Roll Hall of Fame Radio
Artists inducted into the Rock and Roll Hall of Fame.
The Beatles
Buddy Holly
U2
The Temptations
The Doors
Tom Petty
Pink Floyd
Rush
Kiss
Nirvana
Available
Available
310
Yacht Rock Radio
Smooth-sailing soft rock from the 1970s and 1980s
Michael McDonald
Steely Dan
Christopher Cross
Hall & Oates
Kenny Loggins
10cc
Toto
Available
Available
311
Rock Bar
Rock & Roll Jukebox Songs
AC/DC
Lynyrd Skynyrd
Van Halen
The Ramones
Aerosmith
Motley Crüe
Led Zeppelin
Available
Available
313
Faction Punk – xL
Punk rock
NOFX
Sex Pistols
Sublime
N.W.A
Rancid
The Ramones
Beastie Boys
Pennywise
Green Day
Rage Against the Machine
Available
Available
314
6041 (099-41)
SiriusXM Comes Alive!
Live classic rock
Led Zeppelin
Pink Floyd
The Rolling Stones
The Doors
The Police
Not Available
Available
Xtra Channel
Sours: https://en.wikipedia.org/wiki/List_of_Sirius_XM_Radio_channels
Jam Band Essentials
The spirit of the '60s abides among improvising rockers—a.k.a. jam bands—and their open-eared fans. The style was forged in the storytelling guitars and jazz-caliber interactions of groundbreaking combos like the Grateful Dead and the Allman Brothers Band, who codified the two-set, ever-changing-setlist format that nearly every subsequent jam band adheres to. Vermont quartet Phish inherited a hefty portion of the Dead's audience following Jerry Garcia's death in 1995, and they delivered the goods with strong songwriting, brilliant group improvisations, and an unpredictable prankster spirit. New York's Blues Traveler and the Spin Doctors enjoyed hit singles, while techno-rockers the Disco Biscuits and double-guitar demons moe. hewed closer to their acid-rock forefathers. As Widespread Panic mined Southern rock's rowdiness and gothic sensuality, Colorado's String Cheese Incident and Leftover Salmon imported bluegrass into the electric mix. And Umphrey's McGee, the least crunchy of the pack, added a touch of emo to their riff-based heavy prog rock.
Sours: https://music.apple.com/us/playlist/jam-band-essentials/pl.ba477f03abbd41298d41002cde7c2ee7
Summer Hits 2000 to 2021 ⛱️ Throwback Hits \u0026 New Summer Songs 2021
.
Playlist on siriusxm jam
.
Summer Hits 2000 to 2021 ⛱️ Throwback Hits \u0026 New Summer Songs 2021
.
Similar news:
.
425
426
427
428
429