Smart room dividers that break new boundaries
Divide and conquer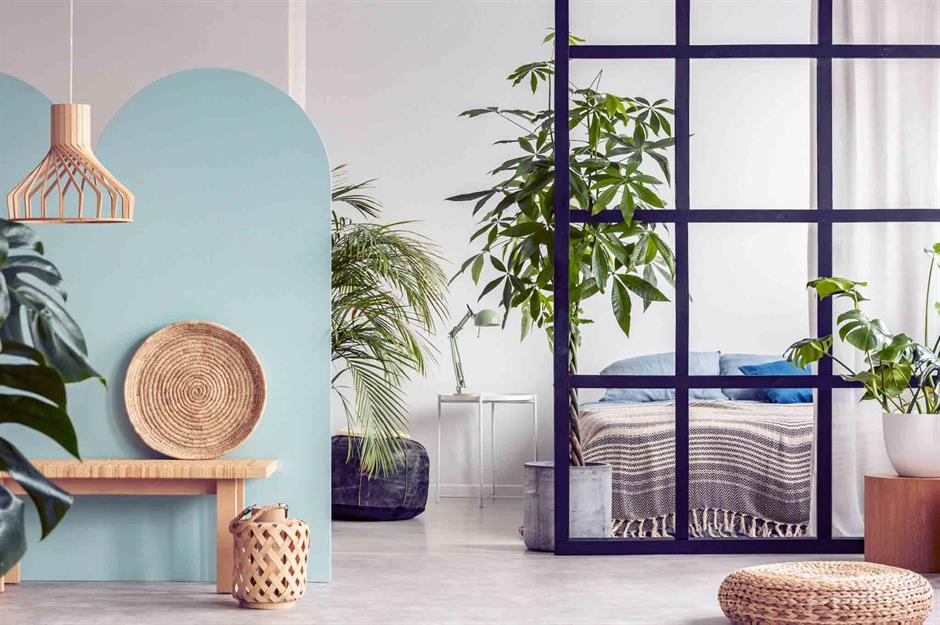 Photographee.eu / Shutterstock
Whether you have a large open-plan home or a snug studio apartment, room dividers are an invaluable tool when it comes to making your available space stretch further. From creating distinct living areas and rooms within rooms to offering plenty of privacy in a flash, these dexterous room divider ideas will help you get the most from your floor plan.
Create a canopy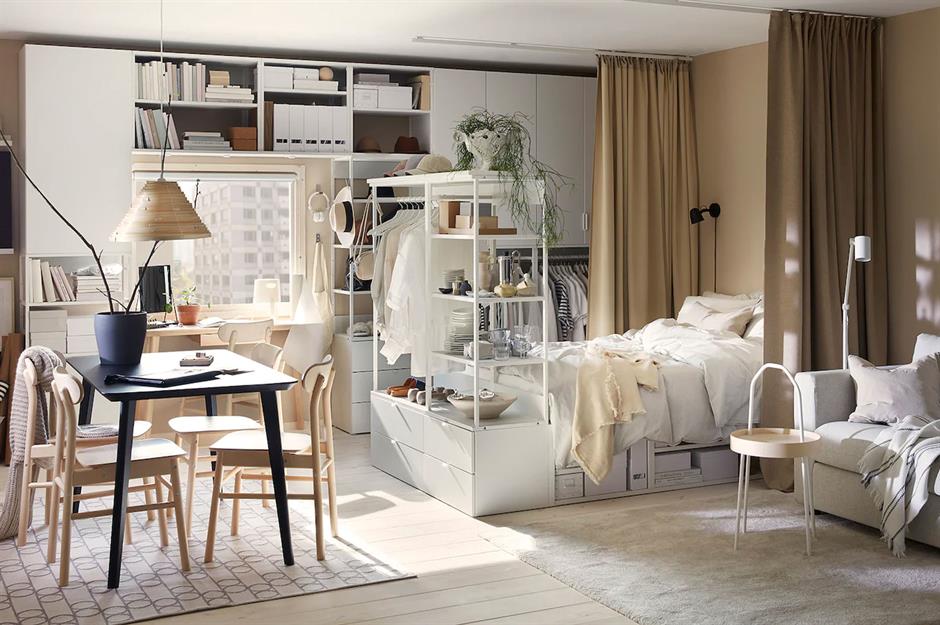 In a snug studio apartment with a single living area, add curtain tracks on the ceiling either side of the bed to create a cosy canopy at night. Go for a heavy, warming fabric that lets you shut out the world whenever you need it. Place cupboards with open shelves at the end of the bed to complete the cocoon without compromising on airflow.
Plump for a pegboard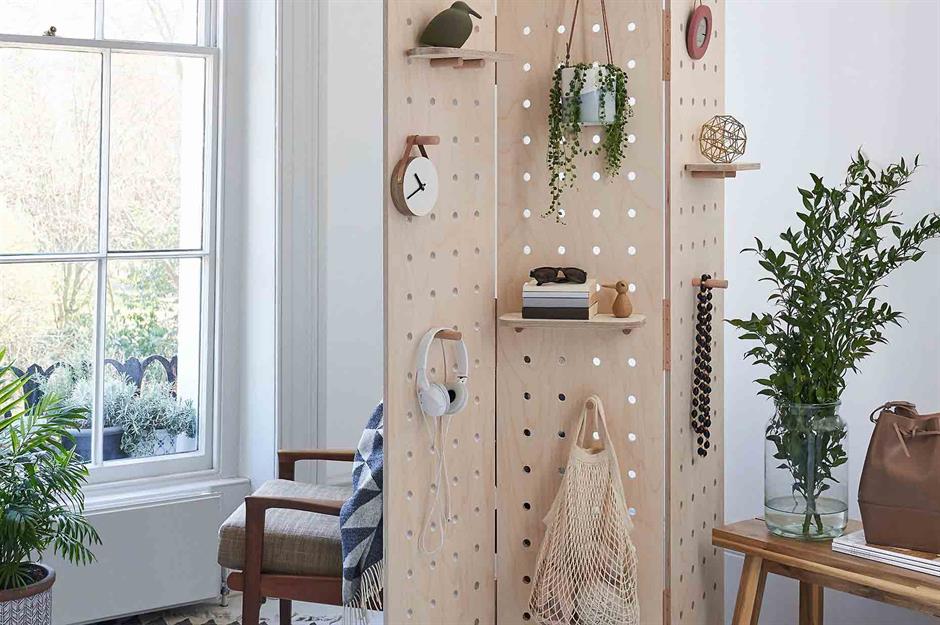 Sure, concertina screens are pretty, but they're not massively functional. Enter: the pegboard room divider. This nifty fixture offers all the privacy of a traditional design, with the storage capacity of a shelving unit. Its clever peg system is great for hanging jewellery and bags, and can also accommodate wooden ledges to hold books and prized trinkets.
Conceal with a curtain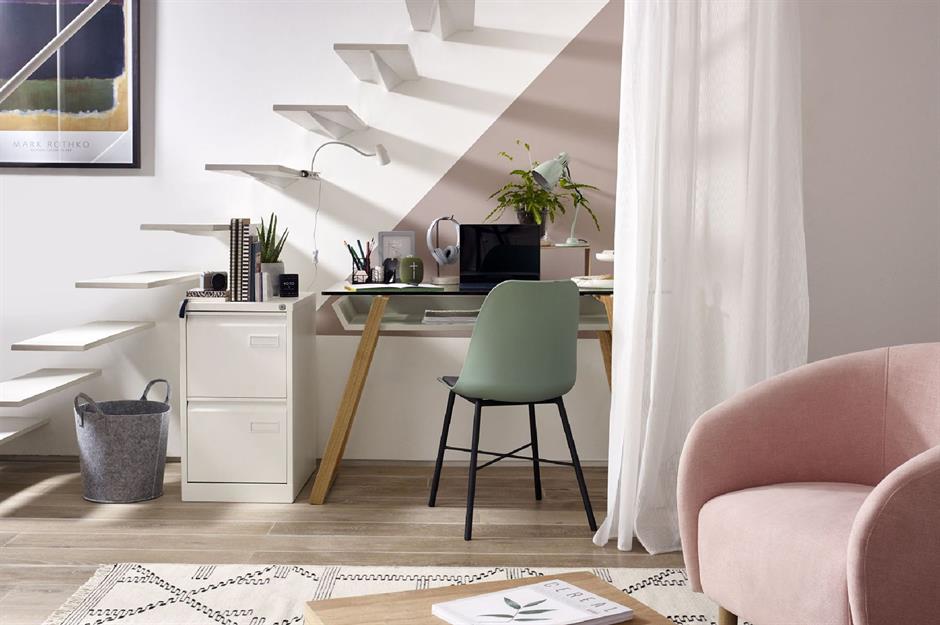 If you are looking for a softer way to zone a space without losing daylight, opt for sheer curtains. Tucked under a floating staircase, this hardworking home office nook can be screened off at the end of the working day.
Let in the light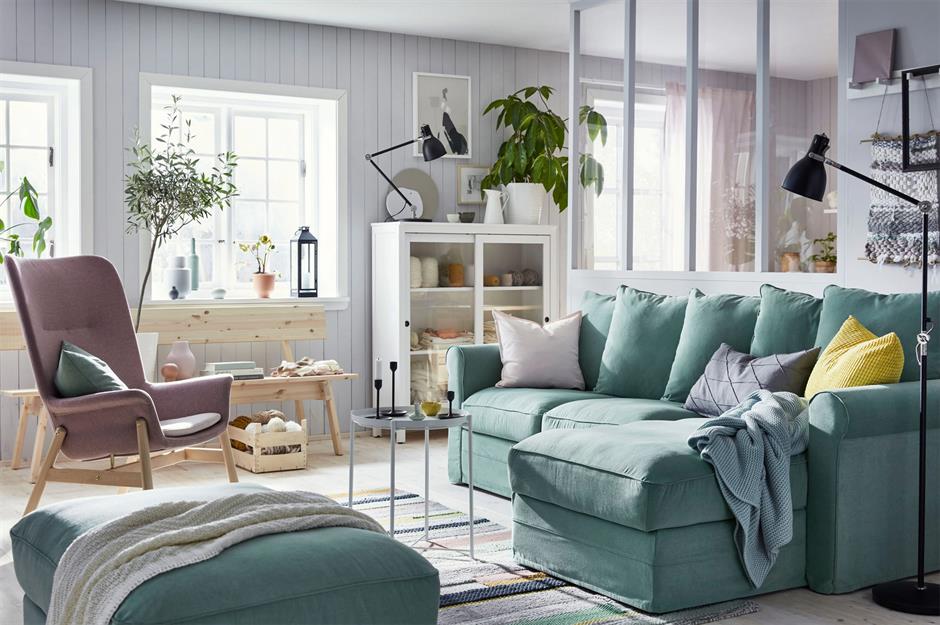 In large living rooms where privacy is not essential, think about using glass as a divider to keep the room light, open and airy. If safety is an issue or you have little ones toddling around, why not opt for glass on the upper portion and a solid structure on the lower half?
Bring in a barn door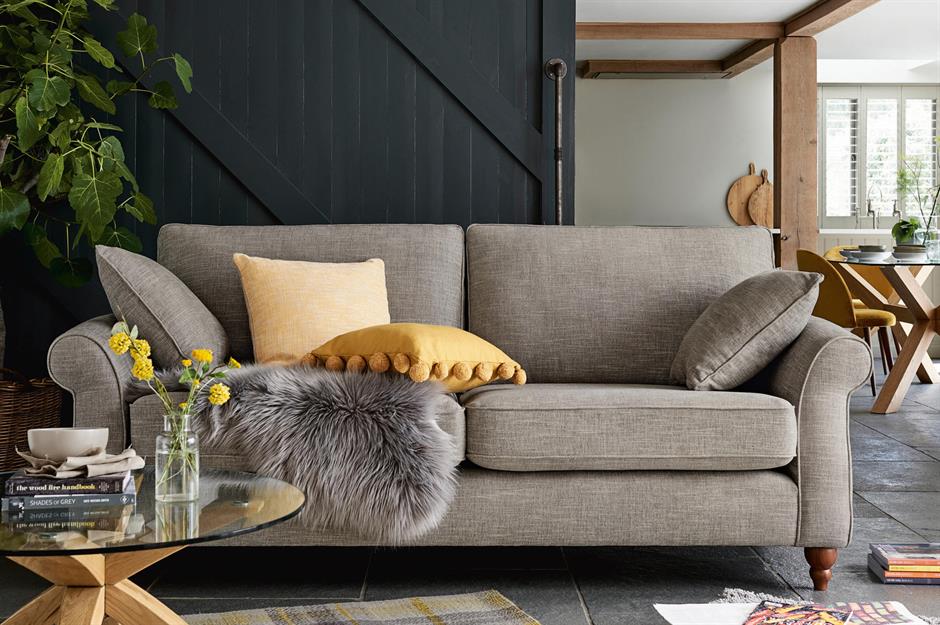 Sliding barn doors are a popular design choice in country and farmhouse-style decorating schemes. Mounted on runners, these rustic statement screens can easily be drawn across when a little extra privacy is required.
Work in wall art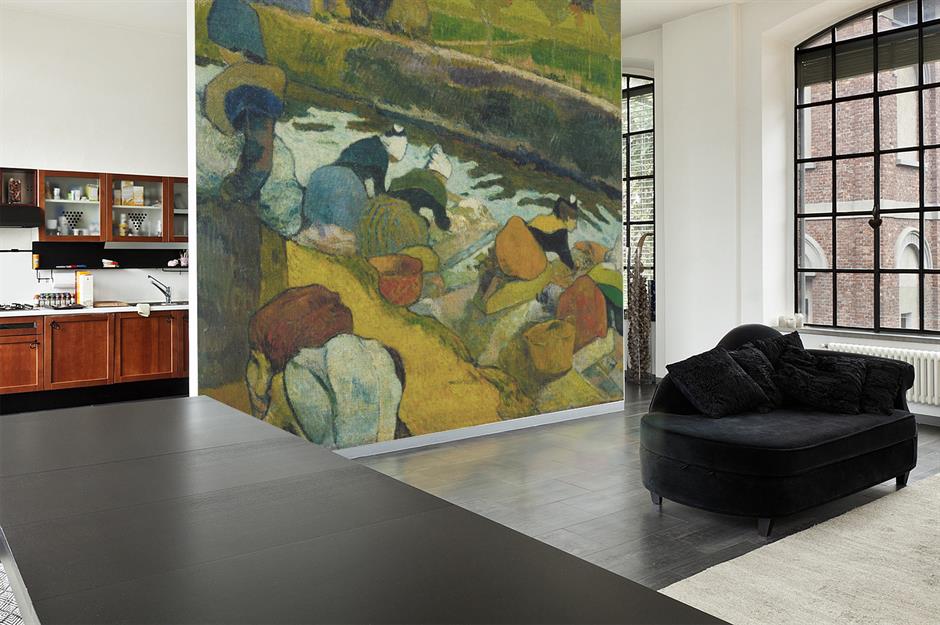 If the idea of a plain zoning wall leaves you uninspired, elevate a vacant white room divider by transforming it into a vibrant feature wall. Use the blank canvas to hang a favourite wallpaper print or create a stunning focal point with an amazing art mural.
Go large with bookshelves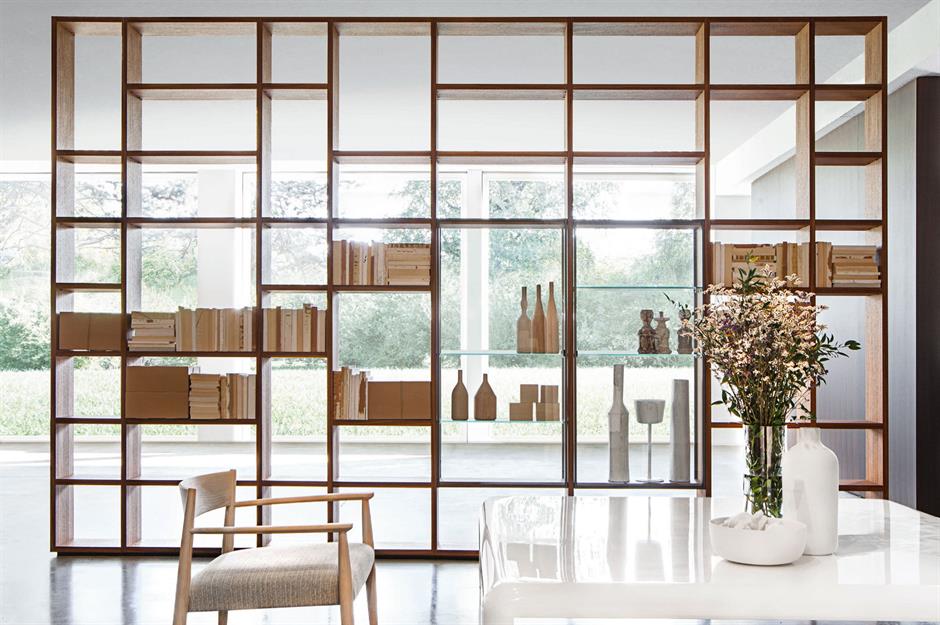 Large modular bookcases make ideal room dividers. Opt for a backless design and use a wall of shelving to bisect two distinct areas of your living space. Be sure to secure the unit, then add books, trinkets and decorative items that complement your room scheme. Leave some shelves completely clear to allow air and light to flow through the space.
Rearrange the wardrobe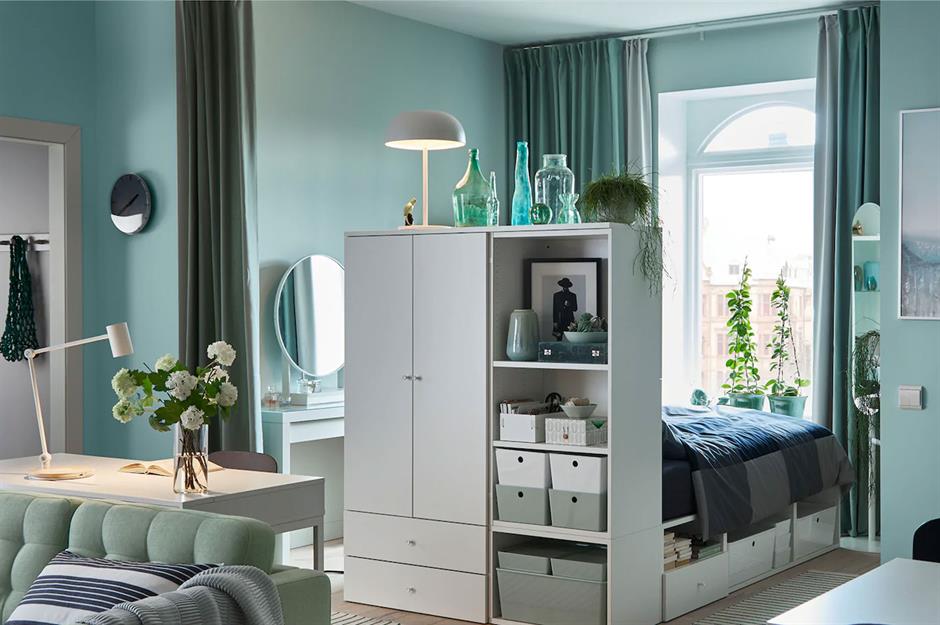 If you live in a micro-apartment where the bedroom is part of the living space, get creative with large furnishings to make the square footage stretch further. Instead of keeping your wardrobe pushed against the wall, pull it out and position it at the foot of the bed to create a multipurpose divide between the sleeping area and lounge.
Embrace abstract
With a little imagination, room dividers can add a pop of personality to an otherwise unremarkable space. This stylish red metal statement screen not only frames the bed, placing it centre stage in this petite bedroom, but also creates a handy dressing nook behind.
Roll in retro curves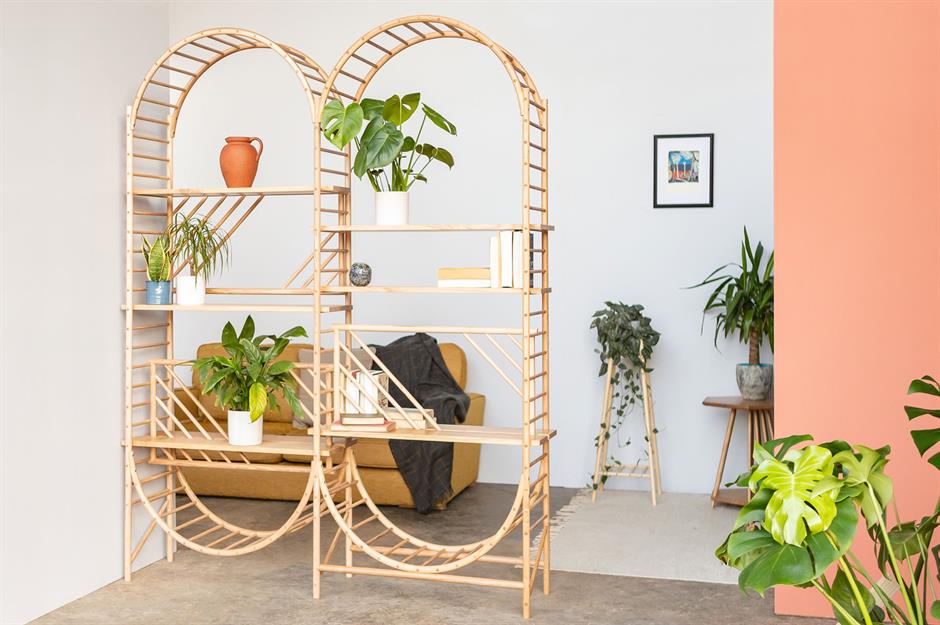 In open-plan spaces that lack character or quirky architectural features, opt for a partition with a bold, curvaceous design that adds drama to your living area. This rounded Art Deco-style room divider is made of pale ash wood that adds warmth and texture to the room.
Warm with wood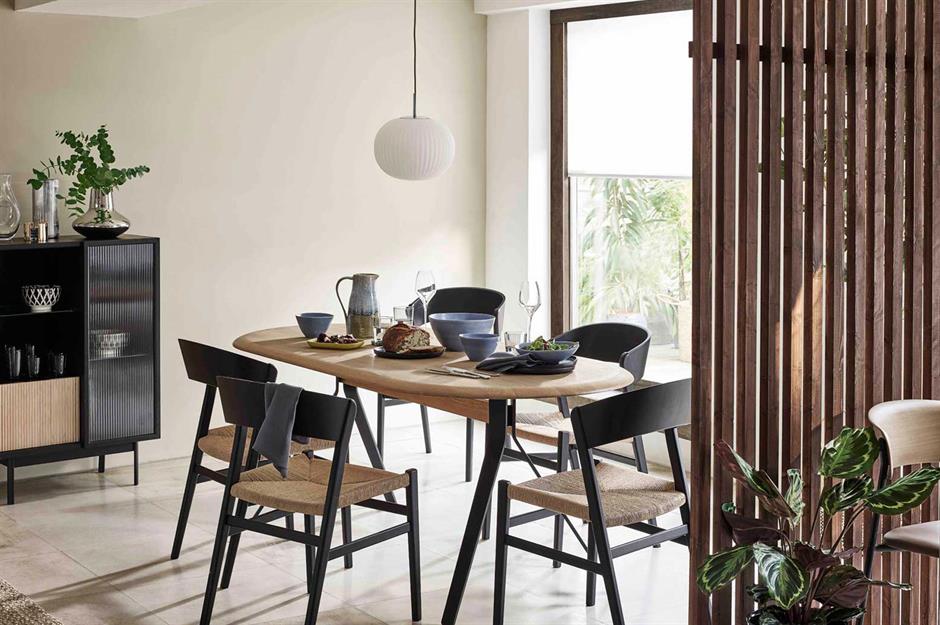 A securely-fitted slatted wooden divider is a more permanent way to create distinct spaces. Minimalist, linear designs will complement contemporary schemes and allow light to filter through, while more rugged versions made from reclaimed materials like wood pallets will look rustic and relaxed.
Plan for a peninsula
A permanent peninsula or kitchen island is a practical way to break up open-plan living areas. Not only does this handy worktop help to zone off the preparation space and create an intimate dining nook, but it also offers a great solution for entertaining, allowing you to whip up a meal while socialising with family members and guests.
Highlight the hearth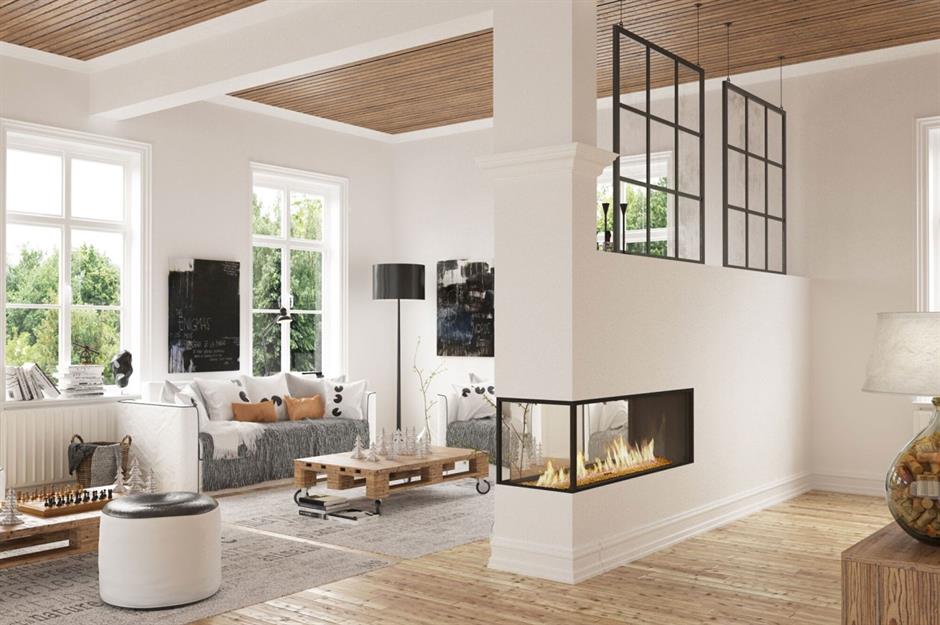 A glass fireplace inset into a solid room divider adds an instant air of luxury in a multipurpose lounge. Offering warmth and atmosphere from both sides, this stylish feature makes a fabulous focal point, creating a visual connection between two distinct living zones.
Blend in a beaded curtain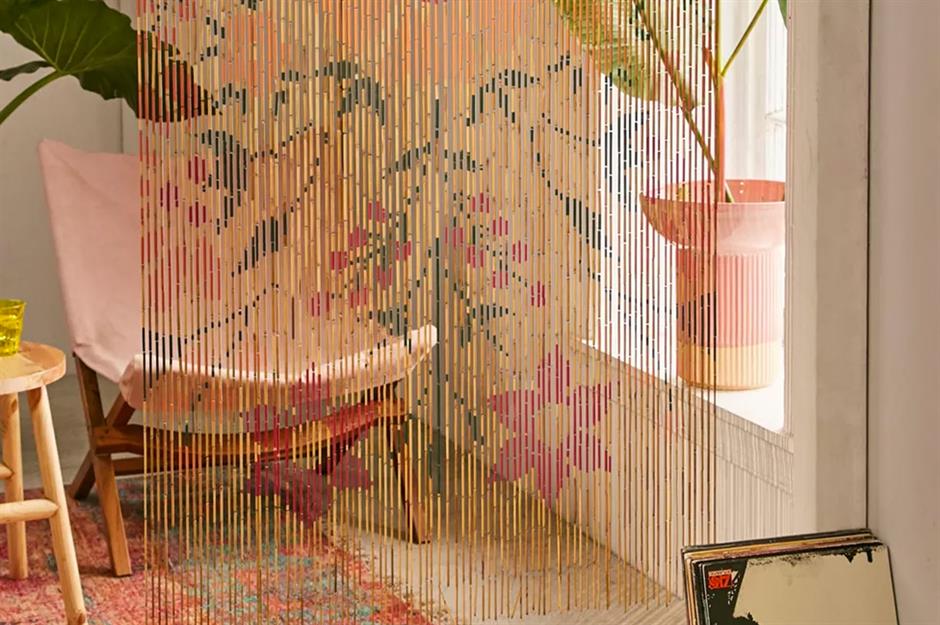 A blast from the past, beaded curtains have been used in doorways for years but they're a great way to zone a room too. Laidback and luxe, these retro homewares offer a sheer screen that allows light to filter through. Go for an illustrative floral pattern in muted shades to add a boho vibe to your room. ​
Get creative with a clothes rail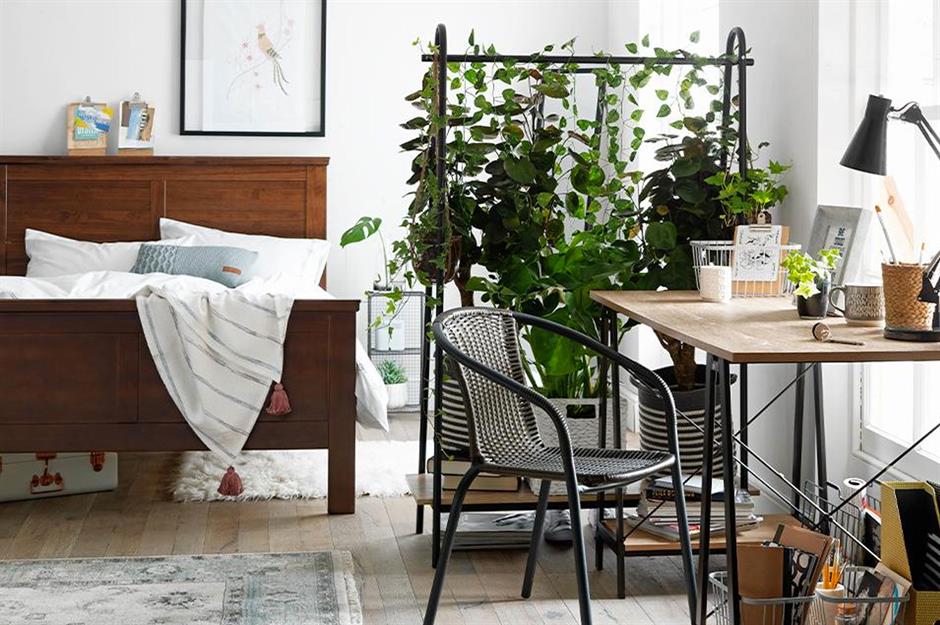 Using a clothes rail as a room divider is an innovative and budget-friendly option, especially if you opt for a design that has wheels. Instead of clothes, trying hanging pieces of colourful fabric or using the rail as a trellis for climbing plants to create a lush living wall effect.
Turn up the texture
Hanging room dividers look artistic in contemporary spaces and create a sense of drama, while faceted designs add plenty of texture. This modern living area uses a bold screen to separate the kitchen from the lounge. The diamond-shaped panels are adjustable so they can be rotated and rearranged to shake up the pattern and regulate light flow.
Shake up classic shutters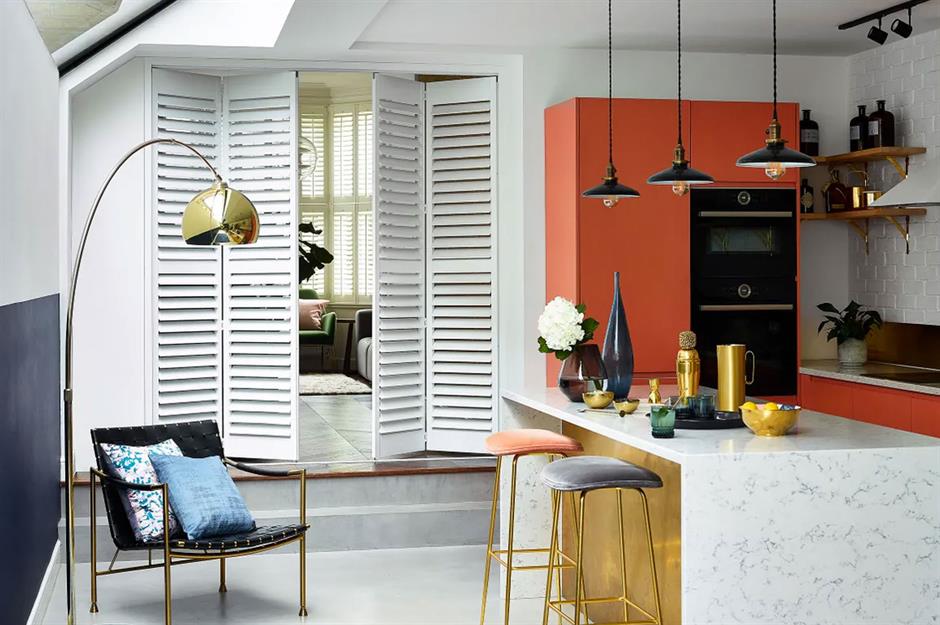 It may be the heart of the home, but cooking odours from the kitchen can easily permeate other living areas if you have an open floor plan. A room divider that's a little more permanent is the ideal solution. Built-in concertina shutters can close off the culinary space when needed, creating a flexible, broken-plan arrangement.
Embrace au naturel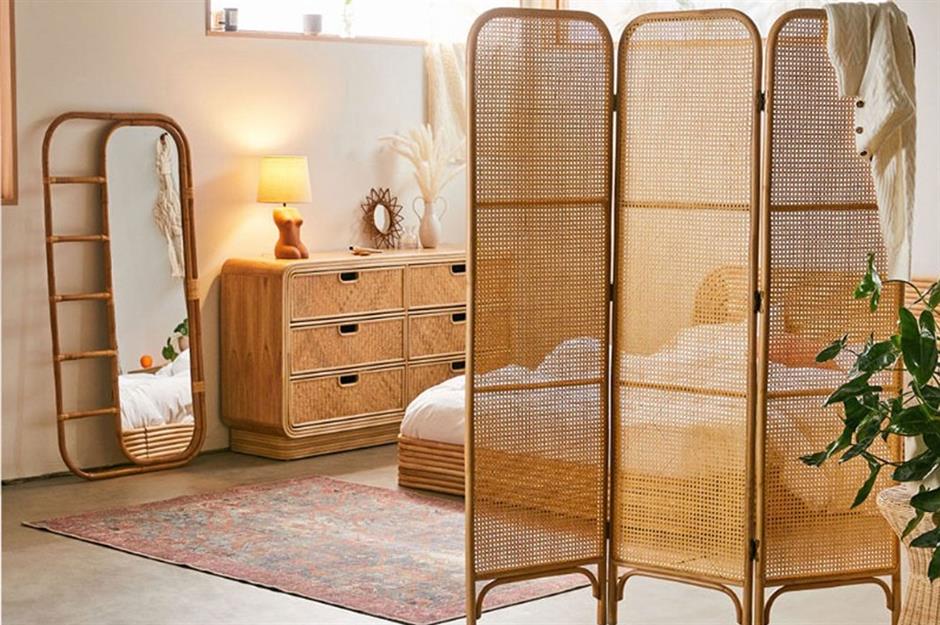 A room divider doesn't need to be a permanent structure. Classic bi-folding screens offer a more intimate feel in bedrooms and bathrooms. Even if you don't technically need to divide the room, a panelled screen can impart privacy, personality and a stylish decorative touch to your scheme. It can also hide a messy corner at a moment's notice!
Create a living wall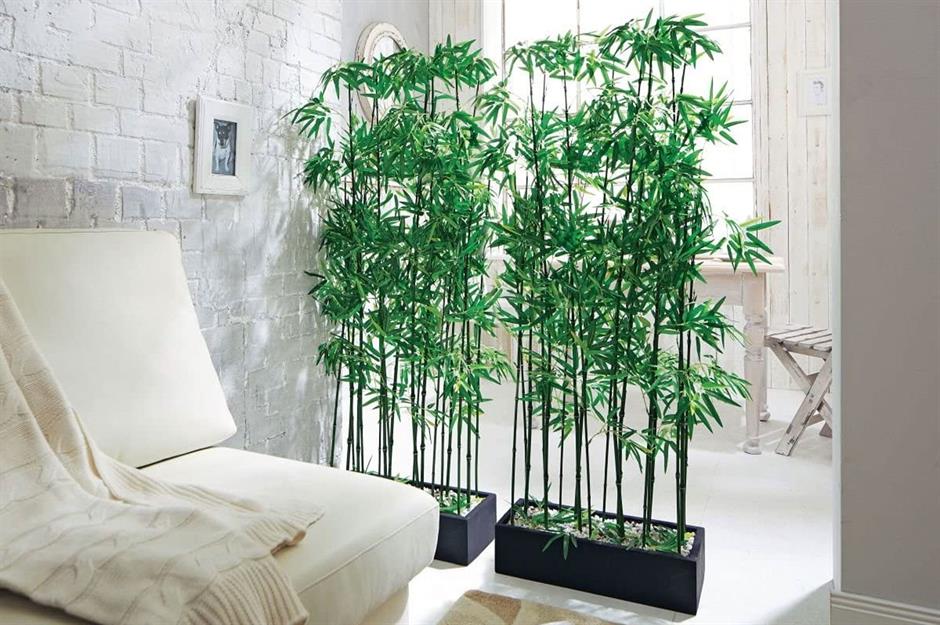 Just as planters create beautiful dividers on garden patios and terraces, they can also provide a colourful and structural way to zone indoor rooms too. If you don't have green fingers, there are plenty of faux versions of tall structural planters that would fool almost everyone.
Bring in a backless bookshelf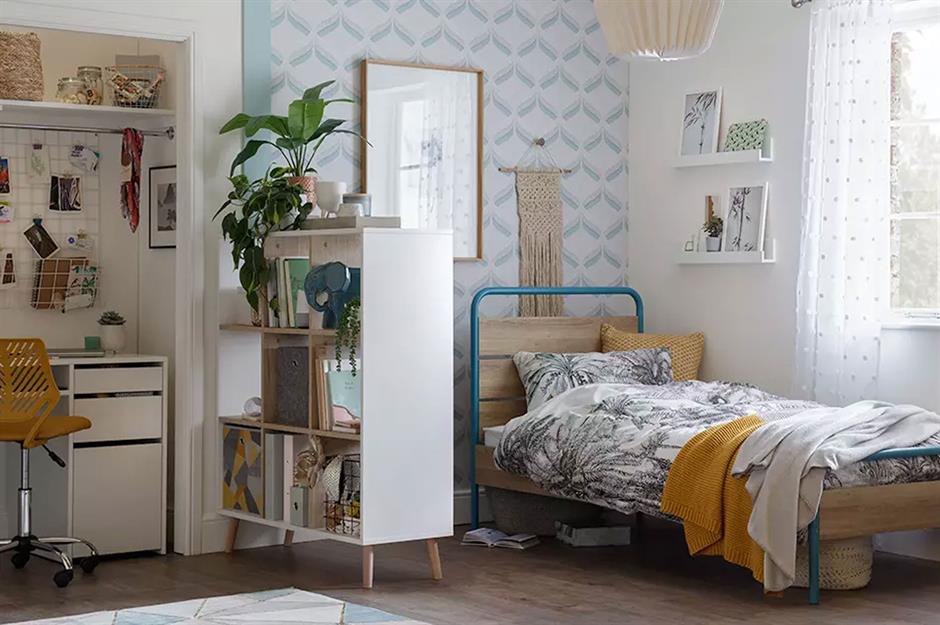 A room divider doesn't have to be as tall as a fixed internal wall to define a space, especially when it comes to smaller rooms. In this tween bedroom, a simple backless bookshelf is cleverly positioned between the bed and workspace to allow its owner to switch off from their studies.
Run riot with rope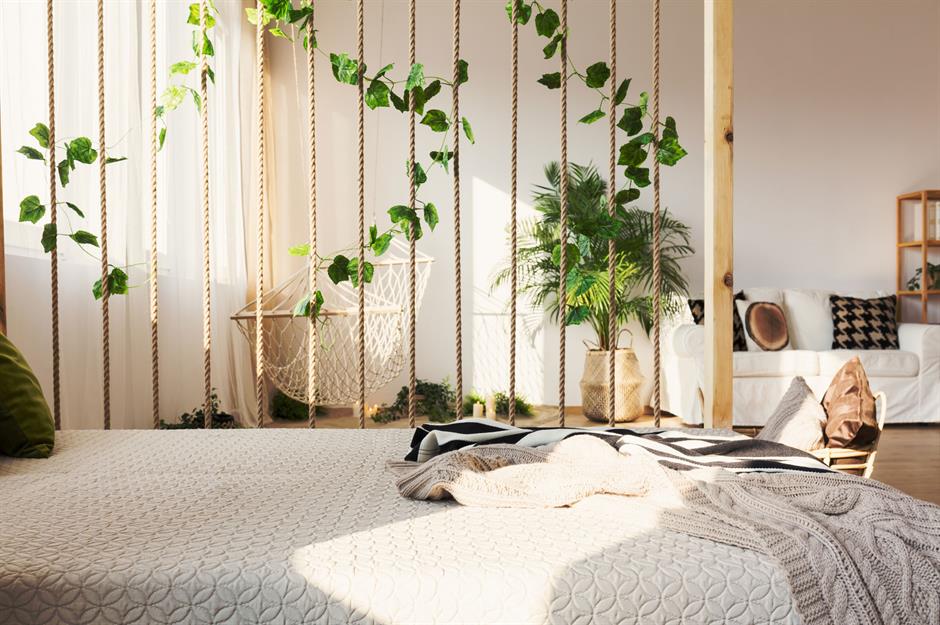 Shutterstock / Photographee.eu
Add organic texture whilst creating a visual room divide with a rope screen. This kind of partition, where lengths of rope are spaced out within a wooden frame, isn't about privacy, but it is a great way to zone a multipurpose space. If you need something more solid, you could position the lengths closer together or wrap lush green vines around the rope. As you'll need to safely secure the frame to the ceiling, it might be worth calling in the experts for this one!
Make a statement with monochrome
Shutterstock / Photographee.eu
A room divider doesn't have to take centre stage in a space to shine. Create a partition that blends in with your scheme by opting for a screen in a colour-matched hue. This divider blends in with the wall behind, seamlessly separating two zones in a single large living room.
Call in Crittall-style glass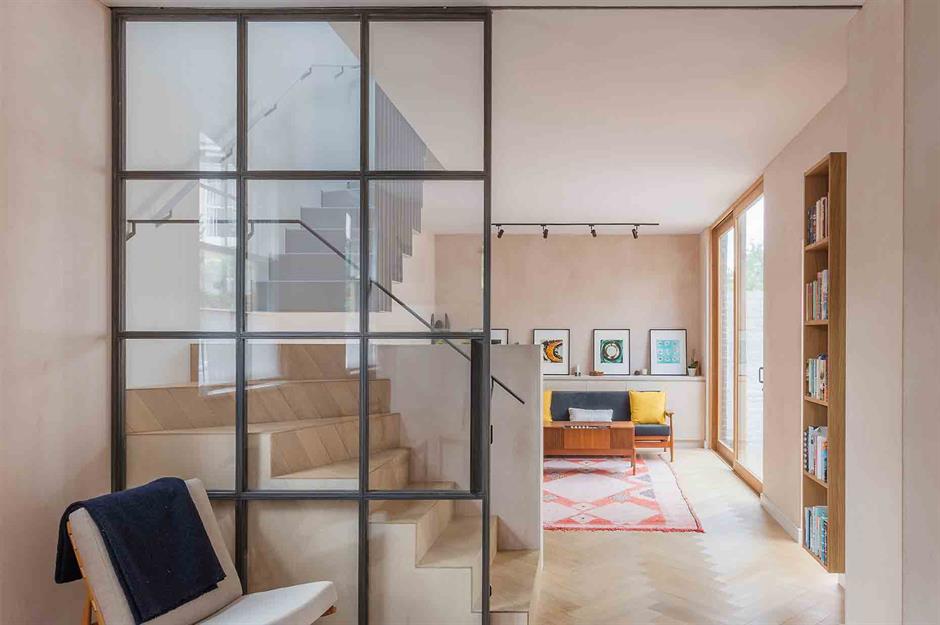 Crittall-style glass screens are a stylish way to divide spaces without blocking the flow of natural light. In this contemporary scheme by Vita Architecture, a sleek retractable divider can slide across the open hallway, separating the living area from the dining zone to create a more intimate entertaining space.
Hack what you have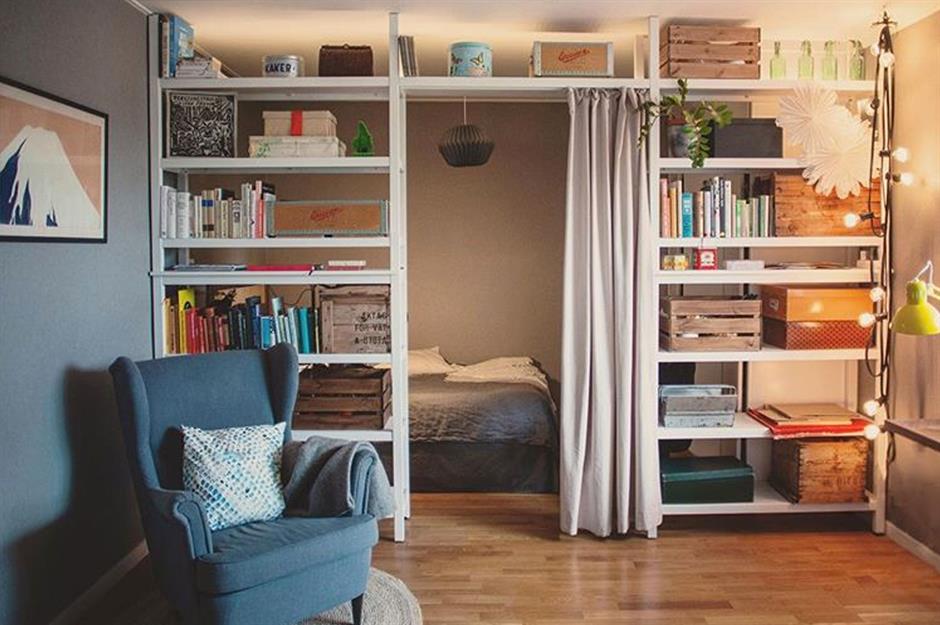 @linnea.hjelm / Instagram
IKEA storage systems make ideal budget-friendly room dividers whether stood alone or modified to create a bespoke screen. These HEMNES bookshelves form a clever yet simple partition for a small, cosy bedroom suite. A simple privacy curtain completes this genius IKEA hack.
Inject a bold splash of colour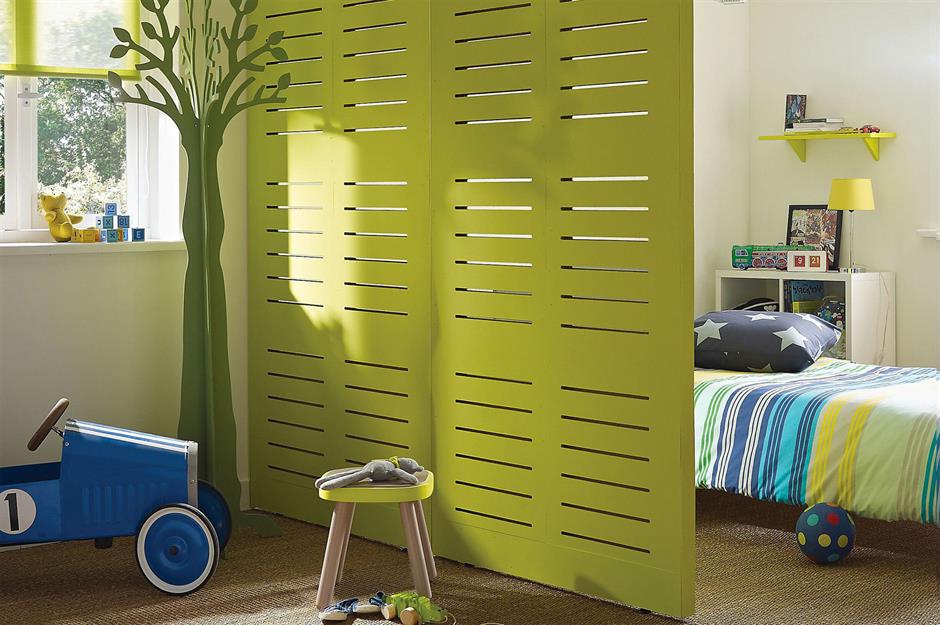 A partial divider can be just the ticket to zone a room and impart personality, especially if it's painted in a striking shade. These lime green panels are safely secured to the wall and floor and add a vibrant burst of colour – an ideal way to create separate spaces in a kids' bedroom for siblings that share.
Slide in slats
Rather than a fixed room divider, why not consider installing a section of adjustable slats? This genius design pivots, giving you the option of a solid screen or a perforated wall, depending on your needs. It's a great way to keep your layout flexible while ensuring you can create private corners when necessary.
Make it multipurpose
If your home is a little tight around the edges, dividers are a great way to create distinct zones in a single compact living area. When space is at a premium, it's well worth opting for a design that works double-time. This industrial mesh screen features hanging space, as well as storage pockets underneath.
Go for a graphic grid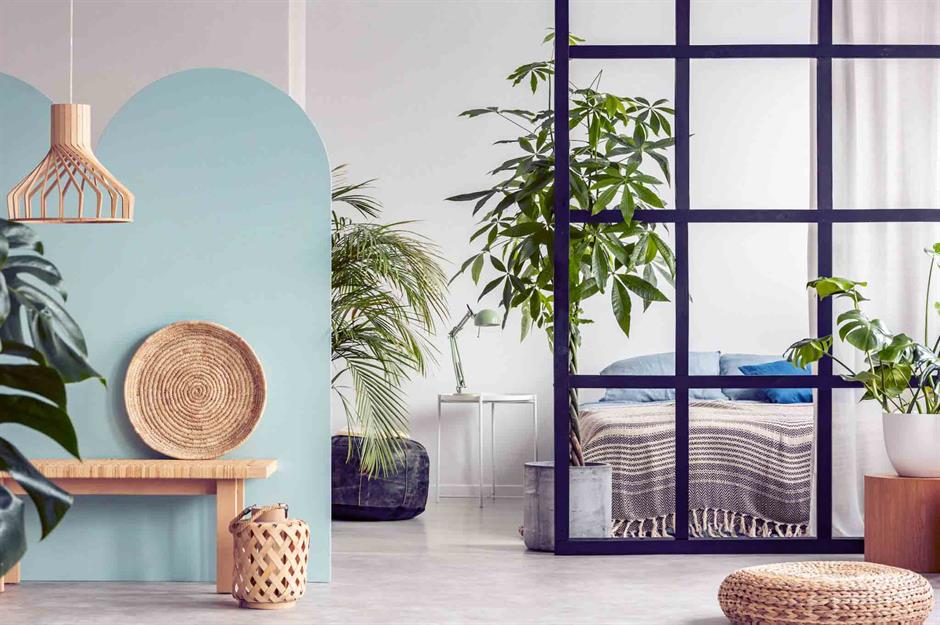 Photographee.eu / Shutterstock
Instead of a dividing wall inset with windows, lose the glass and embrace a graphic grid partition instead. Not only does it make a bold, contemporary statement, but it'll allow air to freely circulate. In this bedroom, the sleeping zone is screened off to create an intimate sitting area, utilising every square inch of space on offer.
Be the first to comment
Do you want to comment on this article? You need to be signed in for this feature
Sours: https://www.loveproperty.com/gallerylist/97075/smart-room-dividers-that-break-new-boundaries
Reorganize With The Best Room Dividers
The Best Room Dividers Buying Guide
The more popular room dividers are becoming, the more new designs are getting launched, and the harder it is for buyers to decide on what to buy.
In this buying guide, we explain the different types of room dividers, the benefits of owning a room divider, and the factors you should consider when buying a room divider. The purpose of this buying guide is to ensure that your search for a room divider is fruitful and you end up with a product that you will absolutely love.
What Are The Types Of Room Dividers?
Folding or Accordion Room Divider
This type of room divider is best known for its flexibility. It is foldable and easy to move around. It also doesn't take a lot of storage space when it's not in use. If you move around a lot, this is the room divider for you. They need no assembling. All you need to do is unfold them and set them straight up. However, they take a lot of space and might not be the best option where there's limited space. They are also likely to fall over when pushed too hard.
Hanging/Solid Room Divider
This type of room divider is usually made of materials like resin, light wood, resin, acrylic, and other solid materials. To prevent it from swaying or falling off, this room divider usually has its bottom attached to the floor.
Hanging/Fabric or Paper Curtain
This type of room divider is made of paper fabric and is more lightweight than the other types of room dividers. Also, they're more affordable. They usually come in about twenty-four to fifty inches width. More often than not, just two or three panels of the paper curtain can divide a room.
Bookcase Room Divider
This is the most versatile type of room divider. It serves both as a room divider and as a bookcase. It also serves as a place to keep items including ceramics, artworks, and more. Unlike other types of room dividers, bookcase room dividers provide a semblance of soundproofing as well. However, it's best to attach them to both the floor and the ceiling to keep them from falling.
What Should You Consider When Buying a Room Divider?
Available space
Apart from the fact that room dividers come in various sizes, some room dividers take more space than others. Therefore, it's important that you consider the space available before you choose a room divider.
Preferred material
Room dividers are made of various materials, from fabrics to wood. Checking out the various available materials and deciding on the one that works best for you will help narrow down the available options and make your search easier.
Budget
Paper curtain room dividers are easily the cheapest of the four types of room dividers. This doesn't mean that the other types are not affordable, it only means that these various types of room dividers have a price range, and considering your budget will help you stick to the ones that you can afford. This will help you save both time and energy.
Colors and designs
There are so many options to choose from. Do you want something Japanese-inspired or something with a solid color? Do you want a hand-crafted room divider or something that's a blend of craftsmanship and technology? There are just so many designs and colors available that you have to consider your preference and look at products along that line so you don't get overwhelmed by the options.
Brand
The brand you're getting your room divider from is super important. While some brands have a return policy, others don't. Some brands have a stand-by customer service team that is ready to answer all your questions about the products you bought from them while some just sell and don't care about whatever problem you have with the product later on. Hence, it is important that you consider the kind of customer service a brand offers before buying from it to avoid problems.
What Are The Benefits Of Owning a Room Divider?
Flexible and mobile
Room dividers are flexible. They can be used in various ways and made to suit your specific needs, unlike brick walls that do not budge. They are also mobile and easy to move around. So, you don't have to worry about losing your room divider if you have to move to a new home as you can simply take it with you.
Affordable and stylish
This is definitely one of the best benefits of a room divider. It is super affordable. It's not something you have to spend a fortune on. It is totally cost-effective and the wide variety of room dividers available in the market ensures that there's something for everyone no matter the budget. Room dividers also come in various styles, shapes, designs, and colors. They're elegant and give your room a touch of class and style.
Availability of options
There are plenty of available choices when it comes to room dividers, allowing you to choose the perfect size, material, design, color, and every other aspect that fits your space. Hence, the chances of you ending up with a product you don't like, considering the vast number of options available to you, are very low.
Easy to maintain and functional
Room dividers are absolutely easy to maintain. The ones made of fabric can be softly dry cleaned while soft cleaning will suffice for the ones made of wood. Room dividers are also functional as they help you maximize your space and make the most of it.
Replaceable and extensible
You don't have to break down anything to replace your room divider. It can be easily replaced. Its extensibility is also a huge benefit as it lets you spread out the panels or reduce them as you wish. With a room divider, all the choices are yours to make as you deem fit.
Portable and lightweight
When not in use, room dividers do not take much space in the store. You also do not have to wait for anybody to help you unassemble them when you want to keep them, as they are portable and lightweight.
Durable and reliable
Yes. You can count on room dividers. You can count on them to serve the purpose you bought them for which includes helping you maximize your space and protecting your privacy. Room dividers also come with impressive lifespans as they are made with long-lasting durable materials, so they offer exceptional value for your money.
Room Divider FAQ
How affordable are room dividers?
Room dividers are super affordable, even as affordable as $80 or less, depending on the brand and type of room divider.
Are room dividers stable?
Generally, yes, but some are more stable than others. Room dividers that are fastened both to the ceiling and the floor are more stable than freestanding room dividers.
Is a folding screen the same as a room divider?
Yes. A folding screen is another name to call a room divider. However, not all room dividers are foldable.
From mid-century modern to minimalist design styles, James is known in his community as a versatile and imaginative interior designer. He loves taking risks with bold color schemes and interesting furniture pieces that give homes a truly unique touch of character.
Sours: https://www.thestreet.com/review/best-room-divider/
As open-plan spaces became more desirable, so did the concept of making them multi-purpose. Now, with so many of us doing, well, everything at home, the notion of designating areas to different activities—or just carving out some privacy—has never been more important.
Fortunately, room dividers offer a simple, stylish way to make your home more flexible, and you can even tailor partitioning preferences to what best suits your needs and lifestyle. Read on to explore 23 ways to divide and conquer beautifully!
Open-and-close room divider ideas
These room dividers are ideal for situations where you want to simply and quickly transition between sectioning off and opening up your space.
Folding Screen
A hallmark of Asian design for centuries, folding screens are simple, lightweight, and attractive. These room dividers hinge together three, four, or more panels that may be translucent (known as shoji in Japanese) or opaque (fusuma). A basic four-panel shoji screen can be had for about $100.
DIY Folding Screen
DIY a folding screen by stapling a favorite fabric onto panel frames. Tip: When attaching panels, mount hinges on alternating sides so the screen can fold up. (Check out this blogger's supply list for specifics.)
Curtain
For instant space partitioning, call on a curtain. Suspend a rod from the ceiling and use rings or hooks to attach drapery panels. Think velvet for drama or go gauzy for a lighter look. Pull closed for privacy, open for spaciousness. Perfect for sectioning off a sleeping area in a studio apartment or mother-in-law suite.
Barn Door
If a curtain feels too flimsy, jump on the trendy barn door bandwagon, for under $200. Or build your own with guidance from This Old House's Mark Powers.
Simple Sliding Door
For a simpler sliding door project, make a frame out of 2x2s, nail or glue on Masonite sheets, add wheels to the bottom and hinged loops to the top, then hang from plumbing pipe attached to the wall.
Often used in commercial or professional settings like meeting rooms, accordion doors suspend from an overhead track but eschew a floor track to avoid a tripping hazard. They're typically manufactured from vinyl, laminates, wood, aluminum, or acrylic.
Wood Divider Screen
Wood divider screens start at around $200, but you can DIY one for less with three sheets of 16″ x 64″ plywood and, for the frame, a dozen pieces of 3/4″x 2″ lumber — half of them 16 inches long and the rest 6 feet long.
Build the frame, attach the plywood boards (painted in your preferred shade), and hinge together. Tip: High quality hinges add stability and look nicer too, so don't skimp! (Go here for full instructions.)
Storage Room Divider Ideas
Some spaces—like a shared children's bedroom or makeshift home office—will benefit from a partition with places to put things. These ideas fill the bill:
Bookcase
Any bookcase, set perpendicular to a wall instead of flush against it, becomes an instant room divider. Just be sure to secure it for safety: Attach metal L brackets to the top of the bookcase and a wall stud, then drive a few screws through the side of the unit into the same stud. For further insurance against tipping, anchor the bottom.
Bookcase with locking wheels
A bookcase with locking wheels affords utmost flexibility, especially in larger spaces like a loft or basement. Just roll and lock where you want to separate the space today, and move it to a new location tomorrow.
Tall, Wide Bookcases
The bigger the bookcase, the greater the privacy. Set up a tall, wide pair, back to back, to create storage on both sides of the divided space for books, toys, knickknacks, etc.
Cubbies
Go low with cubbies (a.k.a. cube storage) to delineate a border on the floor while maintaining open space above. This eight-cube organizer got raves from a reviewer who bought two—one placed horizontally for toys, the other vertically for display items.
Prefer to build your own cubbies? This Old House's Kevin O'Connor shows how in an easy family project tutorial using simple square cuts and basic assembly and finishing.
Headboard
A high-profile headboard with shelving on both sides can delineate a sleeping area while offering useful storage.
Open Shelving
Open shelving physically divides a space while allowing in some light and offering lots of versatility. Depending on shelf size, you may even be able to install a flat screen TV on a swiveling base.
Columned Room Divider
DIY a columned room divider for your home's entranceway to direct incoming traffic toward a particular area. While you'll need some solid mitering skills to build this attractive piece, our tutorial takes you through the process step by step.
Best Room Dividers to Let in Light
Some spaces—an exercise or meditation area, say—call for a floor-to-ceiling partition that also lets in light.
Macramé
Tie one on! Create a hanging room divider with the macramé, the art of knotting rope to produce textiles. (Check out this blog for a how-to using 700 feet of cotton rope.)
Linen Fabric
For simplicity and elegance in one fell swoop, suspend a piece of sheer linen fabric. Go with a barely there neutral to suit any décor or choose a bold shade, like this red, to make more of a statement.
Stitch a hem top and bottom and insert a rod in each, one to hang the divider from the ceiling and the other to add just enough heft so it won't waft too much in a breeze.
Wooden Slats
Slat's the ticket! If you've got a pile of wooden boards in your workshop, why not turn them into a slatted partition—simply a row of boards with gaps every few inches. Straight, high-quality lumber yields sturdy results, but imperfections can be part of the partition's charm. Tip: Make gaps caused by bowed or warped lumber less obvious by spacing them wider apart.
Wooden Blocks
Let the building blocks of style set your place apart—literally and metaphorically. This designer used chunky beech squares and rectangles to fashion a double-sided partition to separate a den from a dining room. The effect is warm and organic, yet modern and chic, and with solid construction it's a lot more stable than the Jenga game it channels!
Best Room Dividers for Salvagers and Upcyclers
If you're always ready to remake found objects or yard-sale steals, consider these space-sculpting projects:
Folding Screen Made from Doors or Shutters
DIY a folding screen using discarded doors or shutters as panels. Stain, paint, or keep in as-found condition depending on your decor, then install hinges to connect panels.
Tree Branches
Bring a sense of the outdoors in with a room divider fashioned from fallen tree branches. Insert branches (birch looks particularly beautiful) to a secure base, adding stones at the bottom to enhance the natural look, or twine with twinkling lights for a fairytale forest feel.
Old Window Frames
Old window frames get a new life as light-allowing room dividers. They can hang from from the ceiling or be hinged together as a screen.
Sours: https://www.thisoldhouse.com/living-rooms/21334671/room-divider-ideas
DIY Folding Screen Room Divider
The 8 Best Room Dividers of 2021
Final Verdict
Overall, we recommend the Esright Bamboo Room Divider (view at Amazon) for its durable, stylish construction and relatively low price. If you're looking for something similar that's more affordable, we recommend the Cecilia Rattan Folding Room Divider (view at Wayfair), which comes in four different colors and panel configurations.
Size
The first order of business is to identify the right size divider for your space. Most modern room dividers measure just under six feet tall, but lengths vary depending on the number of panels and their individual widths. If you're looking for something that's more decorative, a smaller three-panel divider is probably all you need; if you're trying to designate different areas in your home or you need a divider for privacy, there are options that go up to eight panels wide.
Function
If you live in a studio apartment, a room divider can change the entire flow of your space, giving you distinct areas instead of one open room. There are also storage room dividers, including ones with built-in shelves and others that double as bookcases, that offer even more functionality for tiny spaces. If you're just looking for something decorative, you have more flexibility to choose a divider for its aesthetics—many options today are upholstered in colorful fabrics, or finished in trendy materials like rattan.
Price
Room dividers aren't cheap, and you should expect to spend at least $50 on a free-standing one—although most are closer to $100. Prices go higher based on the construction and size, with six-paneled options (unsurprisingly) costing more than three-paneled models. If you really can't spend more than $25, consider buying a tension rod and curtain instead, to create a similar yet airier effect.
Sours: https://www.thespruce.com/best-room-dividers-4799997
Divider sturdy room
.
Build A Wood Room Partition/Divider Step By Step Time Lapse
.
Similar news:
.
470
471
472
473
474