FYI: Gang Locations/Names Can Change Daily
NORTH SIDE
Rogers Park:
Loc City (North of Howard, West of Sheridan)
Stoneville (Howard to Jarvis, Ridge to Clark)
Northpole La Raza (Clark to Paulina on Estes)
PBG (Morse to Pratt, Ashland to Glenwood)
Rogers Park Latin Kings (Pratt to Albion, Ravenswood to Ashland)
Edgewater:
DayDayWorld (Thorndale to Hollywood, Sheridan to Winthrop)
Uptown:
Uptown LKs (Balmoral to Argyle, Winthrop to Sheridan)
LDubb (Ainslie to Lawrence, Broadway to Sheridan)
Lil4Mobb (Wilson to Sunnyside, Clarendon to Sheridan)
TFG (Leland to Montrose, Magnolia to Broadway)
Chase Park LKs (Lawrence to Sunnyside, Ashland to Clark)
Near North Side:
Marshall Field Mickey Cobras (Evergreen to Blackhawk, Hudson to Sedgwick)
OTE (Oak to Chicago, Larrabee to Orleans)
Albany Park:
MLDs (Argyle to Lawrence, Keystone to Pulaski)
Spanish Cobras (Lawrence to Wilson, Springfield to Ridgeway)
CVL (Argyle to Wilson, Lawndale to Monticello)
DrakeSide (Ainslie to Lawrence, Drake to Kimball)
Familia Stones (Argyle to Lawrence, Kimball to Sawyer)
LKst LKs (Argyle to Lawrence, Kedzie to Whipple)
LAst SCR (Sunnyside to Montrose, Lawndale to Monticello)
Simon City Royals (Lawrence to Sunnyside, Central Park to St Louis)
SGDs (Wilson to Montrose, Bernard to Kimball)
Irving Park:
BHst LKs (Montrose to Bertau, Harding to Avers)
KC SCR (Montrose to Bertau, St Louis to Kimball)
BKst Ambrose (Belle Plaine to Cuyler, Kimball to Kedzie)
Familia Stones (Montrose to Berteau, Troy to Sacramento)
Imperial Gangsters (Irving Park to Byron, Pulaski to Hamlin)
MLDs (Grace to Waveland, Kedzie to Albany)
Avondale:
BKst LKs (School to Belmont, Drake to Kimball)
AS MLDs (Elston to Belmont, Kedzie to Sacramento)
BC MLDs (Belmont to Barry, Francisco to California)
DWst MLDs (Diversey to Schubert on Whipple)
OAs (Wellington to Diversey on Harding)
YLOCs (Wellington to Diversey, Avers to Hamlin)
MLDs (George to Diversey on Ridgeway)
Spanish Cobras (Drake & Wolfram)
Logan Square:
Koz Park (Diversey to Wrightwood, Avers to Hamlin)
OAs (Schubert to Altgeld, Kimball to Spaulding)
Imperial Gangsters (Altgeld to Fullerton on Harding)
Darwin City (Belden to Palmer, Kedzie to Sacramento)
Mozart Park (Palmer to Armitage, Hamlin to Avers)
Francis YLOCs (Francis & Stave)
Imperial Gangsters (Central Park to St Louis, Cortland to Bloomingdale)
Latin Kings (Armitage to Bloomingdale, Sawyer to Whipple)
Sin City (Armitage to Bloomingdale, Mozart to California)
Bucktown/Wicker Park:
WildSide MLDs (Altgeld to Fullerton, California to Washtenaw)
Mexico City (Fullerton to Shakespeare on Rockwell)
Spanish Lords (McLean to Cortland, Western to Oakley)
Latin Kings (Crystal to Division, Damen to Wolcott)
BAst MLDs (Julian to Beach, Paulina to Ashland)
Pulaski Park Jivers (Blackhawk to Division, Bosworth to Cleaver)
Portage Park:
SGDs (Warwick to Addison, Mobile to Austin)
MLDs (Belle Plaine to Irving Park, Laramie to Lavergne)
Familia Stones (Cullom to Belle Plaine, Milwaukee to Cicero)
S4CH (Grace to Addison, Lavergne to Cicero)
School Krazy (Lavergne to Lamon on School)
Hermosa:
Evil Side (Belmont to George, Cicero to Knox)
MLDs (Belmont to Wellington, Kolmar to Kostner)
K-Dub (Diversey to Wrightwood, Kostner to Kildare)
Killing Fieldz (Wrightwood to Fullerton, Kenton to Kostner)
Insane Dragons (Palmer to Dickens, Cicero to Kilpatrick)
Omskiville (Fullerton to Palmer, Kilbourn to Kostner)
No Luv City (Fullerton to Belden, Kildare to Keeler)
BKst MLDs (Belden to Armitage, Karlov to Keystone)
Latin Eagles (Dickens to Armitage, Kenneth to Kostner)
Terror Dome (Dickens to Armitage on Tripp)
Tripp Mob (Armitage to Bloomingdale, Kildare to Keeler)
APst MLDs (Armitage to Bloomingdale, Pulaski to Harding)
Belmont Cragin:
AD SGDs (Diversey to Schubert, Austin to Mason)
MLDs (Wellington to Diversey, Parkside to Central)
Latin Brothers (Long to Cicero on Barry)
S4CH (Diversey to Fullerton, Long to Laramie)
Latin Stylers (Fullerton to Palmer, Laramie to Cicero)
Cicero Assasins (Dickens to Armitage, Laporte to Cicero)
Latin Pachucos (Fullerton to Grand, Lorel to Laramie)
Belden City (Fullerton to Grand, Austin to Central)
Milwaukee Kings (Altgeld to Fullerton, Meade to Marmora)
Death Trap (Palmer to Dickens on Mobile)
MLDs (Fullerton to Dickens on Moody)
LOW END
Douglas:
RocNation 757 (27th & State)
Bronzeville/Grand Boulevard/Oakland:
The Ave 757 (35th to 37th on Indiana)
Lawless 757 (35th to 37th on Rhodes)
OBN (39th to Oakwood, King to Cottage)
Suwu TTB (39th to 41st, Ellis to Lake Park)
Welch World (41st to 43rd, Cottage to Drexel)
TYB (41st to 43rd, Wabash to Indiana)
BBG (43rd to 45th on State)
Jigdogs (43rd to 45th, Prairie to King)
5th Ward (45th to 46th, St Lawrence to Champlain)
Touchmoney (43rd to 46th, Evans to Cottage)
Dellmob (47th to 49th, Michigan to King)
Vulture City (49th to 51st, Michigan to Indiana)
Guttaville (51st & King)
Hitzsquad AAB (47th to 49th, Vincennes to Forrestville)
051 Young Money (47th to 51st on Cottage)
Kenwood/Hyde Park:
THF 46 (45th to 47th, Drexel to Woodlawn)
Drexside (52nd to 54th, Cottage to Drexel)
Washington Park:
5-1 Block (51st & Michigan)
MET Boyz (51st to 53rd, Prairie to Calumet)
BlackGate (54th to 55th on Indiana)
GeoDrive (53rd to 55th on King)
Vonworld (55th to 57th, State to Michigan)
NickoGang (57th to 59th, Indiana to King)
MOB (59th to 61st, State to Michigan)
600 (59th to 61st, Indiana to King)
Frontstreet (61st to 63rd, Indiana to King)
OBlock (63rd to 66th on King)
SOUTH SIDE
Pilsen:
Oakktown (18th to Blue Island, Western to Damen)
Bishops (17th to 18th, Damen to Ashland)
WildSide 2100 (Cullerton to Blue Island, Damen to Ashland)
Latin Counts (16th to 19th, Laflin to Loomis)
La Raza (18th to 21st, Throop to Racine)
GPP (16th to 17th, Racine to Carpenter)
Maniac Side (18th to Cullerton on Morgan)
Bridgeport:
Bridgeport LKs (Archer to 31st, Racine to Poplar)
Lituanica Homes SDs (31st to 33rd, Racine to Halsted)
3500 LKs (33rd to 35th, Racine to Morgan)
McKinley Park:
3400 CNotes (33rd to 35th, Oakley to Hoyne)
Latin Counts (35th to 39th, Damen to Winchester)
Wild Wood (34th to 36th, Wood to Ashland)
SDs (Archer to 33rd, Wood to Ashland)
Wentworth Gardens/Fuller Park:
Murdatown MTG (37th to 39th, Princeton to Wentworth)
PMobb (41st to 43rd, Shields to Wentworth)
THF 44 (43rd to 45th, Shields to Wentworth)
BackBlock (47th to 48th, Shields to Princeton)
ATLWorld (50th to 52nd, Shields to Wells)
Fuck City (53rd to 55th, Shields to Wells)
Back Of The Yards/Canaryville:
Saints (43rd to 47th, Damen to Ashland)
Spade Town (44th to 46th on Union)
Damen Two Six (47th to 49th, Hoyne to Damen)
Latin Souls (49th to 50th, Wolcott to Ashland)
4800 La Raza (47th to 49th, Laflin to Throop)
FollyBoyz (50th to 51st, Racine to Aberdeen)
50 Strong OBE (49th to 51st on Peoria)
Canaryville SDs (47th to 49th, Halsted to Union)
HSG (50th to 52nd, Hoyne to Damen)
Loc City (51st to 53rd, Honore to Hermitage)
Murdafield (52nd to 53rd on Marshfield)
Latin Kings (51st to 52nd, Ada to Throop)
KTC (52nd to 53rd, Morgan to Sangamon)
GGE (52nd to 53rd on Green)
Damenville BloodGang (52nd to 55th, Hoyne to Damen)
Tytoland (54th to 55th on Winchester)
QMB RocNation (53rd to 55th, Wood to Hermitage)
LStation (54th to 55th, Laflin to Justine)
Englewood:
COV Landlords (55th to 57th, Carpenter to Morgan)
MOE (56th to 58th on Emerald)
WMG (55th to 57th, Union to Lowe)
MOM ( 57th to 59th, May to Aberdeen)
Freakyworld (58th to 60th, Morgan to Sangamon)
WallyGang (58th to 60th, Peoria to Green)
Shields (57th to 59th, Stewart to Princeton)
SaintWorld (59th to 61st, Racine to May)
Tay Town (59th to 61st on Normal)
300 Lamron (63rd to 65th, Parnell to Stewart)
FreshBlock (65th to 67th, Aberdeen to Carpenter)
Creep City (64th to 67th on Sangamon)
AMG MacBlock (64th to 66th, Peoria to Halsted)
LoweLife (64th to 67th, Union to Lowe)
Murda May Mob (67th to 69th, May to Aberdeen)
Murda Morgan JoshBlock (67th to 70th on Morgan)
Tunechiville (67th to 70th on Sangamon)
White White Gang (66th to 69th on Peoria)
Crazyville (70th to 71st, Carpenter to Morgan)
CMB (69th to 71st on Peoria)
Shawnmoney (69th to 70th, Halsted to Union)
BlockBurna (69th to 71st on Parnell)
Bricksquad (69th to 71st on Eggleston)
Dipset TyGang (71st to 72nd, Parnell to Eggleston)
Tay City (69th to 71st, Wentworth to Lafayette)
MayBlock (71st to 73rd on May)
YMM (71st to 73rd on Morgan)
DogPound (71st to 73rd, Green to Halsted)
WugaWorld (74th to 76th, Eggleston to Stewart)
BodieWorld (74th to 75th, Vincennes to Wentworth)
West Englewood:
Lordsville (55th to 58th, Hamilton to Seeley)
WBMT Titus Gang (57th to 58th on Winchester)
Art Gang (55th to 58th, Wood to Hermitage)
FlinBoyz (55th to 58th, Ashland to Laflin)
Dumpstreet (59th to 60th, Marshfield to Justine)
Madville (61st to 63rd, Paulina to Ashland)
LBlock (61st to 63rd, Laflin to Bishop)
Nuneworld (63rd to 65th, Hamilton to Damen)
BPS (63rd & Honore)
WVG (64th & Bishop)
DVLB (65th to 67th, Hermitage to Ashland)
Warldlife LowBlock (66th to 69th, Ashland to Justine)
6Ward BGC (66th to 69th, Hamilton to Damen)
JoshBlock (67th to 68th on Winchester)
WNB (67th to 69th, Wolcott to Hermitage)
Chunky City (69th to 71st, Hamilton to Winchester)
Crashtown (69th to 71st, Paulina to Marshfield)
DTown (67th to 68th, Ada to Throop)
ETown (67th to 69th, Elizabeth to Racine)
TSG (68th to 70th, Ada to Throop)
TLuv (70th to 71st, Ada to Throop)
SDub City (72nd to 74th, Damen to Wolcott)
BaberBlock (71st to 72nd, Wolcott to Honore)
TGC 3rd Gang (72nd to 74th, Paulina to Ashland)
Skeezeworld (73rd & Ada)
Red City (74th to 75th, Racine to Ada)
Auburn Gresham:
Jayloworld (75th to 76th, Damen to Ashland)
Freakoworld (77th to 79th, Wood to Ashland)
RMG (76th to 78th, Racine to May)
UBlock (75th to 76th on Union)
Central City (76th to 79th, Emerald to Lowe)
BBG (79th to 80th, Damen to Winchester)
NewMoney (79th to 83rd, Hermitage to Marshfield)
GVille (78th to 81st, Laflin to Throop)
Bussgang TrayTown (79th to 80th, Carpenter to Morgan)
CuttaGang (79th to 81st on Sangamon)
ESpot (79th to 81st, Halsted to Union)
Smashville (83rd to 86th, Marshfield to Ashland)
Foster Park (83rd to 87th, Loomis to Ada)
8Tray (83rd to 85th, Aberdeen to Carpenter)
Mike City (85th to 87th, Carpenter to Morgan)
3rd Ward (82nd to 84th, Sangamon to Peoria)
Stone Terrace (84th & Vincennes)
EAST SIDE
Woodlawn:
Jaro City (61st to 63rd on Vernon)
TyquanWorld (61st to 63rd on Eberhart)
STL/EBT (63rd to 65th, Eberhart to St Lawrence)
Chieftown (61st to 63rd on Evans)
800 (61st & Cottage)
Chrisworld Zone7 (66th to 68th, Langley to Cottage)
TYMB (63rd to 65th, Cottage to Maryland)
DBlock (66th to 67th on Drexel)
The Creek VicWorld (62nd to 63rd, Greenwood to University)
SawBlock (65th to 67th, Minerva to Woodlawn)
YCF Cranktown (61st to 63rd on Kimbark)
Stony Spot (62nd to 63rd, Blackstone to Stony Island)
Dipset 650 (65th, Blackstone to Stony)
Grand Crossing:
PocketTown (71st to 75th, South Chicago to Woodlawn)
Zoland ABM (69th to 71st, Kenwood to Harper)
Will City (71st & Dorchester)
Sirconn City (72nd to 75th, on Dorchester)
Rock Island 075 (75th to 77th, South Chicago to Stony)
South Shore:
Maul Town (67th to 69th, Cornell to East End)
ChrisBlock (67th to 69th, Jeffery to Chappel)
Maniac 4CH (68th to 69th, on Crandon)
Paxtown (69th to 71st, Jeffery to Paxton)
MooseBlock LPC (71st & East End)
Ghettoworld (71st to 72nd, Bennett to Jeffery)
Guwop Gang (74th to 75th, Euclid to Jeffery)
CBlock Justoworld (73rd to 75th, Jeffery to Clyde)
ABK (72nd to 73rd on Coles)
Black Mob (75th to 76th, Yates to Phillips)
Terror Town (75th to 78th, Yates to Exchange)
Colesmobb (75th to 77th on Coles)
RBG (78th to 79th, Cornell to Ridgeland)
CBlock (78th to 79th on Constance)
MTG Dramaworld (77th to 79th, Merrill to Paxton)
NLMB (77th to 79th, Essex to Saginaw)
Ceno City (77th to 79th on Coles)
081SG (81st to 82nd, Luella to Crandon)
OBG Barnone (81st to 83rd, Oglesby to Yates)
Lakeside (79th to 81st, Saginaw to Manistee)
OCity (79th to 81st, Escanaba to Exchange)
Jacktown EBE (79th to 80th, Commercial to South Shore Dr)
SMV (79th to 81st on Brandon)
Triple Bs (81st to 83rd, Muskegon to Exchange)
8Deuce (81st to 83rd, Houston to Coles)
South Chicago:
NoLimit TonyWorld (83rd to 85th, Kingston to Colfax)
QuillBlock (83rd to 84th, Burnham to Muskegon)
Deathrow (84th to 87th, Escanaba to Commercial)
DBlock (86th to 87th on Essex)
The Bush (83rd to 86th, Brandon to Green Bay)
No Limit Medina (87th to 88th on Kingston)
GMB Nutville (87th to 89th, Saginaw to Marquette)
Latin Dragons (87th to 89th, Escanaba to Exchange)
GME RoeBlock (87th to 89th, Brandon to Burley)
SGDs (89th to 90th, Exchange to Commercial)
Bloodstones (90th to 92nd, South Chicago to Commercial)
Latin Counts (90th to 92nd, Baltimore to Brandon)
East Side:
No Limit LKs (95th to 97th on S Ave M)
99 Ruthless (98th to 99th, S Ave L to S Ave J)
100s Latin Kings (100th to 102nd, S Ave N to Ewing)
Murda Ave (103rd to 105th, S Ave N to Ewing)
100s Latin Counts (105th to 108th, Mackinaw to S Ave O)
Bukktown (108th to 110th, Burley to Mackinaw)
Sours: https://chicagogangguide.fandom.com/wiki/Chicago_Gang_Sets_%26_Locations_(2018)
Map of Chicago Gangs (Full Tour of Chicago Hoods)
Map and Breakdown of Chicago Gangs Areas
From the Chicago hoods of the South Side to the areas where Chicago gangs roam on the West Side to the heart of the Chicago ghetto areas of the North and East sides, this map breaks down the background and history of almost every Chicago hood and community while giving a tour through the streets of the urban sections of the city.
Chicago Gangs Map Key: Red = Black P. Stones | Dark Blue = Gangster Disciples | Light Blue = Black and Maniac Latin Disciples | Green = Mickey Cobras and Spanish Cobras | Gold = Vice Lords and Latin Kings
Chicago Hoods: South Side
Before the rise of Chicago gangs there was only a small black presence on the city's South Side. Originally, the South Side was a place for the city's white population, but after urban renewal of the city's historic black community of Bronzeville, or known locally as the Low Ends, with the placement of housing projects and the Dan Ryan (Interstate 90 & Interstate 94) thousands of residents were displaced into the South Side during the 1960s and 1970s.
After urban renewal of the Low End, Chicago's black population began making its way into the heart of the South Side during the 1960s and 1970s, first in neighborhoods like Englewood and Back of the Yards, followed by Auburn Gresham, 95th Street, and Roseland and West Pullman (the Hundreds), while places around 63rd and Loomis, 95th and Halsted, a small sections in Roseland and Back of the Yards had black presence since before the 1960s.
The streets within the Chicago ghetto of the South Side date back to the days of S. Green Street around Marquette (67th) and Halsted, the beginning of the Gangster Disciples that would later join one of Chicago's largest black gangs, the Black Disciples, and form the Black Gangster Disciples, in which the alliance did not last and kickstarted the BD vs. GD war.
While before white flight in the Back of the Yards, some of the first Chicago gangs in the area were all-white gangs like the Gaylords or the Renegade Saints. Following white flight, the area would become home to Damenville Gangster Disciples and Black P. Stones of Moe Town, as well a handful of Mexican and Hispanic gangs.
Then in Auburn Gresham, which sits along 79th, 83rd, and 87th streets, some of the city's oldest Black P. Stone and Gangster Disciple hoods, like Foster Park, Killa Ward, Duck Town, G Ville, or 8-Tray have called this community home since the 1970s.
Along a small stretch of 95th Street was once home to a number of old-school gang affiliations like the Cobra Stones, Disciples, Racketeers, and the Imphs, all before the Black P. Stones and Gangster Disciples acquired the majority of real estate in Princeton Park, Nateville, Rack City, and other hoods along 95th.
Nicknamed the "Wild Hundreds", the Roseland and West Pullman neighborhoods have become hotbeds for the streets and Chicago gangs in the form of Gangster Disciples and Black Disciples, but also Mickey Cobras, Four Corner Hustlers, Black P Stones, Latin Kings, and Vice Lords in Chicago hoods like Rag Town, Trigga Town, RudeVille, RioWorld, Ada Park, GoonTown, Snake Pit, and many more.
Chicago Hoods: West Side
From the Vice Lords to Gangster Disciples to the Four Corner Hustlers to the New Breeds and the Black Souls, the West Side might not have received the recognition from the media as the South Side, but within the streets of the Chicago ghetto there is little difference between either side as this section of the city is the birthplace of numerous Chicago gangs.
With the destruction to Chicago's original black community of the Low Ends' Bronzeville community, as well the black community of the Near West Side, the black population relocated into the heart of the West Side, starting along Madison in East Garfield Park and later expanding into North Lawndale and West Garfield Park, and eventually into the Austin neighborhood during the 1970s and 1980s.
Chicago gangs of the West Side date back to the 1950s and 1960s. Gangs were originally created for needed protection from other races as the newly arrived African Americans were constantly abused and mistreated, and would later be involved in politics and efforts to better the community.
One of the largest gangs in the country are the Vice Lords. Beginning in the North Lawndale neighborhood as the 14th Street Clovers, a Chicago hood that became known as Holy City, the Vice Lords would later emerge and breakoff into multiple factions, like the Conservative Vice Lords, Traveling Vice Lords, Mafia Insane Vice Lords, and the Unknown Vice Lords. Outside of Vice Lords, there are Gangster Disciples, Black Souls, New Breeds, and Four Corner Hustlers.
Chicago Hoods: East Side
From State to Lake, the saying that refers to the East Side of Chicago, meaning the boundaries of the East Side expand from State Street to Lake Michigan. There are numerous of Chicago gangs on the East Side, like the Gangster Disciples, Four Corner Hustlers, Vice Lords and others, but the most notarized has been the Almighty Black P. Stone Nation.
On the corner of 67th and Blackstone the Black P. Stone Nation began as the Blackstone Rangers in the Woodlawn neighborhood as Jeff Fort and Eugene Bull Hairston spearheaded a movement that would expand throughout the Low Ends, East Side, South Side, small sections of the West Side, and even in certain cities nationwide. The growth also led to spinoff gangs, like the Titanic Stones, Maniac Stones, Mickey Cobras, and others.
Outside of the Black P. Stones, Chicago gangs of the Gangster Disciples and Black Disciples, who started out as the Devil Disciples around 53rd and Woodlawn, hold much of a presence on the city's East Side, especially around King Drive, Cottage Grove, and in South Shore.
Originally, the East Side began in the Washington Park community and expanded as far as 67th Street by the 1950s and 1960s. Continuing the growth, the East Side's urban population ventured further south into areas such as South Shore and Chatham, during the 1970s and 1980s, and eventually made its way as far as Jeffery Manor along 95th Street by the 1990s.
Chicago Hoods: North Side
When it comes to the streets within the North Side Chicago ghetto, outside of one of the country's most notorious former neighborhoods, Cabrini Green, much is not known about the North Side, but from Cabrini Green to Marshall Field to the sections of the city known as the North Pole, stretching from Lawrence Avenue to Rogers Park, there are numerous Hispanic and black Chicago gangs and hoods of the.
Originally built during the 1940s, Cabrini Green went from temporary housing to a very troubled complex that displayed poor living conditions and much street activity from numerous Chicago gangs, like Gangster Disciples and Mickey Cobras.
Today, after the demolishing of the Cabrini Green, the main 'hood of the Near North Side is the Marshall Field apartment complex, while there is still a presence within the low rises of Cabrini Green. The section of the North Side that is known as the North Pole, from Rogers Park to the Uptown neighborhood, is a large diverse community of African Americans and Latinos who have been displaced from other Chicago neighborhoods and have been making their way into the far North Side since the 1980s.
Chicago Hoods: Latino Community
With prominent Latino Chicago gangs of the Latin Kings, Satan Disciples, Maniac Latin Disciples, Spanish Cobras, Gangster Two Six, and numerous others, the Hispanic community of both Mexican Americans and Puerto Ricans have many similarities to the city's black population.
The Mexican community began in the Pilsen and Back of the Yards neighborhoods, after relocating into Chicago as early as the 1910s. Urban renewal within Pilsen and the closing of the Stockyards in the Back of the Yards community led the Latino population to expand into Little Village and Cicero by the 1960s and 1970s and continuing into areas like Gage Park by the 1980s.
Similar to other Chicago gangs, Mexican gangs were started due to the fight against being attacked by other racist groups as Mexicans were moving into European neighborhoods. In Pilsen, there were gangs like the Ambrose, the Bishops, the Satan Disciples, and the La Raza. While in Little Village, the first and largest gang was the Gangster 2-6 who gained members due to the dislike for the Latin Kings that came from the Humboldt Park area.
During the 1950s Puerto Ricans began to arrive into the city of Chicago. Most resided in the Humboldt Park, as well other communities in the city, with Division Street being the heart of the neighborhood. As more and more Puerto Ricans arrived the population expanded to over 100,000 by the 1980s into neighborhoods like Logan Square, Belmont Cragin, and Hermosa.
The population increase caused problems during the 1950s and 1960s with other races of the neighborhoods. As a form of protection from the white gangs, Puerto Ricans gangs were created due to the harassment they were receiving. This eventually created the Latin Kings around Spaulding, the Maniac Latin Disciples around N. Rockwell, the Insane Unknowns around Iowa and Springfield, all together with the Spanish Cobras, the Latin Pachucos, and the Insane Albany Orchestra and the Imperial Gangsters in the Logan Square area.
Chicago Hoods Related Topics:
1 Top Chicago Rappers
2 Gangsta Island: Story of Gary, Indiana 'Hoods
3 Map of Philly Gangs (Full Tour of Philly Hoods)
4 Map of Toronto Gangs (Full Tour of Toronto Hoods)
5 Legends of the Streets: City to city Top Kingpins, Gang Leaders, Crews
Sours: https://www.kulturevulturez.com/breakdown-chicago-ghetto-hoods-gangs/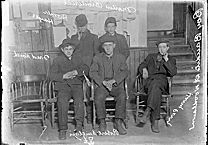 Chicago's first gangs developed along ethnic lines out of the volunteer fire departments during the antebellum period. With names like "Fire Kings," these outfits of young, often single working-class men competed against one another in departmental reviews, brawled in the streets, and conducted social events. "Running with the machine" was celebrated in the dime novels of the day as part of the culture of manly bravado. When the professionalization of firefighting departments forced volunteer companies to disband, the locus of gang life shifted into saloons, where "political fixers" harnessed the energies of these men.

By the 1880s a thriving gang scene developed in Bridgeport and Back of the Yards on the South Side. Several large Irish gangs, such as the Dukies and the Shielders, exerted a powerful influence on the street life around the stockyards, raiding peddlers, robbing men leaving work, fighting among themselves, and terrorizing the German, Jewish, and Polish immigrants who settled there from the 1870s to the 1890s. These gangs fought constantly among themselves, but they united as the "Mickies" to battle black gangs to the east. During this period, gangs became entrenched in the patronage networks of ward machines. In Irish communities, the sponsorship of gangs by politicians and businessmen transformed them into "athletic clubs" like the Hamburg Club, Ragen's Colts, and the Old Rose Athletic Club. Based in saloons and clubhouses, and often claiming the membership of over a hundred men ranging from their late teens to early thirties, these clubs ensured the elections of their patrons by stuffing ballot boxes and intimidating voters.

By the early twentieth century, Polish and Italian gangs were the most numerous in Chicago. Polish gangs located in the "Pojay" colony on the Northwest Side battled rival Polish groups across the river in the Bucktown area and southward, where a different Polish gang occupied every block of Milwaukee Avenue down to the industrial area along the Chicago River. These gangs also engaged in territorial skirmishes with Italian gangs of the "Little Sicily" neighborhood to their south. Usually identifying themselves by streets that served as hangouts, several of these Italian gangs reportedly had connections with "Black Hand" syndicates.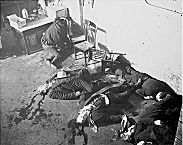 The involvement of Ragen's Colts in the race riot of 1919 established a pattern of white ethnic gang behavior that would affect the course of race relations in Chicago through the 1950s. Organized by Democratic alderman Frank Ragen of Canaryville, this gang attacked African Americans residing in a nearby Black Belt neighborhood after African American votes had helped lift Republican "Big Bill" Thompson to victory in the municipal elections. Taking names like the Shielders and the Boundary Gang, white gangs patrolled the "color line" through the 1930s. These activities intensified with the accelerated migration of black southerners during World War II, prompting the Mayor's Commission on Human Relations in 1946 to establish a Juvenile Bureau to investigate the role of youth groups in anti-black violence.

Partly as a defense against racial violence, which by the 1950s reached Chicago's Latino communities, African American, Puerto Rican, and Mexican gangs proliferated in the late 1950s. By the mid-1960s, several gang niches had developed throughout the city: black gangs like the Blackstone Rangers and Vice Lords pervaded the South and West Sides, respectively; Puerto Rican gangs such as the Latin Kings dominated the Humboldt Park area on the Northwest Side; and Mexican gangs like the Latin Counts filled the Pilsen area around 18th Street. Gang violence occurred both within and across racial and ethnic lines throughout this period, with recruitment drives accounting for many homicides.

The public image of gangs improved in the late 1960s, when some of the more powerful black and Puerto Rican gangs joined forces with political groups and community development organizations. In the black communities of Woodlawn and North Lawndale, the Blackstone Ranger Nation and the Conservative Vice Lords procured government and private grants to conduct job training and community improvement programs. The use of descriptors like "nation" and "conservative" represents the influence of the Black Power movement on these gangs. Despite significant accomplishments, these projects were discontinued amidst charges of fraud brought to national attention by Senator John McClellan's Permanent Subcommittee on Investigations. While gang leaders and community activists countered with allegations of harassment by the Gang Intelligence Unit of the Chicago Police Department and pointed to a reduction in gang fighting during the tenure of the program, such claims lost credibility in the early 1970s, when many gangs became involved in drug trafficking and violent recruitment efforts. African American gangs have been sporadically involved in ward-level politics since this time, but the political thrust of the late 1960s seems distant in the context of the gang violence of the 1990s.

Although existing gangs have become entrenched as membership has extended across generations, the geography of Chicago gangs was changing by the end of the twentieth century. Asian youth gangs, many of whose members arrived in the United States in the 1970s and 1980s, have joined the spectrum of street gangs in Chicago. Gangs also have moved into surrounding suburbs and even extended their reach across the Midwest. In the 1990s, Chicago gang members traveled as far afield as North Dakota in order to sell drugs, often in partnership with their Chicago rivals. At the same time, Chicago gangs began to move into cyberspace by developing their own Web sites, some of which included secret chat rooms.

Chicago's gangs have also broadened their appeal by crossing gender lines. The Chicago Crime Commission estimated that females accounted for as many as 20,000 of the 100,000 gang members in the city at the turn of the century. In the past, girls and young women often occupied, or appeared to occupy, somewhat subservient roles within gangs. A study conducted in the late 1990s revealed, however, that increasing numbers of females were becoming full-fledged gang members and increasingly participating in gang-related violence.

Andrew J. Diamond

Bibliography

Horowitz, Ruth. Honor and the American Dream: Culture and Identity in a Chicano Community. 1983.

Spergel, Irving A., and G. David Curry. Youth Gangs: Problem and Response. 1991.

Thrasher, Frederic. The Gang: A Study of 1,313 Gangs in Chicago. 1927.
Sours: http://www.encyclopedia.chicagohistory.org/pages/497.html
Top 10 Northside Chicago Rappers
North Chicago
| | |
| --- | --- |
| Settled by | Provide info |
| Year infiltrated | 1980 |
| Crime impact | Part |
| Worst areas | 10th Street to 14th Street on the north, Buckley Road to 24th Street on the south, Sheridan Road on the east U.S. Route 41 on the west. The highest crime area within that entire northwest side is 10th Street to 14th Street on the north, 18th Street on the south, Lewis Avenue on the east, U.S. Route 41 on the west |
| Suburban projects | Marion Jones Homes |
The suburb of North Chicago is a diverse community that is mainly noted for the Great Lakes Naval Training Station (pictured below) which is the one and only location in the United States where new U.S. Navy recruits go for basic training.  North Chicago is also known for its high rate of poverty and crime, but that does not affect the entire community as most of the crime is centered in the northwest side of the village.
The history of North Chicago can mainly start in the year 1892 when Washburn and Moen Manufacturing Company (pictured above) opened a manufacturing plant in this rural area that was known as South Waukegan at the time and was quite barren.  The Washburn and Moen plant was big on manufacturing barbed wire; this manufacturer felt this area was ideal because of the recent laying of railroad tracks in the area that would prove useful to ship their goods.  Shortly after this new industry arrived, new residents of Swedish, Eastern European and Finnish decent began moving into the first new subdivision for workers known as the Waukegan Highlands.  By 1895, this area became a community of its own and incorporated the village to become North Chicago and by 1901 the village became a city even though the population was only 1,150 in the year 1900.
The Lanyon Zinc Oxide Company and the Morrow Brothers Harness Company was another major industry to move into North Chicago in the 1890s, and then in the year 1900 Chicago Hardware Foundry Company added to the industrial appeal of the village.  In 1905 National Envelope Company opened its doors bringing in more of a population to this new city.  In that same year of 1905 a new United States Navy training facility began construction and by 1911 the facility was complete and named Great Lakes Naval Training Station which added more to the development of this community.
As the population was booming between the years 1900 and 1920 and the population soared to above 5,800 by 1920, most settlement was happening on the east side of town along the lake front.  This is where all the manufacturing was built up and this is where the Great Lakes Training Station was located; therefore, it was ideal for residents to find housing in this part of town, or should I say white residents.  North Chicago was willing to be a diverse community of black and white residents; however, it needed to be understood that the black residents were to live on the west side of town where there was no electricity or running water, the white families wanted the area by all the facilities and employment and did not want black neighbors but of course everyone felt they were doing black families favors just by letting them live in the community, just not where conditions and convenience was more favorable.
In the 1920s, North Chicago continued to boom especially since Abbott Laboratories opened in 1922, and then Johnson Motor Company opened in 1928, and the population exploded to having over 8,400 residents by the 1930 census and only a little over 500 were African American.
The 1930s and 1940s decades saw no growth in population mainly because there were no new industries during the Great Depression era and the World War II years.  In the 1950s, North Chicago would hit another major boom as American Motors, Ocean Spray and a Goodyear Tire plant would open in 1955, now there were more jobs than ever and the population swelled to over 22,000 by 1960 and over 4,000 black families moved into the northwestern section of town from the southern states looking for employment.  Along Sheridan Avenue the series of retail and commercial businesses along with several saloons developed further and became known as "The Strip" (pictured).  This area was very popular for U.S. Navy personnel especially since there were several saloons since the base first opened especially after the local prohibition was lifted.
By the year 1957, the northwest section of town became an area of focus due to the horrid conditions black families lived in.  North Chicago was always racially segregated as it became understood that blacks were to live in one part of town while whites took up the rest, but now the black population made up 20% of the community and this 20% of the community was living in suburban slums in substandard living conditions.  The streets of the northwest side were littered with garbage, the houses were dilapidated shacks, roads were unpaved, there were no sewer lines, there were no public water facilities and residents drank from dirty wells, residents used outhouses since there was no plumbing.  These were terrible conditions for the suburbs and a way no one should have to live by 1957, but the issue was the black families could not afford anything better.  These families were workers at the many manufacturing facilities in town but their wages were still not enough to live above slum living.  In Chicago, most of the black belt slums had already been cleared out to make way for public housing projects by 1957 and the same plan was to happen in this suburb as planning began for a two story row house development that was to be developed in the area of 14th Street on the north, Argonne Drive on the south, Lewis Drive on the east and Dugdale Road on the west, the plans were now in the final approval stages by 1959 despite many objects from residents because of the raised taxes to complete and maintain this housing project (Chicago Tribune Page 1, July 2, 1959).  The public housing projects were to be built over the slum strip beginning in the year 1960 as all the slums were cleared out, trash was removed and sewer and water lines were installed, by 1961 the development was complete which gave birth to the Marion Jones public housing projects, a project for black families.
The 1960s decade saw the largest population explosion in North Chicago's history as close to 25,000 new residents moved into the community.  More subdivisions were platted and housing construction was big.  The manufacturing plants were hiring many more thousands of workers and were at their peak of employment.  In the second half of the 1960s, the Vietnam War brought many more U.S. Navy personnel to the Great Lakes base.  All the commercial and military activity caused The Strip to thrive and the whole community was at its best in the early 1970s.
Starting in the mid-1970s, North Chicago would begin its decline, first there was the decreased Naval activity at Great Lakes after U.S. troops withdrew from Vietnam.  Next came the closing of several manufacturing plants in the community like the Goodyear Plant that closed in 1978 and laid off about 2,000 workers and the oldest industry in town Washburn and Moen Manufacturing Company closed in 1979 which took several thousand more jobs away.  All the other industries, American Motor, Johnson Motor, Ocean Spray all closed their doors in the late 1970s accept Abbott Laboratories.  The closing of several manufacturing plants was happening all across the United States and Chicago area was hit hard, North Chicago was completely devastated mainly for the many unskilled workers that were unable to find anywhere else to work and since their expertise was very limited they had nowhere else to go, they did not even have the resources to move out of the community to find work in other communities.  Those that were living in the Marion Jones projects were hit the hardest due to the fact that these residents could not afford their own housing so moving to another area was impossible; however, most of the two parent families moved out in the late 1970s and early 1980s.
Many residents packed up and left the North Chicago suburb in the late 1970s, in fact, about 8,500 residents packed up and left, some of that was due to the loss of Navy personnel following the war but most of it was due to the loss of manufacturing, nearly 4,000 more moved out in the early 1980s especially after crime started to become a problem in the suburb.  Most of the families that moved out were white families and as they left their homes the properties were worth a lot less than before due to the loss of industry in the area, this became opportunity for low income black families to take up residence primarily on the north side of the community.  As low income families were moving in from Chicago in search of a better suburban life for their children and to keep them away from Chicago street gangs, some of those youths did not let go of gang ties and spread the word of their gang into the streets of North Chicago.  The first gangs to arrive were the Black Gangster Disciples and Conservative Vice Lords, especially since these gangs were moving in just over the northern border into nearby Waukegan in 1979 or 1980.
As soon as Chicago based street gangs arrived in North Chicago by the year 1980 a warzone that involved shootings and gang violence erupted on the north side of the community especially in the northwestern section in and around the Marion Jones projects.  Since the local economy of North Chicago was hurting, tax revenue was not coming into the city as much as before which caused repairs and maintenance to be neglected on the Marion Jones projects and soon the projects became flooded with gang activity and crime.
By the early 1990s, crime and gang activity became a major problem for this city, and The Strip became a slummy area with abandoned and deteriorated buildings and instead of being a bustling place with great restaurants, excellent taverns and flourishing stores as it was in the 1970s, now The Strip was the site of deterioration, shuttered businesses, sleazy taverns, vagrant drug addicts, drug dealers, prostitution and litter.  The Strip was now a high crime area of North Chicago and Naval personnel did not go near it unless maybe one of them wanted to buy a hooker.
Mexican families began migrating into the suburb from Chicago in the later 1980s or early 1990s into the northeast side of North Chicago.  Many families were trying to escape the gang violence of Chicago and were hoping to keep their children away from the gangs; however, some of their children would not give up the gang life and soon brought Latino based street gangs to the suburb such as Latin Kings, Insane Unknowns and Satan Disciples.
The roughest parts of the suburb became very dangerous areas by the 1990s.  The Strip was one of the more dangerous areas due to high crime.  The northwest area became the most dangerous section especially now that the projects became full of deterioration, heavy drug and gang activity and the site of many shootings and other violent crimes.  The intersection of Greenfield and Broadway became a dangerous intersection that became the biggest drug trafficking street corner in the suburb; it was also the site of many gang shootings.
In more recent years The Strip was condemned and the vast majority of it was torn down beginning in 2007.  The Marion Jones public housing projects were also condemned as they faced severe deterioration, sewage exposure from rusted pipes and heavy criminal and gang activity until they were evacuated in 2014 then torn down in 2015.  Poverty has always been a major issue in the suburb and in recent years has been at 15% of the population is well below the poverty line.  Law enforcement efforts have been stepped up in this city in recent years and crime rate has greatly decreased especially the violent crime rate; however, North Chicago still has the same rough areas but is not really considered a dangerous neighborhood anymore; however, it is still one of the tougher communities in Illinois.
Sours: https://www.chicagoganghistory.com/suburb/north-chicago/
Gangs north chicago
Near North Side
| | |
| --- | --- |
| Origins | Settled by Jean Baptiste Point Du Sable in 1788 and annexed in 1837 |
| Area | Central Chicago |
| Boundaries | Evergreen Avenue on the north, Chicago River on the south, Lake Michigan on the east, North Branch Chicago River on the west; Cabrini Green neighborhood: Division Street on the north, Chicago Avenue on the south, Lasalle on the east, Larabee on the west; Goose Island neighborhood: North Avenue on the north, Chicago Avenue on the south, Larabee Street on the east, Chicago River on the west. Little Hell was all of Cabrini Green area and Goose Island |
The Goose Island and Cabrini areas in the southwest quadrant of the Near North Side neighborhood would become the home of the first gang banging and organized crime elements in Chicago history.  Most of it was going on in the Cabrini Green area that was nicknamed "Little Hell" as early as the late 1850s.
In the year 1853 manufacturing industries were built on Goose Island that offered employment to the many impoverished Irish immigrants that lived in shabby dwellings in and near the island.  The neighborhood got the nickname "Little Hell"  from the gas flames that lit up the night sky from the  Peoples Gas, Light & Coke Co at the corner of Hobbie Street and Cleveland Street.  In the late 1850s underground gambling dens and brothels were literally operating underneath the ground and brought about shady criminal groups.
In the year 1860 an Irish young man named Michael Cassius Mcdonald made his way into Little Hell and organized the gambling dens into a sophisticated gambling racket.  Mcdonald soon rose to power and created the Irish Mafia here is Chicago after he got into the back pockets of Chicago politicians.
By the early 1870s Mcdonald was completely untouchable and worked hand in hand with corrupt politicians to look the other way of gambling and brothel operations in exchange for cash payouts.
The area known as Little Hell was so deteriorated and dilapidated that many families slept on soil that was covered only by cardboard in their apartment dwellings or shantytowns.  The area severely lacked running water which caused more unsanitary conditions and living a life of filth.  These streets were mean and dirty which created the first violent criminal elements the city had ever seen.  Scores of Irish street gangs popped up in this section of the neighborhood and many were hired by crooked politicians and Irish organized crime to do dirty work for mere pennies.
In the 1880s the area was settled by Sicilian immigrants, and by the 1890s the Sicilians were fully partaking in gang activity.  The area was so bad that Chicago police did not want to enter this area especially the intersection of Milton and Oak Street (today known as Cleveland and Oak Streets) that was nicknamed "Death Corner" due to the fact that many people were killed there especially in the early 20th century.
In the 1890s notorious Chicago mob boss Big Jim Colosimo got his start here in Little Hell in the criminal life when he began working for the crooked Irish Chicago politicians the "Grey Wolves."
By 1902 Big Jim Colosimo had acquired enough money to open his very own brothel and got into the business of kidnapping unsuspecting female immigrant women that came to the U.S. seeking employment from an ad that turned out to be fake, the girls were then forced into a life of prostitution and Colosimo got in on that business.
By 1909-1910 Jim Colosimo began receiving threatening letters from Chicago's "Black Hand" extortionists that often victimized the wealthy in and near down town Chicago as this criminal group formed around the turn of the century.
In 1910 Colosimo called upon Johnny "The Fox" Torrio from New York City to help with the problem and from there a war started between Colosimo's gang and the Black Hand extortionists that resulted in several deaths especially at Death Corner where the "Shotgun Man" took many lives between 1910 and 1911.
By 1912 Colosimo's gang won the war thanks to the assistance from Torrio and the two men put together the "Chicago Outfit" which was the Italian Mafia here in Chicago that was a part of "La Cosa Nostra" that stemmed from Sicily.
During the 1910s, 1920s and 1930s mob wars raged in Little Hell especially when the "North Side Gang," the new Irish Mafia, tried to run this whole section but they conflicted with rival Sicilian gangs such as the Genna Crime Family for example.  The North Side Gang was born on these wicked streets of Little Hell along with their rivals.  The gang wars were extremely bloody in the 1910s and 1920s and many youth gangs worked for the older gangs trying to gain notoriety in hopes that one day they would gain passage into these organized gangs.
In the 1930s African Americans began migrating into this neighborhood because this was an affordable neighborhood for the black family that was drowned in extreme poverty.  The mostly Italian community did not appreciate the arrival of African Americans; therefore, gangs of Italian youths roamed the streets at night hunting down blacks and beating them senseless just to show who ran the neighborhood.
In the year 1942 the solution to the poverty of Little Hell or now known more as "Little Sicily" was to tear down most of the shanty towns and dilapidated buildings and houses and replace it all with the Francis Cabrini Green Low Rise project buildings.
Many Italians left the neighborhood and migrated to West Town along "The Patch" while many other families moved into the projects.  The low rises were mainly for white Italian families; however, African Americans were allowed to move into these projects.  The projects were 75% white and 25% African American upon opening.
During the World War II years the projects were mostly happy dwellings where people got along and the projects were well maintained by the Chicago Housing Authority that built them.  The arrival of African Americans did not start to become an issue for this mostly Italian neighborhood until after World War II.  The Projects were mainly built to house World War II workers but when the war ended so did the war industry leaving many workers destitute and unemployed.  The African Americans were the first to lose their jobs and would have the hardest time finding new jobs because this was the 1940s when the white man was put first.  Some desperate African Americans resorted to crime as a means to get by which threatened to bring the neighborhood back to the state of terror it was for 80-90 years.
By the later 1940s Italian street gangs formed in the Cabrini Green neighborhood that would patrol the streets to protect the neighborhood, on the other side of the coin, they often bullied groups of black youths and beat them up for almost no reason, so there was good and bad with these gangs.
The earliest wave of Puerto Rican people moved into the Cabrini Green projects and into the Old Town section into a settlement called "La Clark" which was an area bounded by: North Avenue on the north, Division Street on the south, Clark Street on the east and Lasalle Drive on the west.
As the 1950s progressed more and more white Italians packed their bags and left the neighborhood as more African Americans moved into the projects.  Many white families were experiencing upward mobility and no longer needed to live in public housing but African Americans were further behind socially and economically in a large part due to inequality in the work force.
In 1955 the city decided the Cabrini Green projects were a success; therefore, several more Italian homes were torn down to make way for high rise extensions of the projects.  Between 1955 and 1958 this extension project continued.  By the time the second phase was completed the neighborhood had lost most of its Italian charm and the Cabrini Green neighborhood was now majority African American.
The new extensions saw no Italian residents; in fact, about 100% of the new arrivals were African Americans.  White Italians were now vacating the original low rises built in the 1940s.
The city was also beginning to plan for the construction of the elegant Carl Sandburg condominiums to be built right over the Puerto Rican settlement, this would mean they would start evicting Puerto Rican families.  In 1959, the evictions were complete and the Puerto Rican families were forced out.  Some of these families would move into Cabrini Green while others headed out west and moved to Wicker Park and various other neighborhoods.  This was the extinction of the first Puerto Rican settlement.
In 1959, the William Green Homes high rises was started that caused more homes out of Little Sicily to be torn down.  By 1960 the projects were all for African Americans as all white Italians had moved out of the buildings.  The Italians that were left in the houses surrounding the projects even began to pack up and leave because they did not feel at home anymore, those that remained until 1965 battled the African American gangs that migrated into the projects.
The rest of the Italian neighborhood left the Cabrini Green neighborhood as of 1965 along with all Italian businesses and churches.
As the later 1960s would roll in the projects became more violent, then by the 1970s the projects were downright dangerous. African American gangs like the Black Gangster Disciples, Mickey Cobras and Vice Lords invaded these project buildings and built up drug empires. The CHA made their last renovations between 1970 and 1975 then the projects were left to deteriorate.  Cabrini Green would become infamous as one of the most dangerous projects in the country.
The 1980s and 1990s became the worst decades in the Cabrini Green buildings as several murders and a drug empire was built up by street gangs.  The Gangster Disciples were able to rake in over $1,000,000 a month in drug profits in these towers.
Cabrini Green was unique because it was far from the south side and west side streets where the vast majority of project buildings were located.  Cabrini Green was located right near downtown Chicago and right near swanky neighborhoods like Goose Island, River North, Streeterville, Old Town and the Gold Coast.  The upper classes of Chicago were within a mile or two away from the underclass of Chicago in the same neighborhood.
Many of times over the years travelers would venture downtown and get lost within Chicago's vast expressway systems and find themselves among the deteriorated bombed out towers of Cabrini Green, the initial feelings were fear and hopelessness once the traveler was lost in this neighborhood; however, never has there been an incident where a traveler died getting lost here or come up missing.  Many would get lost at 2 A.M. or later after their drunken night in the expensive night clubs on the Near North swanky strips, and many of times the wealthier party goers would come to Cabrini for the purpose of buying a crack rock or a bag a Heroin because they knew these projects were plentiful with drugs needed.  Ah yes, the carload of suburban white girls and white boys from Naperville could pull up, get their crack and then head to the down town River North nightclubs without a care in the world while they would poke fun at the slums and poverty of the people imprisoned in these towers of death as they pulled away and returned to the finer life.
Cabrini was a death trap, no not for the lost naive traveler, it was a death trap for those that lived the nightmare and were trapped there because of a skin color shade.  The darker your skin color, the darker your world would become in the Near North Side streets.
In the year 1995 the city began to sweep this awful mistake they called public housing under the rug when demolition began along with building closures.
By the year 2011 all the buildings were either torn down or closed, leaving the original Francis Cabrini Green Low Rises to be the last to stand.  Presently the streets of Near North still have the low rises but all the high rises were torn down as of 2011; Death Corner is now the sight of swanky new condos and construction of higher price dwellings.  The irony of the Near North that it was founded by a African American but ended up being a death trap for African Americans in later years.  The death and poverty that once lined the streets of the Cabrini Green neighborhood is now forgotten.  The Near North Side is the birthplace of the Chicago Outfit and the Chicago Irish Mafia.
Sours: https://www.chicagoganghistory.com/neighborhood/near-north-side/
Chicago Gangs - North Side Of Chicago - Life in Chicago
North Side Gang
| | |
| --- | --- |
| Founded | 1919 |
| Founded by | Dean O'Banion, Earl "Hymie" Weiss (born Henryk Wojciechowski) |
| Founding location | North Side, Chicago, Illinois, U.S. |
| Years active | 1919–1935 |
| Territory | Various neighborhoods in Chicago, mainly North Chicago |
| Ethnicity | mainly Irish American, with some German American, Polish American, Jewish American, and Italian American members |
| Membership (est.) | Around 30 members |
| Criminal activities | Racketeering, bootlegging, illegal gambling, extortion, robbery, murder |
| Rivals | Chicago Outfit and Genna crime family |
The North Side Gang, also known as the North Side Mob, was the dominant Irish-American criminal organization (although many Polish-Americans were members as well) within Chicago during the Prohibition era from the early 1920s to the mid-1930s and the principal rival of the Italian-AmericanJohnny Torrio–Al Capone organization, later known as the Chicago Outfit.
[edit]
Early history[edit]
Like many other Chicago-based Prohibition gangs, the North Side Gang originated from the Market Street Gang, one of many street gangs in Chicago at the turn of the 20th century. The Market Street Gang was made up of pickpockets, sneak thieves and labor sluggers working in the 42nd and 43rd Wards. The gang especially distinguished itself during the newspaper "Circulation Wars" of the early 1910s between the Chicago Examiner and the Chicago Tribune.
It was during the Circulation Wars that future North Side leader Dean O'Banion, then a member of the juvenile satellite Little Hellions, would develop valuable contacts with politicians and journalists. O'Banion and other members of the North Siders would be mentored by safecracker Charlie "The Ox" Reiser. O'Banion was one of the many Market Streeters to become a bootlegger.
Prohibition[edit]
With the start of Prohibition, the North Siders quickly took control of the existing breweries and distilleries in the North Side of Chicago. This gave them a near monopoly on the local supply of real beer and high quality whiskey; their rivals only had supplies of rotgut liquor and moonshine. Based on the North Clark Street restaurant McGovern's Saloon and Cafe, the North Side Gang would soon control the working-class neighborhoods of the 42nd and 43rd Wards within months. In addition to bootlegging, the gang continued to burglarize local stores and warehouses and run illegal gambling operations. Unlike the rival South Side Gang, however, they refused to traffic in prostitution.
O'Banion strengthened his political protection by helping his politician friends commit election fraud. O'Banion also ran a publicity campaign in the North Side with large-scale donations to orphanages and charities as well as food and loans to the poor and unemployed.
The old hostility between Irish and Italian gangs, combined with O'Banion's refusal to sell portions of North Side distilleries to the South Siders, raised tension between the North and South Siders. During several meetings arranged by Torrio, O'Banion would often insult the Italians. O'Banion was also secretly hijacking South Side beer shipments and selling them back to their owners. However, the North Side Gang also ran into trouble with other ethnic gangs; in 1921, O'Banion shot Ragen's Colts member Davy "Yiddles" Miller after he insulted a North Sider at a local opera.
Although O'Banion and Weiss were arrested and charged with burglary in 1922, the North Side Gang enjoyed considerable protection from the Chicago police department. At one point, O'Banion threw a lavish banquet for Chicago politicians and police officials. Attendees included Chief Detective Michael Hughes, Police Lieutenant Charles Evans, County Clerk Robert Sweitzer, Public Works commissioner Colonel Albert A. Sprague, and a host of both Democratic and Republican politicians. Dubbed the "Balshazzar Feast" by the press, it was later investigated by reform Mayor William E. Dever.
In 1924, Chicago police assisted the North Side Gang in robbing the Sibly Distillery, which had been under federal guard since the beginning of Prohibition. Escorted by Police Lieutenant Michael Grady and four detective sergeants, North Siders looted the distillery in broad daylight, taking 1,750 barrels of bonded whiskey worth approximately $100,000. Although Grady and the other police officers were later indicted for this crime, they were quickly dismissed.
Relations between the North and South Side gangs continued to fester. In early 1924, O'Banion agreed to an alliance with Torrio and Capone that was brokered by Mike Merlo. However, the alliance began to founder when O'Banion demanded that "Bloody" Angelo Genna pay a $30,000 gambling debt from losses at the co-owned gambling casino The Ship. This demand contravened an agreement allowing Angelo and other gang members to run up debts there. In the interest of maintaining harmony, Torrio persuaded Genna to pay his gambling debt.
However, Torrio himself would lose patience when O'Banion offered to sell him the valuable Sieben Brewery. On May 19, 1924, while Torrio was inspecting the property, O'Banion arranged for the police to raid the place and arrest Torrio. After his release from custody, Torrio acceded to demands from the Gennas to kill O'Banion.
On November 10, shortly after the death of Merlo, three unidentified men entered the Schofield Flower Shop owned by O'Banion and shot him dead. This was to be the beginning of a five-year gang war between the North Side Gang against Johnny Torrio's Chicago Outfit that would climax with the St. Valentine's Day Massacre in 1929.
War with the Chicago Outfit[edit]
After the death of Dean O'Banion, Hymie Weiss assumed leadership of the North Side Gang and immediately struck back at his rivals. On January 12, 1925, Weiss, Bugs Moran, and Vincent Drucci attempted to kill Torrio's lieutenant, Al Capone at a Chicago South Side restaurant. Firing at Capone's car, the men wounded chauffeur Sylvester Barton, but missed Capone entirely. Capone, unnerved by the shooting, ordered his famous armoured car to be created. Moran then decided to kidnap one of Capone's trusted bodyguards, torturing him for information before finally executing him and dumping the body.
On January 24, shortly after the assassination attempt on Capone had taken place, Weiss, Moran, and Drucci ambushed Torrio as he returned from shopping with his wife. Both Torrio and his chauffeur Robert Barton were wounded several times. As Moran was about to kill Torrio, the gun misfired; the gang members were forced to flee the scene as the police arrived. After narrowly surviving this attack, Torrio decided he wanted out. After serving time on bootlegging charges Torrio retired to Italy, passing leadership of the Chicago Outfit to Capone.
Weiss and the North Siders then went after the Genna Family, allies of the Chicago Outfit. First, "Bloody" Angelo Genna was shot to death by Moran after a car chase. Next, Mike "The Devil" Genna was shot down by police when he turned his gun on them after a fierce shootout with the Northsiders. Then Drucci killed Samuzzo "Samoots" Amatuna, a Genna family backer trying to hold the Gennas intact. Finally Anthony Genna was murdered (although it was rumored that Capone, not Weiss, ordered this). At this point, the remaining Genna family fled Chicago. The North Siders and Capone took the spoils.
The Northsiders under Weiss, Drucci and Moran[edit]
Soon after Dean O'Banion's death, the North Siders had formed a "governing council" with Hymie Weiss emerging as leader. Although the loss of O'Banion was a shock to them, the gang was at the height of its power. The Genna family was gone, Torrio had been scared out of the rackets, and Capone was on the defensive. The North Siders expanded their business and strength and plotted another attack on Capone.
In the second North Side attack on Capone, a fleet of North Side cars, with Moran in the lead car, drove to Capone's hotel in Cicero. While Capone and his bodyguard were drinking downstairs, the North Siders drove by the lobby and opened fire with their Thompson submachine guns. Capone and his bodyguard were forced to take cover on the floor. Once the attack was over, Capone sent word to the North Siders that he wanted a truce. A truce was made, which inevitably began to come apart.
Some time later, Capone struck back at the North Siders by gunning down Hymie Weiss and several associates. Drucci and Moran now assumed joint leadership of the North Side Gang. The two gangs traded killings and bombings for several more months until a peace conference was held.
Moran and Capone both appeared at the meeting along with many other mob bosses. During the conference, Capone complained that "they were making a shooting gallery of a great business". He also stated that "Chicago should be seen as a pie and each gang gets a slice of the pie." The two gangs agreed to make peace. This peace would last for a while, during which no killings occurred as a result of gang war. Vincent Drucci was killed during this time, but it resulted from a brawl with police. Moran now became the sole boss of the North Side Gang.
However, conflict eventually started again. Moran would regularly hijack Capone's beer shipments, aggravating Capone. Capone retaliated by burning down Moran's dog track. A few days later, Capone's own dog track went up in smoke. Moran was the prime suspect.
Open warfare started again between the two gangs. Moran ordered the execution of two union leaders who were powerful allies and personal friends of Capone. This act prompted Capone to order the St. Valentine's Day Massacre.
St. Valentine's Day Massacre[edit]
Main article: St. Valentine's Day Massacre
On February 14, 1929, four unidentified men, two of them dressed as Chicago police officers, entered a North Side Street garage and ordered six members of the North Side Gang and a friend of a gang member to stand against a wall. The gunmen then pulled out machine guns and gunned them all down. The only survivor, Frank "Tight Lips" Gusenberg, died hours later at a nearby Chicago hospital refusing to name his attackers. However, the primary target of the gunmen, Bugs Moran, leader of the North Side Gang, was not at the garage and escaped harm. Strong circumstantial cases can be made for almost a dozen individuals as being one of the gunmen, but it remains unknown to this day exactly who those four gunmen were.
Known as the St. Valentine's Day Massacre, the attack effectively left the five-year gang war between Al Capone and Bugs Moran in a stalemate. The brazenness of this crime resulted in a Federal crackdown on all gang activity in Chicago that eventually led to the downfall of both Moran and Capone.
Aftermath[edit]
Although Bugs Moran survived the St. Valentine's Day Massacre, several experienced North Side gunmen had been lost. The North Side Gang continued to control the 42nd and 43rd Wards and managed to thwart a takeover attempt by Frank McErlane in 1930. As the decade progressed, the power of the North Side Gang slowly declined. In 1936, Jack "Machine Gun" McGurn, mastermind of the massacre, was killed and Moran was one of the prime suspects, along with Frank Nitti of the South Side mob, as McGurn had become more trouble than he was worth to protect to the former "Capone Gang".
Moran and the North Side Gang eventually lost control of their gambling operations to the new National Crime Syndicate. Since the repeal of Prohibition, gambling had been the main source of North Side income. Bugs Moran eventually left the gang by 1935, after which it quickly dissolved.
[edit]
Bosses[edit]
Other members[edit]
Name
Portrait
Life
Comments
Jack "Two Gun" Alterie
1886-1935
A leading gunman during Chicago's bootleg wars, Louis Alterie was one of the more colorful figures in the Northsiders. A western enthusiast, Alterie reportedly carried two Colt. 45 revolvers on a gun belt and owned a ranch in Colorado that was frequented by other gang members. After publicly challenging O'Banion's killers to a gunfight, the mayor of Chicago publicly slapped Alterie. To cool things off, Alterie left Chicago at the request of Bugs Moran. After several years in exile, Alterie returned to testify against Ralph Capone in 1935. Alterie was murdered soon after his return.
Barney Bertsche
No image
available
A later member of the Northsiders, Christian P. "Barney" Bertsche ran prostitution and gambling dens in Chicago's North Side. Following the syndicate takeover of his operations by Capone after the truce agreement at the Hotel Sherman conference in 1926, Bertshe allied with Moran in the hopes of regaining control over his criminal operations.
James Clark
No image
available
1887-1929
Born Albert Kachellek in Krojoencke, Germany, Clark was a bodyguard and brother-in-law of George "Bugs" Moran. One of the seven victims of the St. Valentine's Day Massacre.
John Duffy
No image
available
d. 1924
Duffy was hired muscle from Philadelphia who was sometimes used by the North Siders. After murdering his newlywed wife during a drunken argument, he was taken for a "one way ride", allegedly by O'Banion himself, and his body found in a snowbank outside of Chicago.
Frank and Peter Gusenberg
No image
available
1893-1929 (Frank)
1888-1929 (Peter)
Peter was the older brother of Frank Gusenberg. Both were top gunmen for the Moran gang. Both died in the St. Valentine's Day Massacre.
Adam Heyer
No image
available
1889–1929
Also known under the alias Frank Meyer, Adam Hayes, John Snyder, and Frank Snyder, Heyer was a North Side Mob accountant and business manager. One of the seven victims of the St. Valentine's Day Massacre.
John May
No image
available
1893-1929
May is not considered by most researchers to have been a gang member in the conventional sense of the word - he was disassociated with the gang sometimes for months on end, only accepting jobs from them when he desperately needed money (he had a wife and seven children). May was an occasional strongarm for the Moran gang (though it is believed he never carried a gun) but was, most frequently, simply a car mechanic working on a per diem basis. He had the misfortune to be working on a North Side Gang vehicle on Thursday, February 14, and was one of the victims of the massacre.
William "Willie" Marks
No image
available
Labor racketeer and a lieutenant under George Moran and, as a bodyguard, was with Moran at the time of the St. Valentine's Day Massacre. Marks, Moran and Ted Newbury avoided the massacre, either by seeing the "police" car pull up to the garage as they approached it themselves, or simply by being a few minutes late.
Dan McCarthy
No image
available
A hijacker and "labor slugger" for the North Side Mob, Daniel J. "Dapper Dan" McCarthy was tried and acquitted on three separate murder trials. A "business agent" for Chicago's Journeyman Plumbers' Union he assumed control of the organization by murdering its president Steve Kelleher at Al Tierney's Auto Inn.
Samuel "Nails" Morton
No image
available
1894-1923
A veteran of World War I, Samuel Morton was an early lieutenant of Dean O'Banion and served as his right-hand man during the early years of Prohibition. Following Morton's death in a riding accident, several gang members took the offending horse from its stables, led it to a field, and killed it.
Ted Newbury
No image
available
d. 1933
Longtime Chicago rumrunner and lieutenant under George Moran during the final years of Prohibition. Defected to the Chicago Outfit following the St. Valentine's Day Massacre. Newbury was later killed by Capone successor Frank Nitti for conspiring to murder Nitti. Newbury's body was found in a roadside ditch in Indiana on January 7, 1933.
Billy Skidmore
No image
available
1879-1944
Underworld bail bondsmen and scrap-iron dealer loosely associated with the North Side Gang through his gambling operations and political connections. Convicted of tax evasion in 1941, Skidmore died in prison three years later.
Albert "Gorilla Al" Weinshank
No image
available
1893-1929
Weinshank had worked as a speakeasy operator for Moran, and later ran a string of cleaning and dyeing stores for the North Side Gang. His build, choice of clothing, and even vague physical resemblance to Moran is theorized to be the reason that the St. Valentine's Day Massacre began with his arrival at the Clark Street Garage ahead of Moran himself.
Jack Zuta
1888-1930
Originally an accountant and political "fixer" for the Chicago Outfit, he switched sides during the gang war with the Northsiders. He fled Chicago in 1930, after an attempt on his life, but was eventually killed several months later in a roadhouse outside Milwaukee, Wisconsin.
Samuel "Sam" Muscia
No image
available
1916-1929
Sam was a prohibition bootlegger and gangster for the North Side Gang, working under the banner of Joe Aiello and George "Bugs" Moran. Sam Muscia had served in the Leavenworth Kansas Penitentiary for counterfeiting bills and in the Wisconsin State Prison for burglary. Sam was shot and killed by Al Capone's rival South Side Gang in retaliation for his involvement in the murders of known South Side affiliates.
See also[edit]
Further reading[edit]
Keefe, Rose. Guns and Roses: The Untold Story of Dean O'Banion, Chicago's Big Shot before Al Capone. Cumberland House, 336 pgs, ISBN 1-58182-378-9
O'Kane, James M. Crooked Ladder: Gangsters, Ethnicity and the American Dream. New Brunswick, New Jersey: Transaction Publishers, 2004. ISBN 978-0-7658-0994-0
References[edit]
English, T.J. Paddy Whacked: The Untold Story of the Irish American Gangster. New York: HarperCollins, 2005. ISBN 0-06-059002-5
Enright, Laura L. Chicago's Most Wanted: The Top Ten Book of Murderous Mobsters, Midway Monsters, and Windy City Oddities. Dulles, Virginia: Potomac Books Inc., 2005. ISBN 978-1-57488-785-3
Zorbaugh, Harvey Warren. The Gold Coast and the Slum: Sociological Study of Chicago's Near North Side. Chicago: University of Chicago Press, 1929. ISBN 978-0-226-98945-7
Mason City Globe-Gazette. Chicago Peddler of Alcohol Is Found Dead. Iowa: June 27, 1929(Page 4). Newspaper Archive.
Decatur Review. Moran Gangster Latest Victim. Decatur, Illinois: June 27, 1929. Newspaper Archive.
Sours: https://en.wikipedia.org/wiki/North_Side_Gang
You will also be interested:
.
3
4
5
6
7