Say what you want about racing, but racing improves the breed. These days, we see the manufacturers duke it out on the racetracks and superspeedways, but back in the day, American automotive manufacturers had their hands in all forms of racing to gather important information about their product, as well as making a name for themselves–even street racing. However, street racing, in all of its illegalities, brought one thing that racing in an organized sanctioning body couldn't bring—street cred. That's where the Silver Bullet GTX comes in, as showcased here in a classic 2004 episode of "Dream Car Garage".
It's no secret that GM, Chrysler and Ford used local street racers to "field test" many of their performance parts, then came along Jimmy Addison, who ended up with a full-tilt '67 Plymouth GTX race car directly from Chrysler. The stories vary, from Jimmy purchasing the former test mule for $1, complete with 440 and installing a 487cid Hemi five months later, to Chrysler flat-out giving Jimmy the car already equipped with the elephant motor. Either way, this beast made it to the streets.
As mentioned before, it was an original 440 car that had a 487 Hemi dropped into the engine compartment. This behemoth featured Chrysler's magnesium, cross ram intake, and the spent gasses left the Hemi through a set of custom headers that dumped into a unique 4-muffler exhaust to keep it relatively quiet on the streets.
The car was lightened up from the factory with fiberglass doors, fenders, hood, and trunk lid. Also, you can see that the rear seat is gone, and the original seats replaced with a pair of Spartan buckets from a van. The GTX also went with drag-specific Cragar SS wheels, with a pair of meaty slicks stuffed under the slightly flared rear quarters. This combination was good for mid-10's all night long on Woodward Ave. Rumor has it that Addison never lost a race.
Today, the formidable GTX is owned by Troy, Michigan Mopar collector, Harold Sullivan, who tracked the car down and restored it to "as raced" condition. Sullivan has also built a twin to the original Silver Bullet, called the Silver Bullet II—that way, he can race the car for all it's worth without risk of destroying a piece of history. Thank you, Harold, for bringing this one-of-a-kind terror back to the streets.
Living in Richmond, Texas, PJ Rentie has been in the automotive industry for more than 30 years. This former Assistant Editor at Vette Magazine also spent time with companies like NOS, Edelbrock, Hillbank Motorsports, Classic Industries, and was an automotive instructor for Cypress College for ten years. In his spare time, PJ hopes to one day bring his Fox Body Mustang out of the back yard and back onto the street!
Sours: https://timelessmuscle.com/videos/video-the-silver-bullet-67-plymouth-gtx-factory-sponsored-street-racer/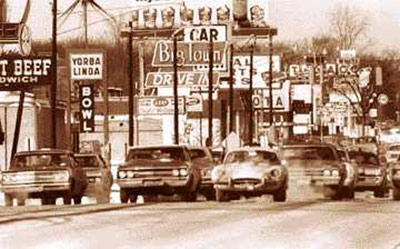 During the Woodward Dream Crawl, uh, I mean "Cruise", 1.5 million people flood into the metro Detroit area to feast their eyes on classics, customs and cars of all kinds on the legendary Woodward Avenue. As I crept through the annual traffic jam, I couldn't help but think back to the hey-day of Woodward Ave., when street racers, gear heads and even the big three's moonlight engineers came to the wide and welcoming streets of Woodward to stir up competition.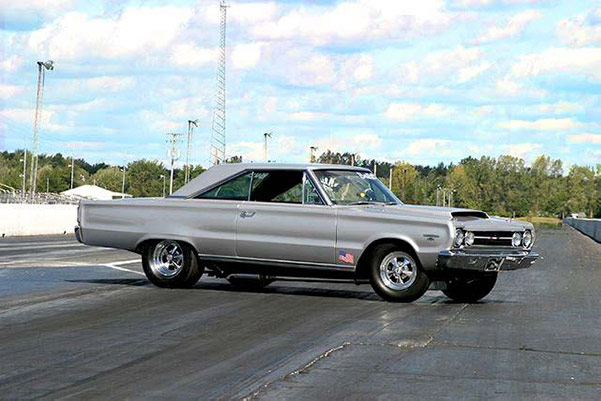 Bored by the daily drivers and everyday traffic that continue to overtake the event, I considered the millions of influential hot-rods that have left rubber on Michigan's Highway #1. Despite the extensive amount of muscle machines that have graced Woodward Avenue, my mind kept going back to one car, a distinguished icon, an undisputed legend, a car that even decades later stands out amongst the rest, The King of Woodward: the Silver Bullet!

The Silver Bullet is a 1967 Plymouth Belvedere GTX (ironically beginning life in blue paint) that was originally just a test mule for Chrysler, but eventually created a legacy still widely known of and respected to this day.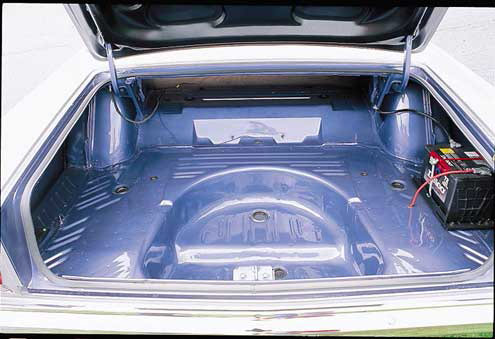 The car was conceptualized by a Chrysler think-tank composed of engineers, OEM supported racers and marketing experts who were tasked with assisting the brand in advertising direction. Together, the think-tank – also responsible for Chrysler's recent racing success – came to the conclusion that dominating on the track just wasn't enough to earn the respect of young buyers anymore. To truly display the raw power of a Mopar® muscle car, Chrysler would have to take a stock (or at least seemingly stock) car directly to the streets to show what a Mopar vehicle was capable of from the factory! Only in the 1960s would an OEM even consider what was being suggested: factory-backed street racing!

The blue B-body was selected as a guinea pig and reassigned a new mission: to make it known nationwide that Plymouth is #1, not just on the track, but even on the street!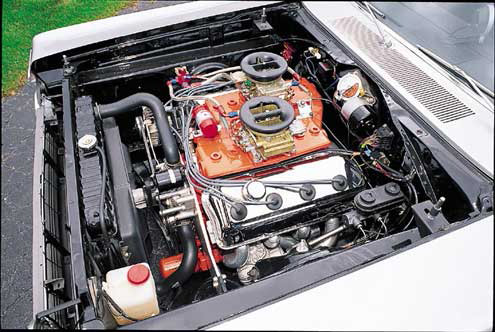 The car was put on a diet; fiberglass doors, fenders, a hood and decklid shaved the weight down to nearly 3,000 lbs, along with the lightweight A100 van seats that replaced the bulky factory buckets. To power the feather-light B-body, a stroked 487 CUI HEMI® engine was stuffed into the engine bay. Despite the car's hellish performance, the idea was to present a seemingly stock and relatively affordable car to the younger crowd that flooded the street racing scene, so it was essential the car maintained a docile appearance. With an unassuming silver paint job, most of its original interior and four huge Cadillac mufflers shushing it's choppy idle, the car was the epitome of a "sleeper". Some visible performance features had to be added, like the wide R/O hoodscoop to cool the huffing HEMI engine, and the subtly widened wheel flares making room for fat meaty tires.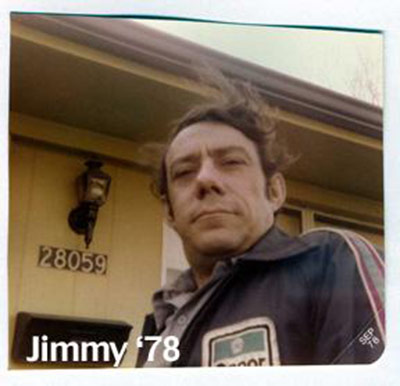 Of course, even the fastest of cars can be slow with the wrong driver, so the suits at Plymouth carefully selected the pilot of their rolling advertisement. They needed someone mature and experienced enough to entrust with the responsibility, but also wild enough to willingly strap into an overpowered street machine and give it hell! Local wrench at the Sunoco station and HEMI guru, Jimmy Addison, became the obvious choice. Jimmy was Detroit's go-to Mopar man if you were serious about going fast and was already well versed with handling high-powered machines right on Woodward Ave. With Jimmy behind the wheel and Chrysler's best engineers at his disposal, the Silver Bullet ran 10-second passes right on the street, all while retaining a stock appearance (an unheard-of feat for the time period)! Despite the effort that went into constructing the car as a polite little sleeper, it only took a few weeks for word to spread and the Bullet became nationwide news. Competition came from all over the country to line up with the Silver Bullet, and with Jimmy careful about who he raced and when he raced them, the car maintained its reputation and became historically known as the undefeated, undisputed King of Woodward Avenue!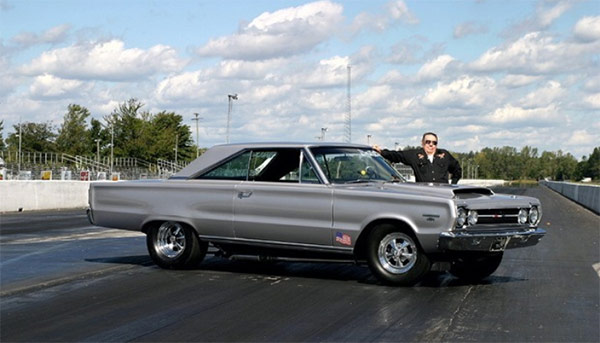 So how could a car so historic, so memorable and so legendary end up easily forgotten? The car spent many decades collecting dust and being passed around by a slew of uninspired owners; that is until it was rescued by a longtime admirer: Harold Sullivan. As a kid, Sullivan hung around the Sunoco station Jimmy Addison worked at just so he could drool over the Silver Bullet GTX that sat parked outside. Sullivan never dreamed he would actually get the opportunity to own the legendary street racer, but still he kept diligent track of where the car was and who owned it.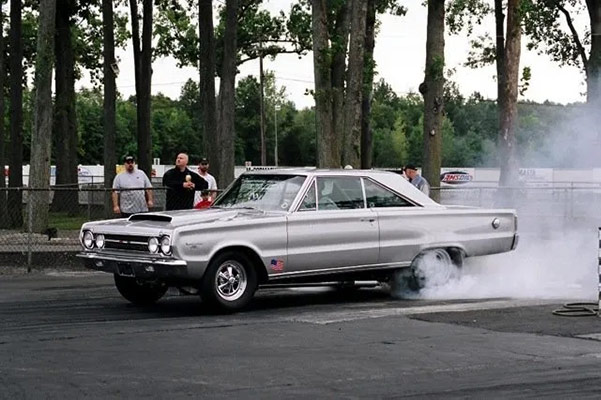 Being an avid Mopar fan, Sullivan eventually adopted a plethora of cars in his fleet, and when an opportunity came up to trade his Superbird for the real-deal Silver Bullet, he didn't even hesitate. Harold Sullivan restored the Silver Bullet back to its exact former glory and proudly displayed the car at the 2008 Woodward Dream Cruise. To this day, the car still competes: here it is at the Milan Dragway in Michigan where current owner Harold Sullivan got original driver Jimmy Addison behind the wheel for one final hell-raising race. Of course, this time it was done legally, on a proper ¼-mile track.
Sours: https://www.dodgegarage.com
So you've been to the Woodward Dream Cruise; joined the thousands of pristine muscle cars glazed and Armor All'd to an unnatural gleam; made the 20-mph crawl all the way up the avenue and back. You've been there, done that, bought the T-shirt.
Of course you know this spectacle is the family-fun, Disney version of what went down in Detroit in the '60s and early '70s. Sure, Woodward was about convertibles and whitewalls, cruising and profiling even then. But among an elite circle, there was something else: serious street racing with serious cars for serious money. The hardcore underground met up at Howard Johnson's on Thursday nights. The players included some moonlighting factory engineers, and the scene soon escalated into something close to factory-backed street racing. For a time, one car, a '67 Plymouth owned by Jimmy Addison, ruled Woodward Avenue. Known as the Silver Bullet, it became the stuff of myth and legend, but we won't say it was never beaten. We will say seldom. Very seldom.
Jimmy Addison ran a Sunoco station at Woodward ground zero, on the east side of the street just south of Fourteen Mile.
He was also a talented wrench and a protege of Ted Spehar, Mopar's man on the inside in drag racing and the wizard behind the Motown Missile, Chrysler's moon-shot Pro Stock project. Around 1969, Chrysler engineering had an old test mule left over from the performance parts program, a blue '67 GTX with a 440 engine and a column-shift automatic. Through Chrysler executive Tom Hoover, Spehar arranged for the GTX to be obtained by Addison, who painted it silver and dropped in a '68 426 Hemi.
But there was more to the Bullet than that, and more than met the eye: Addison slipped in a half-inch-stroked crankshaft, increasing the displacement to 487 cubic inches. With that big arm and all the trick engine pieces passed from Chrysler's back door to Addison's shop, the Bullet probably made more than 700 horsepower. The car also was lighter than anyone knew. A Mopar B-body with the big Hemi and Torqueflite transmission normally weighs 3900 pounds, but Addison subtly gutted the car, then fitted fiberglass fenders, doors, hood and decklid. And unlike production street Hemis, the engine was equipped with aluminum heads and a rare magnesium intake manifold. Ready to kick some behind, the Bullet weighed only 3200 pounds.
Not that Addison's Plymouth was a sleeper.
With 12-inch slicks stuffed under its trademark bulging rear quarter-panels, the Bullet didn't sneak up on anybody. Nor did it take long for word to get out that the car ran the quarter-mile in the low-10-second range at more than 132 mph. Adding to its mystique was its weird, pneumatic exhaust note: Addison installed four huge '68 Cadillac mufflers, so at idle at least the Bullet sounded not like a race car but some berserk air compressor.
Addison quickly ran out of competition to slap around. The Bullet was sold in 1975 and languished in the garage of one semi-enthusiastic owner, then another. The Motor City fell on hard times for a while, and the original Woodward scene faded. But one guy kept track of the Bullet through the years. As a kid, Harold Sullivan, anoth-er Woodward irregular and GTX owner, used to lurk at Addison's Sunoco and stare at the car.
"Then Jimmy would come over and run me off," Sullivan laughs. "I never dreamed that one day I would own this car."
Sullivan became a dedicated Mopar muscle car collector, always keeping one eye on the whereabouts of the Bullet, and in 1994 he finally grabbed the infamous racer in a swap for a Plymouth Superbird. Sullivan has adoringly restored the Bullet to a finish the street fighter hardly knew in its heyday. We'd heard the car was back in circulation, then spotted it at a recent display, agleam in Armor All. Was this really the car, the original Silver Bullet?
"That's the first thing people ask me," Sullivan says. "The people who knew the car and saw it run, they never forget."
This content is created and maintained by a third party, and imported onto this page to help users provide their email addresses. You may be able to find more information about this and similar content at piano.io
Sours: https://www.autoweek.com/news/a2124371/1967-plymouth-gtx-hemi-powered-silver-bullet-ruled-woodward/
The Truth About the Plymouth Road Runner
For some Plymouth enthusiasts, the introduction of the 1967 Plymouth Belvedere GTX was a step down in the performance food chain. Still, in the continuing evolution of the marque's muscle cars, the GTX held its own and led to an even greater competitor in the performance wars of the 1960's.
Images: SilverBulletGTX.com
As was the case for most intermediate-sized muscle cars, the cars they were based on were variations on products of modest pretension. First introduced in 1951, the Belvedere was a response to Chevrolet's successful 1950 Bel Air two-door hardtop. The car enjoyed a great run through the fifties as a full size, full line model, including the 1956 introduction of the Fury as a special, hi-po model.
When downsized in 1962, general sales of the nameplate suffered, but the same year saw introduction of the big block 426cui V8 engine. The combination of lighter weight and more power made the Belvedere a highly sought-after model for drag racing. The evolution continued in 1964, when the 426 HEMI engine became available, leading to a 1-2-3 finish of the newly-restyled car at the Daytona 500 that year.
Other than discreet "HEMI" badges, 426-equipped Belvederes were the ultimate stealth car on the streets. A decision was made to build a performance image and so, for the 1967 model year, the Belvedere GTX was introduced. Available as either a two-door hardtop or convertible, the car came standard with a Super Commando 440cui V8 engine and TorqueFlite 3-speed automatic transmission. To help manage the additional power, the GTX was built with heavy-duty torsion bars, upgraded 6-leaf rear springs, over-sized anti-sway bars, heavy duty shock absorbers and uprated ball joints.
Bigger than the standard 426, Addison's HEMI was punched out to 487 cubes with a 4.25-inch stroker crankshaft, oversized TRW pistons, a Racer Brown cam, a 10-quart oil pan and aluminum heads. Topped with twin Holleys, and fed by a Stewart Warner electric fuel pump, Hooker headers plumbed exhaust to the four '68 Cadillac mufflers through 3-inch pipes.
Promoted as The Gentleman's Muscle Car, the GTX also received a special grille and tail panel, simulated hood scoops, a racing-style chrome gas cap, bucket seats, front and rear seat belts, and energy-absorbing steering column. Front disc brakes, and a four-speed manual transmission were optional.
Image: Moparts.com
The 440cui motor first appeared in 1966 for full-sized cars with 365 gross horsepower. Chrysler engineers prepared the engine for its debut in a mid-sized car by adding bigger valves in redesigned heads, along with extra-large throttle bores, a dual snorkel air cleaner, hot cam, over-sized ports and valves and cast headers. This jumped the output to 375hp.
Option for the 1967 GTX, the 426 "Street HEMI," produced 425hp at 5000rpm and 490 ft-lb of torque at 4000rpm and was offered for a premium of $546 over the base cost of $3,178. Previously, the 426 HEMI was – in theory – optional across the line, and many 1966 buyers went for the HEMI in stripped-down bodies. To get the same engine in 1967, the buyer had to pay extra for the GTX trim.
Despite conceding 14cui to the standard engine, the HEMI left it behind, with its 50 additional hp – due to the special HEMI heads, higher compression ratio and dual 4-barrel carburetors. In performance comparisons, the HEMI would win a quarter mile fight. Typical performance for the 440 was 0-60 in 6.6 seconds and 1/4 mile in 15.2 sec at 97mph. For the 426 HEMI, the story was 0-60 in 4.8 seconds, 1/4 mile in 13.5 seconds at 105mph. However, since the 440's torque peaked earlier and the HEMI had to wait until 4000rpm, and was harder to tune, races were often closely fought and a well-driven, well-tuned 440 car could beat a HEMI consistently.
Found and restored back to its as-raced condition by current-owner Harold Sullivan, the Silver Bullet is raced today and regularly dips deep into the 10-seconds.
Paying the premium for the GTX package ultimately resulted in a significant decline in HEMI car sales. In 1966, there were 1,510 HEMI-powered Belvederes built but, in 1967, that number fell. The easier-to-manage and much cheaper 440 V8 took away a lot of HEMI sales and in doing so made the 1967 Plymouth Belvedere GTX HEMI quite a rare example of the breed.
The performance story did not end there, however. Plymouth had quietly offered in the past, and continued in 1967, an R023 option, that was generally know of by professional racers only. Often called the "Super Stock" or lightweight version, this HEMI GTX was better known by what it didn't have than what it did. A weight saving of several hundred pounds was achieved by eliminating the radio, heater, body insulation and sealers, carpet, underpad and even the hubcaps.
A large, functional hood scoop was about the only hint that this wasn't anyone's plain Belvedere. That hood scoop fed a cold air intake to the hand built HEMI engine, that came with a dual-point distributor, transistorized ignition, high performance ignition wires and dual Carter 4-barrel carburetors. Plymouth built only 55 R023 GTX's, making them quite rare today.
The existence of the R023 package owes itself – at least in part – to an unassuming mechanic working at Ted Spehar's Sunoco gas station on Woodward Avenue in Birmingham, Michigan. Jimmy Addison was known for his talent with Chrysler products, which was honed into an art as Addison had complete access to a vast array of exotic racing parts thanks to Spehar who made a decent business of building racing engines at his station. Spehar worked with Chrysler at the same time and saw an opportunity with Addison who was actively street racing a 426 Max Wedge '62 Dodge.
Image: Moparts.com
Originally a Chrysler Engineering test mule, the HEMI Belvedere that would become the "Silver Bullet" wasn't a silver HEMI car at all; rather, it was painted blue and equipped with a 375hp 440. Throughout the year, the Plymouth went through several cam, carb, intake, and header combinations for Chrysler's factory racing department in Highland Park, Michigan. This "think tank" was helmed by veteran Bob Cahill, and staffed by Tom Hoover (who was instrumental in creating the 426 HEMI) and Dick Maxwell (who was a key member of the legendary Ramchargers racing team).
While street racing was not part of the "official" testing curriculum, stories began to swirl around the Auburn Hills central offices of a pair of older gentlemen campaigning a warmed-over Plymouth around the streets of Detroit. Of course, Chrysler wasn't the only one using public roads and America's youth as a marketing/test bed for their street performers. Pontiac, Ford and Chevrolet were all guilty of the same subterfuge, resulting in a swarm of factory-built GTOs, big block Mustangs and unmarked Chevelles cruising for a little action.
Through Spehar, the Plymouth was sold to Addison for $1, and under Chrysler's guidance, the GTX was put on an extreme diet. Supplied with lightweight doors, a hood, window glass, front crossmember and bucket seats, Addison shaved off 500 pounds whittling the B-Body down to sub-3600 lbs. In addition to the drastic refitting, the 440 Wedge motor was swapped for a monster 487 cubic-inch HEMI with a 4.25-inch stroker crankshaft, oversize TRW pistons, a steep Racer Brown camshaft, a 10-quart oil pan and aluminum cylinder heads.
According to SilverBulletGTX.com, "Fuel was delivered to the twin Holley four-barrel carburetors via a Stewart Warner electric fuel pump, while Hooker headers directed exhaust to the four '68 Cadillac mufflers through 3-inch pipes. Transfer of power to the M&H drag slicks at the rear was achieved with a modified Torqueflite automatic transmission, while compliant front shock absorbers teamed with super stock rear springs to achieve the desired rearward weight transfer."
Repainted in bright silver paint, the "Silver Bullet" GTX was born. Even in full trim, the GTX ate up the quarter mile in 10.50 seconds at 132mph, and quickly became one of the most well-known and feared Mopars prowling Woodward Avenue.
This is believed to be the last time Jimmy Addison was reunited with his famous stroked-HEMI GTX before his passing. In addition to being on display at Mopar events throughout the year, the Silver Bullet is still raced by its current owner Harold Sullivan.
Today, the "Silver Bullet" is owned by Harold Sullivan, a loyal Mopar collector who tracked the 'Bullet down and restored it from a long life of hard knocks. Returned back from the brink of destruction, the original Silver Bullet runs and drives and can still light up the slicks. Yet, since Sullivan wanted to flog the 'Bullet a little harder than he felt comfortable, Sullivan built another GTX in the "Silver Bullet II" which he races.
Plymouth muscle car history would continue to be written long after the Silver Bullet, but nearly no other street car played so part of that progression.
CHECK OUT OTHER MUSCLE CARS YOU SHOULD KNOW
Sours: https://www.dragzine.com/features/car-features/muscle-cars-you-should-know-67-hemi-plymouth-gtx-silver-bullet/
Bullet silver 67 gtx
.
Hemi Belvedere
.
You will also be interested:
.
522
523
524
525
526