AMSAF is able to offer Financial Assistance Scholarships due to Sponsorships, Grants, donations and partnerships we receive. As a nonprofit, AMSAF is able to give out Financial Assistance based on these funds being available. Please continue looking at our website and Facebook page for additional updates. If you are able to get in and apply we have scholarships available. If we are sold out for the month, you won't be able to fill out an application and we will have Scholarships available the following month at the same time unless posted different. Scholarships are available for all counties in Arizona.
We want to thank Governor Ducey, Governor's Office of Highway Safety and Director Alberto Gutier for their support in helping us get Grants to help the motorcycle community. Together we feel we can help reduce crashes and fatalities in Arizona by promoting safety and awareness through education.
We have six (6) schools in Arizona that are all MSF/MVD certified and all are at different pricing structures. Please check with them on their pricing and discounts. The present rate at schools is from $349.00 to as low as $250.00. In addition you should see a discount off of that from the school.
Special Note: The Serial Key (Scholarship Promo Code) is only valid for the school you picked and will not be honored at another school. We will not allow the $225.00 credit at another school if not pre-approved.
If the school you want to pick is not available, check back on the 20th of the month to see if we have additional Grant money available for the school you are interested in.
Our goal is to help get as many folks into motorcycle training as possible as we feel its important in helping to reduce crashes and fatalities. If they are listed in the application they are participating in our program to help save you some money. As with our helmet program we want to save you money.
---
AMSAF Rider Training Financial Assistance Scholarships
SPECIAL NOTE: Scholarships are open to all Arizona residents 15-years 6-months old or older.
Applicants must have a Arizona Drivers License, registered Arizona Motorcycle or Active Military to qualify for this Scholarship. Majority of funds for these Scholarships come from State Motorcycle Safety Fund that comes from Arizona Motorcycle Registrations.
AMSAF has received a combination of Grants from the Arizona Governor's Office of Highway Safety (AZGOHS), Sponsorship and donations. These funds to AMSAF are to continue its Motorcycle Training Scholarship Campaign. These funds enable AMSAF to continue to offer scholarships each month.
There are Financial Assistance Scholarship programs available and each program requires a donation at the time of application:
Basic Rider Course (BRC) Prerequisites: Ability to ride a bicycle. Full protective attire is required. Must be of legal age to operate a motorcycle on the street. A driver's license and/or motorcycle permit.
What is The Basic Rider Course (BRC)? This is a complete entry-level, learn-to-ride class that consists of at least 15 hours of formal classroom activities and on-cycle riding exercises conducted over two or three days. About five hours are devoted to learning activities in the classroom, and around 10 hours of hands-on practice are included. Training motorcycles are provided. Successful completion may lead to a waiver of the motorcycle license skill test and an insurance discount.
Basic Rider Course 2 (BRC 2) Prerequisites: A valid motorcycle permit, license, or endorsement. Riders must provide their own street-legal and safe motorcycle
What is The Basic Rider Course 2 (BRC 2)? A one-day course for riders with basic skills, this class provides more in-depth riding techniques and procedures than practiced in the BRC. The course consists of activities that emphasize personal risk management and self-assessment strategies, and on-cycle exercises with emphasis in cornering, braking and swerving.
For permit holders, this course may be used as a license waiver course, if permitted by state regulations.
Riders in this category would be required to successfully complete a knowledge and skill test. For riders already possessing a license or endorsement, the testing portions of the course are optional.

Training Assistance Scholarship Program – Past Questions
A. HAS THE SCHEDULE CHANGED?

We realize that each of the Schools charge a different rate. Some are lower, and some are higher. In addition, the schools have several promotions that are going on to get riders in at different times. AMSAF recommends that you check out the pricing and discounts available to you. Our goal is to help save you money and get you into a motorcycle training course.
B. WHAT IS A TRAINING ASSISTANCE?

Our assistance that we offer is through the Motorcycle Training Assistance Scholarship program. Our goal is to get as many as we can to enroll in training classes and then help financially with the AMSAF Motorcycle Training Scholarship Assistance. We feel education is critical and we want to get as many folks into the schools and help them get their M endorsement.
C. WHAT IS THE AMSAF ASSISTANCE?

Listed below are the web sites for the school involved. On their websites they share their costs for Basic Rider Course (BRC) and Basic Rider Course 2 (BRC2). The AMSAF Scholarship assistance has a value of $225.00 for the Basic Rider Course (BRC) and $120.00 for the Basic Rider Course 2 (BRC2). It is your responsibility to see if there is any additional cost with the school and what is the amount.
D. HOW MUCH WILL AMSAF PAY?

AMSAF will provide scholarship assistance if you complete the course and either pass or fail. AMSAF Assistance is $225 for a BRC and $120 for a BRC2 course. AMSAF will pay the school this amount and the schools will credit you this amount off your course.
E. WHEN WILL AMSAF NOT PAY?

Our hope is that you pass. AMSAF will not pay for a no show or a drop out. In those cases, it is a financial responsibility between you and the school.
F. WHEN DO I KNOW I HAVE THE FINANCIAL ASSISTANCE SCHOLARSHIP?

If you see the application to sign up listed below and you then complete the form and pay your donation of $100 for the BRC course or $50 for the BRC2 course; you have the scholarship assistance! Your code to share with the school is at the bottom of the completed email. It is called a serial key.
If you cannot get into the scholarship application process that means we are sold out for the month and will have scholarships available the following month at the same time.

Again, AMSAF's goal is to help as many individuals in the State as funds permit to get into a motorcycle training course and then help financially as much as we can with our Scholarship Assistance program.
Training Schools and their website
See the comments from past winners
AMSAF is seeking additional contributions to increase the number of scholarships offered every month. Our goal is to promote motorcycle safety and awareness through education and training.
We believe that AMSAF Rider Training Assistance Scholarships will enhance motorcycle safety by helping to reduce motorcycle crashes. Remember, your donation helps get someone else into a Motorcycle training course.

NOTE: Applicants are liable for the Total Riding Course fee if they enter an incorrect county for their residence.

If the application form to sign up is listed below, then complete the form, and pay your donation of $100 for the BRC course or $50 for the BRC2 course then you have the scholarship assistance!

---
The AMSAF Scholarships being offered today were made possible by funds granted by the Arizona Governor's Office of Highway Safety (AZGOHS) and Arizona Motorcycle Safety Advisory Council (AMSAC).
Arizona Governor's Office of Highway Safety
Arizona Motorcycle Safety Advisory Council
Sours: https://www.amsaf.org/scholarships/
TOTAL CONTROL MOTORCYCLE TRAINING PROMO CODE
FAQs
Can I study part time?
Essentially, part-time study involves spreading a full-time postgraduate course over a longer period of time. It's usually tailored for those who want to continue working while studying, and usually involves committing an afternoon or an evening each week to attend classes or lectures.
Are online classes easy?
Online classes are no easier than classes offered in the traditional classroom setting and in some cases can be even be more difficult. There are several reasons for this. Online courses require more self-motivation. It can be hard for some students to stay motivated when they'd rather be doing something else.
Can I get a job with online certificate?
Yes, it is possible to get a job using online courses. Online courses are sometimes better than the traditional course and even better when both of them work parallel. In this way, we can cop up with different types of field in the same and can expand our knowledge at a better extent.
What are the advantages of online school?
1. Online courses are convenient and flexibility
2. Online courses give you real-world skills.
3. Online courses promote life-long learning.
4. Online courses have financial benefits.
5. Online courses connect you to the global village.
Sours: https://www.coursef.com/total-control-motorcycle-training-promo-code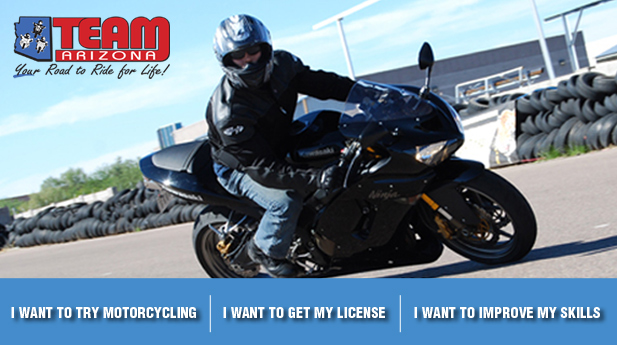 Do you want to get your motorcycle license?
Do you want to learn how to ride?
Do you already ride and want to advance your skills?
Do you want insurance discounts on your motorcycle?
New to riding?
Experienced rider?
Our partner, TEAM Arizona is the premier rider training organization in Arizona. It is dedicated to providing motorcycle training as a life-saving public service. Through it's passionate coaches and staff, TEAM Arizona strives to deliver a safe, fun, and consistent motorcycling experience to riders of all backgrounds and skill.
TEAM Arizona offers the following courses:
Introduction to Motorcycling
Basic RiderCourse
Confident RideCourse
Advanced Riding Techniques
Total Control Advanced Riding Clinics
Skills Practice Series
1-on-1 Private Instruction
Specialized Services
Three Wheel Basic RiderCourse (3WBRC)
Click here to register for a course today!
Sours: https://www.ridenowphoenix.com/learn-more-about--new-rider
Motorcycle Low Speed Maneuvering - Slow Speed Motorcycle Control TEAM ARIZONA Part 1
15% Off Team Motorcycle Coupon (2 Promo Codes) Oct 2021
My Team Motorcycle promo code didn't work. What can I do?
Some coupon codes have special requirements or exceptions. Click "view restrictions" next to the coupon code on this page to learn more. If necessary, try multiple Team Motorcycle codes on this page until you find one that redeems a discount.
What's today's best Team Motorcycle coupon?
Today's biggest TeamMotorcycle.com Promo Code is for 20% off. The coupons you see at the top of this page will always show the best Team Motorcycle discount codes first. Generally, the best codes are "store-wide" deals that can be used on any purchase at teammotorcycle.com. Also, look for the Team Motorcycle promo codes with the biggest discount percentage.
How often does Team Motorcycle offer online coupons?
Team Motorcycle issues coupon codes a little less frequently than other websites. We check for new Team Motorcycle codes frequently, so just check back this page to find the latest available Team Motorcycle coupons.
How many coupons is Team Motorcycle offering today?
Currently, Team Motorcycle is running 2 promo codes and 6 total offers, redeemable for savings at their website teammotorcycle.com.
Sours: https://dealspotr.com/promo-codes/teammotorcycle.com
Code promo arizona team motorcycle
.
TEAM Arizona Motorcycle Rider Training Centers Opens New Tucson Facility
.
Similar news:
.
523
524
525
526
527