Start Your Winning Streak – CORSAIR Launches K55 RGB PRO and K55 RGB PRO XT Gaming Keyboards
FREMONT, Calif., March 31, 2021 (GLOBE NEWSWIRE) -- Corsair Gaming, Inc. (NASDAQ:CRSR) ("CORSAIR"), a world leader in high-performance gear for gamers and content creators, today announced a new pair of RGB gaming keyboards for PC gamers to get started on the path to victory: the CORSAIR K55 RGB PRO and K55 RGB PRO XT. These latest entries in the K55 family light up your desktop thanks to dynamic RGB backlighting, and include six dedicated macro keys with Elgato Stream Deck software integration for one-button actions and shortcuts. Whether you're getting started in gaming or looking to upgrade your setup, the K55 RGB PRO and K55 RGB PRO XT offer the essential features and head-turning style that gamers demand.

The new K55 RGB PRO keyboards brilliantly illuminate your battlestation. The K55 RGB PRO features five zones of RGB lighting with six preset onboard lighting effects, while the K55 RGB PRO XT kicks things up a notch with per-key RGB backlighting, offering ten onboard lighting effects and near-limitless customization through CORSAIR iCUE software. With a recently redesigned user interface for even more intuitive control, iCUE unlocks dynamic RGB lighting customization, key remaps, and powerful in-game macros. iCUE also coordinates system-wide synchronization of your RGB lighting, along with exclusive iCUE game integrations when playing select games for the most immersive experience possible.
Both keyboards are equipped with six dedicated macro keys, enabling you to easily activate customized functions, shortcuts, or actions at the press of a key. Macro keys can also be integrated with Elgato Stream Deck software to activate streaming commands and elevate your content to new heights. Seven dedicated media and volume keys provide quick and convenient media playback and volume control, so you can stay fully focused on the action.
IP42-rated to protect against dust and spills so your game never stops, the K55 RGB PRO and K55 RGB PRO XT are built to last, with a soft textured detachable palm rest so your comfort lasts as long as your keyboard. Quiet, responsive keys deliver a comfortable and discreet typing experience, with a tactile bump for confidence in your keystrokes when they matter most. Anti-ghosting with selective key rollover ensures FPS and MOBA inputs register even with simultaneous keypresses, while the dedicated Windows Key Lock button prevents accidental interruptions during critical moments. When the competition commences, start your winning streak with the K55 RGB PRO and K55 RGB PRO XT.
Availability, Warranty, and Pricing
The CORSAIR K55 RGB PRO and CORSAIR K55 RGB PRO XT are available immediately from the CORSAIR webstore and the CORSAIR worldwide network of authorized retailers and distributors.
The CORSAIR K55 RGB PRO and CORSAIR K55 RGB PRO XT are backed by a limited lifetime warranty, alongside the CORSAIR worldwide customer service and technical support network.
For up-to-date pricing of the CORSAIR K55 RGB PRO and CORSAIR K55 RGB PRO XT, please refer to the CORSAIR website or contact your local CORSAIR sales or PR representative.
Web Pages
To learn more about the CORSAIR K55 RGB PRO, please visit:
http://corsair.com/k55-rgb-pro
To learn more about the CORSAIR K55 RGB PRO XT, please visit:
http://corsair.com/k55-rgb-pro-xt
For a complete list of all CORSAIR keyboards, please visit:
http://corsair.com/gaming-keyboards
Product Images
High-resolution images of the CORSAIR K55 RGB PRO can be found at the link below:
https://corsair.sharepoint.com/:f:/s/MarketingCommunications/EviAABRUem9KrRieHMtlp5EBOmumKNxnaACy81RAhUPtlQ?e=190Hu1
High-resolution images of the CORSAIR K55 RGB PRO XT can be found at the link below:
https://corsair.sharepoint.com/:f:/s/MarketingCommunications/EjEGgmonkUdHvvzJTKVKl3kBDlYsrSDxxBVjeNnP0NuW8g?e=hCAd3b
About CORSAIR
CORSAIR (NASDAQ:CRSR) is a leading global developer and manufacturer of high-performance gear and technology for gamers, content creators, and PC enthusiasts. From award-winning PC components and peripherals, to premium streaming equipment and smart ambient lighting, CORSAIR delivers a full ecosystem of products that work together to enable everyone, from casual gamers to committed professionals, to perform at their very best.
CORSAIR also includes subsidiary brands Elgato, which provides premium studio equipment and accessories for content creators, SCUF Gaming, which builds custom-designed controllers for competitive gamers, and ORIGIN PC, a builder of custom gaming and workstation desktop PCs and laptops.
Copyright © 2021 Corsair Memory, Inc. All rights reserved. CORSAIR, the sails logo, and Vengeance are registered trademarks of CORSAIR in the United States and/or other countries. All other company and/or product names may be trade names, trademarks, and/or registered trademarks of the respective owners with which they are associated. Features, pricing, availability, and specifications are subject to change without notice.
Source: Corsair Gaming Inc.
Media:
Adrian Bedggood
[email protected]
510-657-8747
+44-7989-258827
Investor Relations:
Ronald van Veen
[email protected]
510-578-1407
Photos accompanying this announcement are available at:
https://www.globenewswire.com/NewsRoom/AttachmentNg/a231d062-cc29-45f2-9ad4-b3c2a26fa936
https://www.globenewswire.com/NewsRoom/AttachmentNg/7332649e-450f-4d5e-a9cb-34309f2da70b
https://www.globenewswire.com/NewsRoom/AttachmentNg/566cec6f-5537-4800-9b84-fa1c9f7d5ce3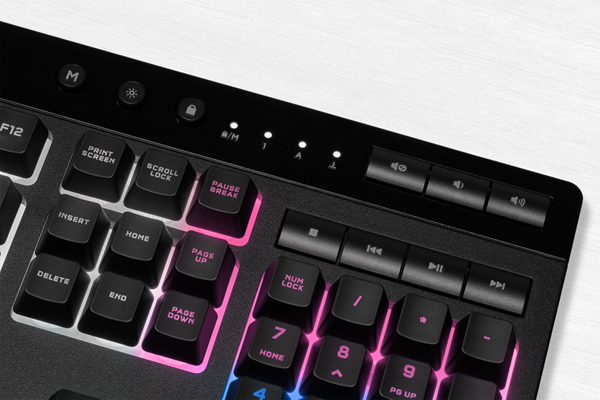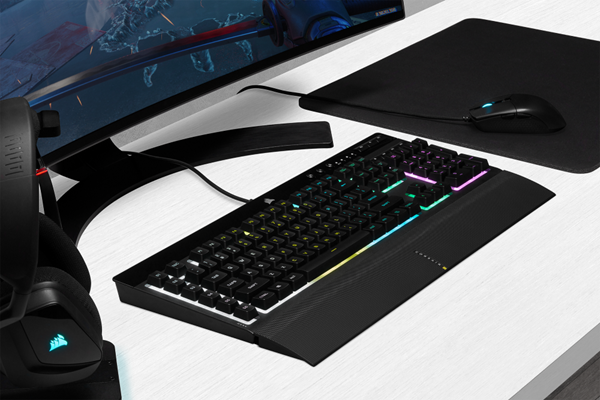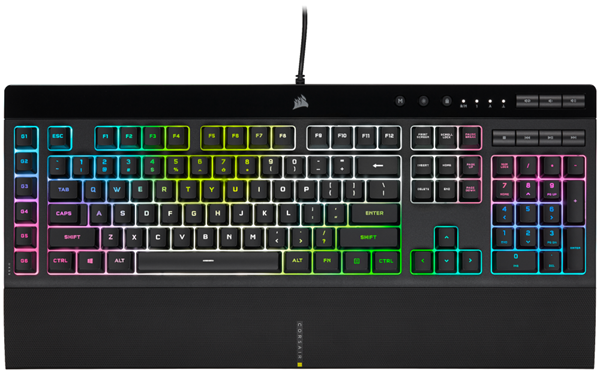 Sours: https://www.globenewswire.com/en/news-release/2021/03/31/2202929/0/en/Start-Your-Winning-Streak-CORSAIR-Launches-K55-RGB-PRO-and-K55-RGB-PRO-XT-Gaming-Keyboards.html
Software: iCUE
The software driver for most of the functionality with the CORSAIR K55 RGB PRO XT keyboard is iCUE and can be downloaded from their downloads page—the latest public version available at the time of testing was iCUE 4.9.318. A massive jump in numbers from the previous 3.x.xxx release, it indicates that a lot of internal and beta testing took place, which is a good thing since each major iCUE release thus far has brought with it an updated user interface, and CORSAIR aims to address some of the complaints with this update. The installer is bigger than anything else I have used for keyboards, coming in at ~760 MB. Actual installation has also been given a revamp with a more colorful skin as well as some embedded videos to play should the installation take a while. The install options are also on a single screen in four colored bars to either toggle or press for further options, which seems like a strange move, and animations and splashes of color are meant to keep your attention. As we saw before with the K65 RGB MINI, the final install takes up a whopping 1.1 GB. To be fair, it does seem to tax the CPU less than before even though it supports hundreds of products across CORSAIR and other hardware brands (MSI, ASUS, and Lenovo, to name a few).
When you do open the program, it is best to have the keyboard connected, although you can still play around and get familiar with it without any connected hardware. I also got a pop-up the first time around that asked whether CORSAIR can collect personal information, which I promptly did not consent to. We now finally get a look at the brand-new iCUE, and I have to say that I was never one to have a problem with the user experience of anything from CUE to iCUE. While perhaps because of all the CORSAIR reviews I have put together over the years, the more likely reason is that other software drivers have been much worse to navigate. With this redesign, CORSAIR has changed a lot of things, but some digging around revealed an iCUE skeleton that is still familiar to me. There is a sense of fun and play here with colorful skins and bolder widget-style modules on the home and device-specific pages. As seen below in the videos, we also have helpful hints and tips popping up the first time around, as well as highlights and hover-over effects as the mouse cursor is moved from one point to another.
The home page retains the ability to chose and create profiles, as well as a dashboard tab to customize previews for devices, which is useful for a quick look at your system's current status. Now in the form of "Scenes," instant lighting still allows for unified lighting across all connected devices, and we see a sensor module that is quite handy for quickly taking a look at system and device-specific information. Notification buttons have been added—one told me my wireless mouse was low on battery, for example. A help page consisting of embedded CORSAIR tutorial YouTube videos has also been added. We still get the global settings tab, and it is laid out better than before, especially on a high DPI display. However, unlike before, where we had device-specific settings here, including global brightness and polling rate, the only relevant item is a firmware update tool.
I am happy hardware playback has been included even here on the K55 RGB PRO XT, which by itself distinguishes it from the vast majority of membrane keyboards. This means you can take the keyboard over to another PC without needing the drivers for most applications. The Performance tab is very self-explanatory and has a small option set, so I added it here for a common discussion. Finally, the device-specific settings have been moved here, which I think is the better place for them anyway. Actions are still named in the keyboard's dashboard, but for the sake of better understanding, CORSAIR has renamed this section "Key Assignment." Unlike the K65 RGB MINI, we do not see hardware key assignment options here, which is likely a result of the hardware not supporting it. By default, the keyboard does what the keycap legends denote, but do not let that stop you. As the video illustrates, you can record a macro, edit it completely, and assign it to a key—make a key stroke input pre-configured text, assign mouse actions to keys, completely change the typing layout if QWERTY is not your cup of tea, etc. All these software controls make this a fully programmable keyboard within the limits of what is allowed for the device, and changing the language in the settings page opens up more options, too. It just means that you will need iCUE running for most of the complex actions, however.
Gone is the three-column approach for lighting, and we instead see a similar approach to the key assignment section in that iCUE software-profile-based lighting effects are separated from hardware lighting effects, which of course have fewer options. The actual customization of backlighting is still similar to before with layers being the name of the game to create all the complex iCUE lighting profiles others have and which really would take me too long to create myself. The effects themselves are still split across three groups. Presets are for the dynamic and reactive effects, Custom for static and gradient effects, among others, and Lighting Link goes back to the "Scenes" on the home page. Each effect has associated sub-options, including brightness level, speed, direction, and the actual color chosen from among 16.8 M options (256 brightness steps per R/G/B channel). New with iCUE are custom and preset zones to more easily set the lighting effects to specific groups of keys, although you can still manually select them. The custom zones can be saved for use with any lighting effect.
As it stands, this is one of the better user experiences to be had, and iCUE—at least in its current version and pertaining to this keyboard—is easier to use than most of the competition despite being one of the most powerful in terms of customization options. Also, it is a unified driver for the CORSAIR ecosystem, which is mostly why it takes up so much room on your storage drive. Finally, I will say right here that I experienced none of the issues with iCUE that I had with the K65 RGB MINI, and here, it was a great experience without any bugs or issues I noticed.
View as single page
Next Page »Software: Stream Deck
View as single page
Sours: https://www.techpowerup.com/review/corsair-k55-rgb-pro-xt-keyboard/5.html
Corsair launches the K55 RGB Pro and Pro XT gaming keyboards
Corsair is expanding its best-selling K55 RGB gaming keyboard line with the addition of the K55 RGB Pro (US$49) and K55 RGB Pro XT ($69) to the stables. Actually, I think the 2016 K55 RGB is likely to be phased out as the new K55 RGB Pro is very much the same keyboard, also priced at $49.99, with only minor tweaks that don't even make it to the specs page except that the number of keys in the newer models has decreased by one.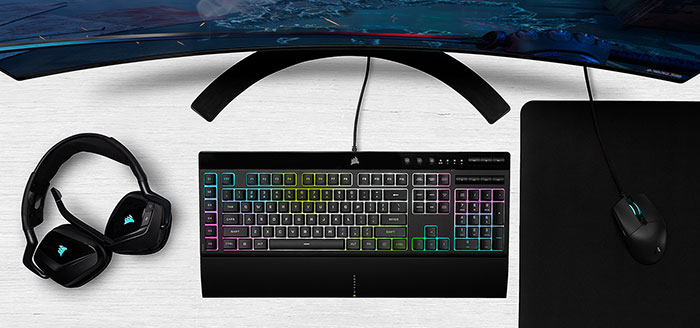 To start with it is worth mentioning that the K55 line are Corsair's entry level wired keyboards. Here you will find rubber dome keyswitches, fully plastic construction, and limited key rollover / anti-ghosting. However, some of Corsair's gamer friendly tech has dripped down from the higher end models; RGB lighting, 1,000Hz polling, macro keys, media keys, on board memory, detachable wrist rests, iCUE gaming action configuration support.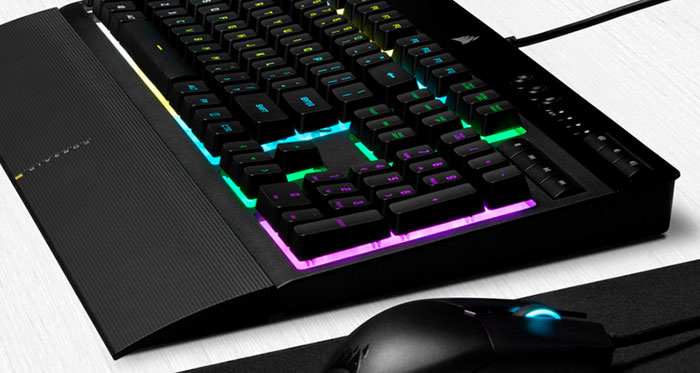 Other features worth a mention are the IP42 spill resistance of these keyboards. It isn't a very high rating but might save you from some accidental damage. It is also worth mentioning that at 481 x 167 x 36mm (without wrist rest) these keyboards are rather sizable pieces of desk furniture, especially compared to the recently HEXUS reviewed Corsair K65 RGB Mini.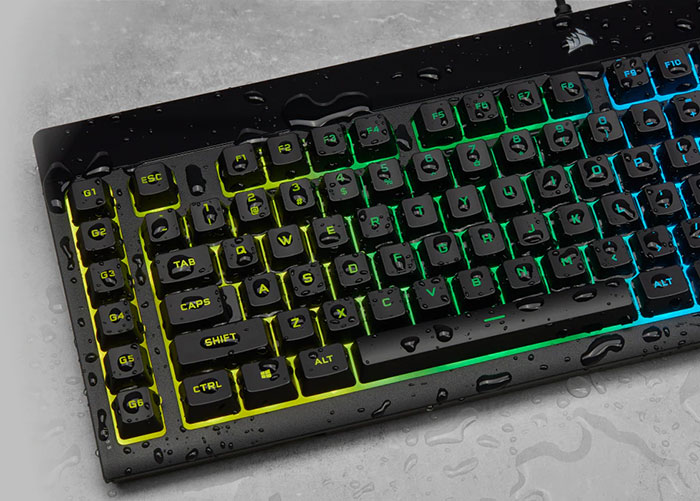 There is only one major difference between the Corsair K55 RGB Pro and Pro XT gaming keyboards and that is to do with the extent of their RGB support. The K55 RGB Pro has five zones of RGB lighting with six preset onboard lighting effects. Meanwhile, the K55 Pro XT introduces per-key RGB backlighting, with ten onboard lighting effects and the near-limitless customisation you can indulge in through Corsair iCUE software.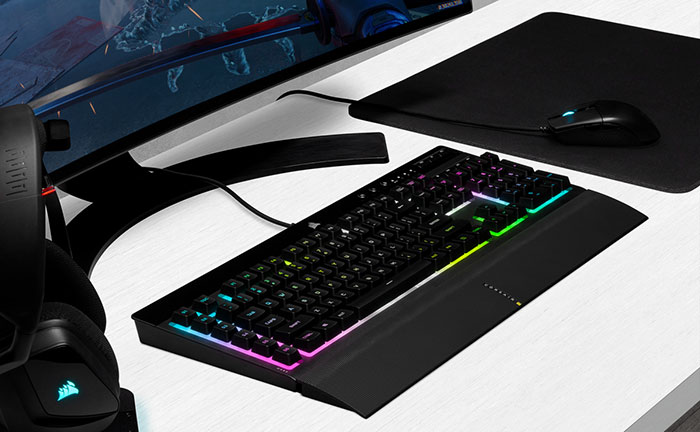 As Corsair keyboard model numbering increases the features become more premium and refined. Moving up to the K60 RGB Pro, for example gets the buyer an aluminium backplate for greater rigidity, and the Cherry Viola fully mechanical switches with NKRO and 100 per cent anti-ghosting make a showing here. Currently, the K60 RGB Pro SE is on sale at $89.99 in the US – just $20 more for your PC's primary input device. Other brands / keyboards are available.
Sours: https://hexus.net/tech/news/peripherals/147627-corsair-launches-k55-rgb-pro-pro-xt-gaming-keyboards/
K55 RGB PRO not showing up in icue FIXED
Corsair K55 RGB Pro XT Gaming Keyboard Review
Corsair iCUE 4 and Final Thoughts
With the launch of their latest keyboards, Corsair has also revamped their iCUE software to support the new models and also took the time to revamp the interface. Let's take a quick peek at what Corsair's iCUE 4 application can do for the you and the K55 RGB Pro XT.
If you are already familiar with Corsair's iCUE software, you will immediately notice some changes to the Home Screen. Any device that is compatible with iCUE will be shown here, one nice change is that Corsair wireless dongle's for their devices now show up as separate devices. You can also have iCUE show you various sensors on your system, even if they are non-corsair branded. The "Scenes" will adjust all compatible devices to have the same color options across all devices.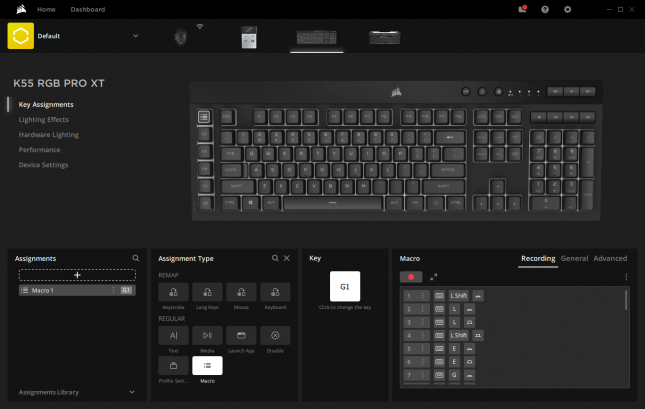 While you can record a 50 character macro without iCUE, using iCUE removes that limitation, there doesn't appear to be a limit on the size of macro you wish to create. In iCUE you can also edit your macro, however that isn't very easy to do. As I use macro's frequently, the interface is good, but it really needs to be more user friendly. One thing that I'm commonly asked is how the macros are stored. Corsair stores them in an XML file stored in the user profile directory, it is rather easy to find and easy to decipher.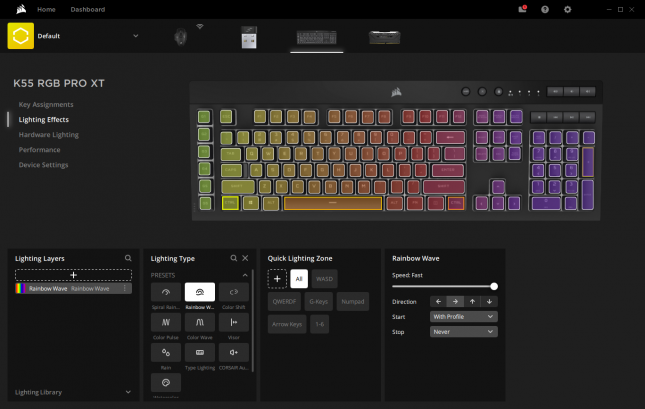 One of the biggest changes in the K55 RGB Pro XT compared to the previous model is that this model allows you to configure each key with different colors. There are still pre-configured zones you can use if you prefer. There are over nine different pre-configure lighting modes where you can assign it to the pre-configured zones or a custom zone. Each of these pre-configured lighting modes also has various options you can configure.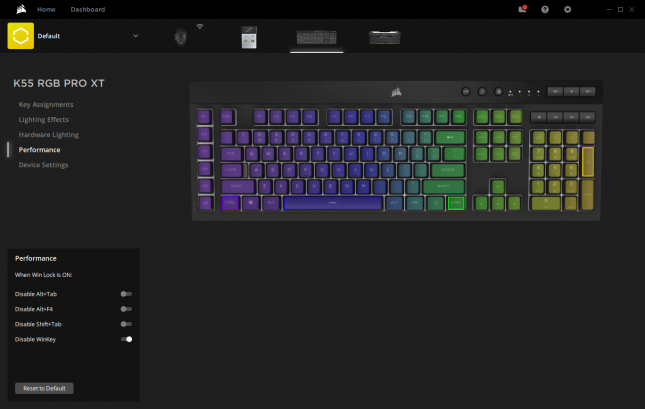 The Performance section allows you to customize the Win Lock button on the keyboard. Here you can disable four keystroke combinations that many gamers find highly annoying when gaming.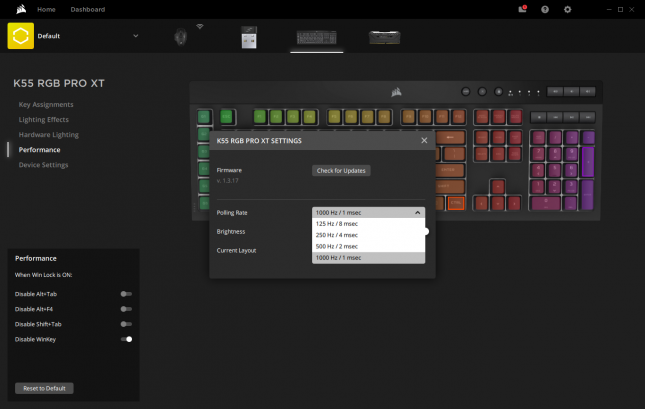 Finally, the Device Settings provides a few features. Here you can see the current firmware version, and check for an update (although iCUE will also notify you of any updates). You can adjust the polling rate in four pre-configured increments. One more place to adjust the brightness of the RGB LEDs and you can adjust the keyboard layout for seven different countries; US, Chinese, Russian, Korean, Taiwan, Thailand and Greek.
Final Thoughts
If you are not a fan of the modern mechanical gaming keyboard, the K55 RGB Pro XT is a great alternative. Corsair knows how to manufacture high quality gaming equipment with an attention to aesthetic details. The K55 RGB Pro XT is a small update to a great keyboard, allowing you to customize the RGB backlighting on a per-key basis with their iCUE application. Being a membrane based keyboard, it is highly responsive to typing and is very comfortable to use while gaming. Best thing is that there is none of that "annoying" clicking that we get from most mechanical gaming keyboards.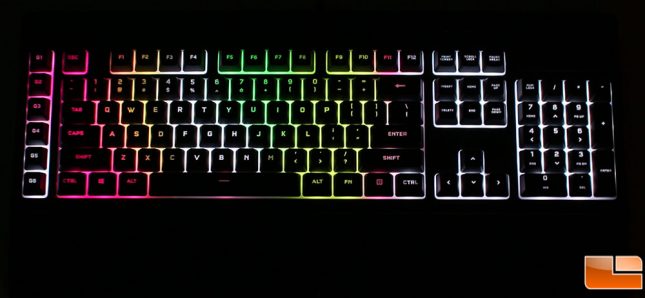 The RGB backlighting is bright (which can be adjusted on the fly) and vibrant. The ability to adjust the colors on a per-key basis will allow for you to truly customize your keyboard to your exact preference. Of course RGB backlighting doesn't impact the performance of the keyboard. The 1000HZ polling rate and anti-ghosting capabilities of the K55 RGB Pro XT means that you shouldn't have any issues with fast keystrokes on the keyboard.
One of the biggest downsides to the K55 RGB Pro XT is that is doesn't include a USB pass-through slot. This comes in handy for mice, headsets or other USB peripherals. For many this won't be a big deal, and considering the cost of the keyboard, it's understandable why Corsair didn't include the USB pass-through capability. The other thing I'd like to see changed, is really with the iCUE application, the macro creation tool could use a little work. The process to edit macro's can be tedious if you make a mistake, especially on longer macros.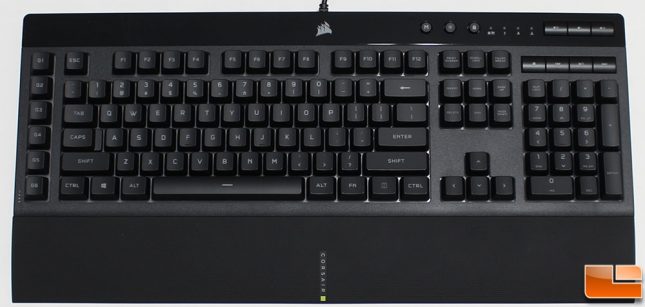 Corsair has priced the K55 RGB Pro XT at $69.99, which is on the higher end of RGB membrane based gaming keyboards. It is also a little more expensive than the previous K55 model, however with this model you get the per-key RGB backlighting. It really comes down to your preference in RGB backlighting whether the price makes it worthwhile.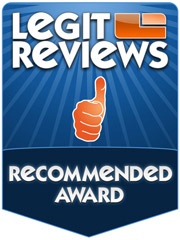 Legit Bottom Line: The Corsair K55 RGB Pro XT is a great update to their best selling membrane based gaming keyboard, with the biggest update being the per-key RGB backlighting capability.
Sours: https://www.legitreviews.com/corsair-k55-rgb-pro-xt-gaming-keyboard-review_226554/2
Icue k55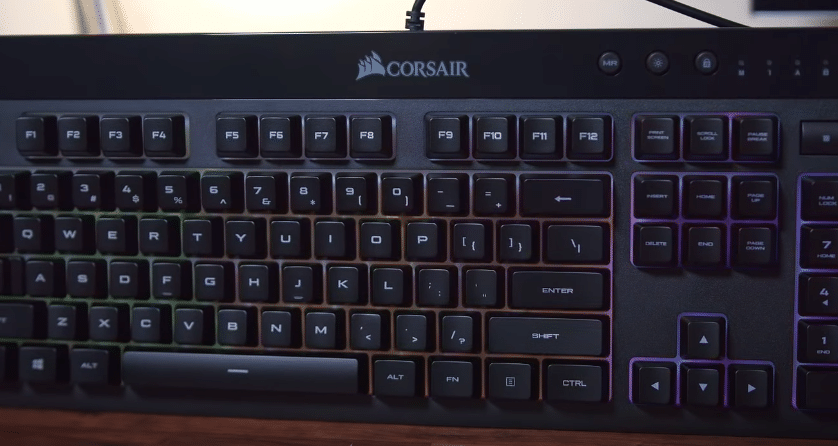 The K55 is a budget-friendly keyboard that you can buy from Corsair. So, if you are someone that does not like to spend a lot of money on gaming peripherals then this is the perfect keyboard for you. There are 6 programmable keys on the left side of the keyboard along with multiple media buttons on the top right corner.
However, one issue that caused a lot of headaches for gamers is the incompatible Firmware error. Users mention that they keep getting the error that the firmware is incompatible while using K55 RGB with iCUE. Here are some steps that can help you troubleshoot this error.
How to Fix K55 RGB Is Using Incompatible Firmware?
Repair iCUE
For most people, the issue fixed itself after they repaired iCUE from the programs tab in the control panel. So, if your K55 is not working with iCUE then this fix has a good chance of helping you out. Go to your control panel from the start menu and then head over to the programs tab. After selecting the iCUE, click repair and then wait for the process to complete. That should get everything working again.
But if you're not so lucky and the K55 is still running into firmware error then remove the Corsair iCUE from the PC and download it again. After removing the iCUE we suggest that you also soft reset the K55 once before installing the new version of iCUE on your PC. You can find how to do that on the user guide. After resetting the keyboard, install the new iCUE and then try configuring your K55 to check if you are still running into firmware issues on your Corsair keyboard.
Downgrade Firmware
A few users did say that the only fix that worked out for them was downgrading the firmware of their Corsair K55 keyboard. So, you should also give this method a go if you can't get the keyboard to work after repairing iCUE on your PC. Refer to tutorials on YouTube regarding the download links as well as the method that should be followed to downgrade the firmware on your K55. After downgrading the firmware, open up iCUE again and then try to configure different key binds on your keyboard to see if everything is working.
Some members from the support team also recommended that users should try checking their Driver settings. You can do so from the device manager and then going to the human interface devices. Find the Corsair input device and then remove that from the device manager. After deleting the Corsair drivers, you will need to reboot the PC to allow windows to install them again. After booting up the PC go to iCUE again to check the status of the error.
USB Ports
The possibility exists that it is the USB ports on your system that are creating this problem for you. So, you can go ahead and switch the USB ports that you are using to connect the K55 with your system. Connect the K55 directly into a different port and restart iCUE once. You can also try reinstalling the USB drivers by going through the Windows settings. Reboot the PC again after uninstalling the USB drivers so that the operating system can install them again.
Support Ticket
Ideally, your issue should have been fixed after you reinstalled iCUE on your PC. But if you still can't get the error resolved by changing the firmware version and reinstalling the drivers on your PC then there are some serious issues with your device. Connect the K55 with another PC to see if you are still getting the firmware error on the new system. If that is the case then you will need to inform someone from the Corsair Support team about this issue.
On the off chance, if they are not able to help you then you can ask for a replacement order if your warranty is in effect. But hopefully, you won't have to go through the hassle of replacing your keyboard as most users were able to get around this problem after they repaired their iCUE program. So, make sure to follow the steps mentioned in this article along with any other steps that members of the Corsair team recommend.
Categories CorsairSours: https://west-games.com/k55-rgb-is-using-incompatible-firmware/
Kit Corsair Teclado K55 e Mouse Harpoon, custo beneficio
Home Screen for iCUE v4 with quick 'scene' lighting, sensor and profile selection
CORSAIR's iCUE software was updated on March 16th to version 4, bringing significant changes to the UI to make it more approachable and easier to manage multiple iCUE devices. The good news is that v3 profiles are compatible with v4; any meticulously created lighting effects and key assignments will not be lost in the update.
Despite the UI change, the underlying organisational approach when configuring keyboard options remains the same:
Key Assignment configuration
Key Assignments:

Software-defined and controlled key assignments made on a per-key basis. Does not apply on other PCs, nor when iCUE isn't running.

Hardware Key Assignments:

Assignments stored in keyboard memory. Is the default behaviour when connected to systems without iCUE software installed, and only appears for keyboards with on-board profile memory. Not present for the K55 RGB PRO series.

Lighting Effects:

Software-defined and controlled lighting. Allows linked iCUE lighting across multiple devices.

Hardware Lighting Effects:

Lighting effects stored on the keyboard. Will apply when connected to systems without iCUE installed.
Performance tab with Device Settings activated
Each of these is stored on a per-profile basis, alongside device configuration information defined under the Performance and Device Settings tab. The number of software profiles available is effectively without limit, but the keyboard has no on-board profile functionality.
All attached iCUE devices are listed at the top as an image, and profiles are coherent across each of them. One-button profile switching will then apply to your entire iCUE peripheral set, both lighting and button assignments.
Key Assignment configuration
A frequently overlooked aspect of iCUE when it comes to peripheral control and configuration is the Dashboard panel. Here you can visualise all the system sensors - CPU Temp, GPU Fan RPM, Motherboard Sensors etc - in one convenient location. iCUE also has logging functionality, but we remain surprised that it's not easily accessed through this tab. Optionally, you can also add a list of every active key assignment on attached peripherals (the K55 RGB PRO XT in this instance).
--
In contrast to other K-series keyboards, the K55 RGB PRO XT has no on-board hardware profiles and only limited lighting customisation options when not attached to a PC running iCUE. Hardware button assignments transferable between PCs are limited to the six G keys, and the keyboard will store the G-Key macro assignments of the last active software profile.
Macros recorded through the on-board 'M' key function can be edited through iCUE software to precisely modify timings, or created from scratch.
Alternatively, if Elgato's Stream Deck software is running, the G keys can be assigned to one of any number of Stream Deck commands including community-sourced functions built from the SDK. This may be the best use of the G-Keys overall as the functions mitigate against the weaknesses of rubber-domed switches.
Lighting
The K55 RGB PRO XT diverges a little from CORSAIR's previous per-key backlighting designs having the lighting shine through the entire plastic backplate rather than just the key switches. The backplate acts as a diffusion medium, evening out each bright single light source so it blends with neighbouring sources. None the colour vibrancy of each LED is lost in the process.
Backlighting for the XT model specifically is per-key rather than zonal, but requires iCUE to configure and process. In other cases it can default to one of 10 pre-configured lighting effects encompassing the entire keyboard, including full-RGB rainbow or static single-colour.
The diffuse nature of the backlighting rewards blocks of colour (2x2 LEDs or more) over single LEDs. More subtle effects of one or two LEDs tend to get lost in a pool of colour, and will be discoloured slightly by the light around them. For example a single red LED surrounded by blue will appear as a patch of blueish-purple under the selected key.
That being said, the underglow effect is more impressive than it sounds. Colours are still rich and vibrant, and the appearance is one of continuous colour banding rather than point lights. The most compelling lighting effects are ones that flow as blocks or bands of colour rather than single pixels, such as Visor and Rainbow defaults. On the other hand 'Rain' effects are less easy to pick as they rely on drawing a contrast between single pixels and a uniform background.
We should also say that the appropriate choice of keycaps allows light to shine through unobstructed, which isn't always the case on membrane keyboards.
An area notably absent any lighting is the glossy top area and media keys. An illuminated logo at least would serve to balance the keyboard well, and none on the media keys can make them a little difficult to read in low-light conditions.
iCUE lighting customisation is effectively the same as in the previous iCUE version despite the changes to a new software version. It's based on layers, where each layer defines simple per-key effects, and layers are then stacked together to construct an overall dynamic lighting scheme.
Varying opacity over time can allow layers underneath to dominate, for example you can have a rain effect on top of a static colour backdrop isolated specifically to the numberpad, and then a Visor band going across the whole keyboard. From these simple rules you can build up immensely complex lighting programs that may even change with CPU temperature, act as an audio visualiser, or react to in-game events.
iCUE settings can also be imported from community repositories and saved for later use. That's another reason why CORSAIR's deep penetration into the peripheral market can be to your advantage.
For the K55 RGB PRO XT therefore, unlike other recent CORSAIR keyboards tested, installation and continuous use of the iCUE software massively unlocks the full functionality of the keyboard in a manner that cannot be replicated when not attached to a PC running iCUE. Pre-baked effects are all well and good but shouldn't be your main reason for choosing this model.
8 pages«<5678


Sours: https://www.vortez.net/
Now discussing:
.
584
585
586
587
588