Father of 14-year-old South Seattle boy accused of intentionally starting a house fire that led to his son's death
A Seattle teenager who was trapped inside his family's house in Rainier Beach when fire tore through the residence early on Jan. 22 died at Harborview Medical Center four days later, according to Seattle police.
On Tuesday, a week after the boy's death, Seattle police arrested his 38-year-old father in Shoreline and booked him into jail on investigation of domestic-violence homicide, accusing him of intentionally setting two fires inside the house, says the probable cause statement outlining the police case against him.
The man waived his first appearance hearing in court Wednesday, when a King County District Court judge found probable cause to hold the man on investigation of homicide and arson, said Casey McNerthney, a spokesperson for Prosecutor Dan Satterberg. A bail hearing is scheduled for Thursday and prosecutors are expected to file criminal charges on Friday, he said.
The King County Medical Examiner's Office identified the boy as 14-year-old Jabriel Isaq. His cause of death is pending further investigation.
The Seattle Times is not naming the boy's father because he has not yet been criminally charged. He and his son have different last names.
According to the probable cause statement:
Just before 4 a.m. on Jan. 22, Seattle firefighters responded to a house fire in the 9300 block of 39th Avenue South and found the residence fully engulfed in flames. Five of the house's seven residents were outside the house in their nightclothes when firefighters arrived. The family told firefighters a 14-year-old boy was trapped inside.
Firefighters found the boy in the master bathroom on the house's second floor and carried him outside. The seventh member of the household — the teen's father — was nowhere to be found.
Investigators found evidence that an accelerant was used to start fires in two spots on the house's first floor, and two partially melted gas cans were found on the patio outside a sliding-glass door.
One of the relatives told investigators he had seen the boy's father, who lived in the attached garage, inside the house around 1 a.m. on the morning of the fire, the statement says.
Police obtained video-surveillance footage from the neighborhood that showed the man walking north on Carkeek Drive South, just southeast of the house, less than two minutes before the first Seattle Fire Department trucks arrived.
Inside the garage, investigators found a cap to a gas can. One of the residents pointed out that a gas can stored in the garage was missing and told investigators that one of the gas cans found on the patio hadn't been there earlier in the day.
Police say family members repeatedly tried to contact the boy's father to alert him about his son's condition at Harborview but got no response. The family told police it was unusual for him to disappear like that, the statement says.
In a search of Seattle police reports, investigators located a July 2018 case in which the man allegedly threatened to burn down the family's house with everyone inside, the probable cause statement says.
During the arson investigation, the family told police the man had been behaving erratically and they suspected he was using drugs and may have mental health issues.
Following his arrest, detectives informed the man his son had died.
"He showed no reaction and did not respond to investigators' questions except to ask for water, a cigarette and a Coke," a Seattle police detective wrote in the probable cause statement.
Sours: https://www.seattletimes.com/seattle-news/crime/father-of-14-year-old-south-seattle-boy-accused-of-intentionally-starting-a-house-fire-that-led-to-his-sons-death/
Crews battle large fire at South Park Marina in Seattle
SEATTLE — Firefighters responded to a 2-alarm commercial warehouse fire in Seattle's South Park neighborhood early Thursday morning.
Multiple fire departments responded to the fire at South Park Marina after 2 a.m. The marina is located on the 8600 block of Dallas Ave. S, near 14th Ave. S and just south of the South Park Bridge.
At least 13 boats were involved in the fire, according to King County Fire District 2.
Crews were able to contain the fire to a single building. The fire was under control by 5:40 a.m.
One person, believed to be a worker, was treated for injuries at the scene and taken to Harborview Medical Center. The extent of their injuries is currently unknown. No firefighters were injured.
The cause of the fire is under investigation.
This story will be updated when more information becomes available.
Sours: https://www.king5.com/article/news/local/crews-battle-large-warehouse-fire-in-south-seattle/281-5d2c0c54-6dfd-406d-be18-37fcbeeb40a9
Fire in south Seattle ruled an arson, damages cost $3 million
SEATTLE — A fire that caused $3 million in damage to new construction in south Seattle will be investigated as an arson, according to the Seattle Fire Department.
Two engines responded to the 2300 block of South Plum Street just after 3 a.m. Saturday morning after receiving a report of smoke and flames coming out of a mid-rise new construction building, according to fire officials. Two five to six-story buildings were connected through a U shape, and officials say the fire spread throughout the building onto the lower floors.
Firefighters said the blaze was too hot and fast-moving to go inside. However, fire crews were still able to prevent the fire from engulfing both buildings. Crews told KING 5 no one was inside the building.
Fire investigators ruled the fire was intentionally set and damages amounted to $3 million. The Seattle Fire Department passed the case to the Seattle Police Department's Arson and Bomb Squad for a follow-up investigation.
While crews were putting out that fire, firefighters were called to another fire in the Capitol Hill neighborhood at the 300 block of Bellevue Avenue east. Smoke and flames were reported from the top story and roof of an unoccupied building. Firefighters arrived on scene at 4:30 a.m. and were able to extinguish the fire within 32 minutes. No one was inside.
Crews said the cause of the Capitol Hill fire is still undetermined. The building was scheduled for demolition, so the estimated dollar loss is zero, according to the fire department.
Sours: https://www.king5.com/article/news/local/seattle/fire-causes-3-million-in-damages-seattle-fire-department-arson/281-e872c615-4040-4876-aa05-0fab253afd1f
[Traffic Cam] Big flames from shed fire in south Seattle
SEATTLE (KING), WASHINGTON
INCIDENT SUMMARY | Seattle Firefighters were called to a working Fire in Building call just before 1600 hours on Tuesday, May 8, 2021. First due units confirmed a working fire in the vacant and another derelict structure.
LOCATION | For easier mapping, it is located in the 500 block of Harrison Street and northbound of Denny Way to Republican Street and right across from the Seattle Center, a favorite and iconic City tourist locale.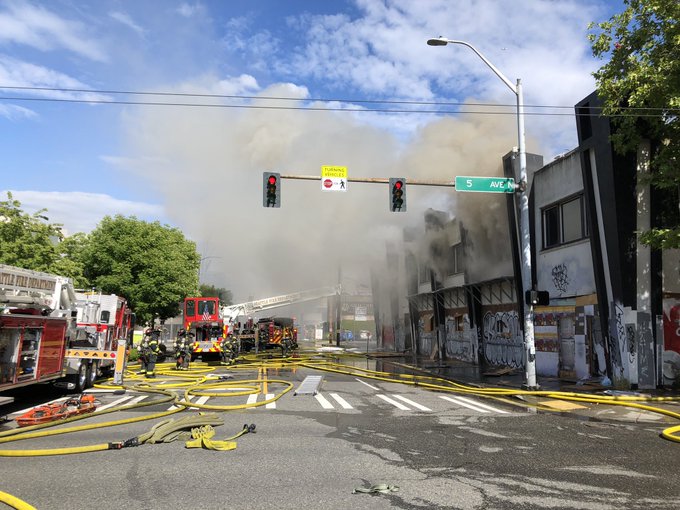 RESOURCES | Units were dispatched via the Fire Alarm Center or FAC at 1558 hours PT.
Air Units — 240, 240-260.
Battalions — 2, 5, 6, 55.
Engines — 5, 6, 8, 9, 10, 17, 20, 22, 25, 31.
Command Staff — PIO, DEP1, SAFETY2, STAFF10.
Ladders — 1, 3, 4, 6, 10.
Medical Group — MEDICAL GROUP | M44 (Supervisor), M10, A25, REHAB1.
OPERATIONS | Timeline for this incident
1601 — Crews were investigating reports of a fire in a vacant building.
1604 — Water on the fire.
1608 — Changed strategy from defensive to offensive position after a possible person reported inside the building.
1711 — 10 fire engines, 5 ladder trucks and additional support units on-scene. 70 firefighters fighting the first alarm blaze.
1713 — Reports of a person in the building but crews checked with thermal imaging cameras (also known as TICS) from the outside. They were unable to locate anyone. At this time, firefighters were unable to enter the interior of the building due to heavy smoke and for firefighter safety due to a possible structural collapse.
1715 — Operations in a defensive strategy and a collapse zone.
1732 — Upgraded to a 2nd Alarm. PIO arrived on-scene. Heavy smoke in the area.
1823 — Alpha-Delta. Collapse of wood façade on the corner of the building.
1900 — RMC clearing and going back in service.
1901 — REHAB1 back in service.
1904 — B6 back in service.
1913 — PIO in service.
SIGNIFICANT EVENTS | Highlights of this Incident
Person reportedly inside the building was never located.
Heavy flames and smoke could be seen from all around Seattle.
Refueling of apparatus completed during the incident.
Upgraded to a 2nd alarm.
Collapse zone established.
Fire Watch is in effect and will remain on-scene overnight to watch for hot spots and rekindling.
FIRE BUILDING | This is a masonry constructed with low quality built in 1929, is approximately 12,855 square feet. It is listed with the King County Tax Assessor as a Restaurant/Lounge as its present use. However, we see that it has been unoccupied for awhile and boarded up. It is located near the Seattle Center and Space Needle.
This building was remodeled in 1999 and 2004.
Building assessed value is just over $4 Million Dollars from $3.5 Million Dollars in the previous assessed year, per Tax records.
CLOSURES | Issued by the Seattle Department of Transportation
5th Ave N NB closed at John St.
5th Ave N SB closed at Republican St.
Broad St EB closed at John St.
Thomas St closed EB & WB between 5th Ave N & Taylor Ave N.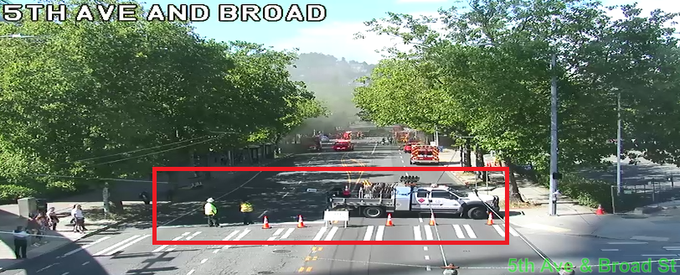 SEEN THROUGH THE EYES OF SOCIAL MEDIA | What People Are Saying
"Really hazy at Mercer and Dexter"
"Sad to see that. It's been boarded up for awhile, but I would not be surprised if there was some temporary occupation going on."
"Oh that's a big fire in Seattle…"
"That burning vacant building used to be a dance club back in the day."
"[SFD] still fighting the flames inside this vacant building that used to house popular nightclubs."
there is a massive fire in a vacant building right below. CRAZY!"
This fire was covered by local, national news and in our nearby neighbors in Portland, Oregon.
INJURIES | None reported that we are aware of.
CAUSE | Unknown, under investigation.
PROPERTY/CONTENT LOSS | Unknown.
#SeattleFire #VacantBldgFire #FireInBuilding
(c) 2021 NW Fire Blog –Updated 6/8/2021 1925 hours PT
JUNE 5, 2021 | Saturday | 2320 PT
Seattle Fire has seen its share of fires since Friday and again on Saturday. Here is a recap of fires for Friday and Saturday and it is not even Sunday yet!
JUNE 5TH
2300 PT
Brush Fire. 520 block of Pontius Avenue. E2 dispatched. Fire in a planter box. Pump can extinguished.
1130 PT
Rubbish Fire. 9500 block of Ashworth Avenue North. E21, E21 dispatched.
0704 PT
Bark Fire. SW Andover Street x California Avenue SW. E32 dispatched.
0524 PT
Fire in Building. 4800 block of Raymond Street. A14, Air10, B2, B5, Deputy1, E13, E27, E28, E30, E33, L12, L3, M28, M44, MAR5, R1, REHAB1, SAFT2 and STAFF10 dispatched. Fire in a bathroom of a home. All occupants safely self-evacuated.
JUNE 4TH
2344 PT
Illegal Burn. 2700 block of East Madison Street. E34 dispatched.
2319 PT
Illegal Burn. 23rd Place NE and NE 145th Street. E39 dispatched.
2220 PT
Brush Fire. 5th Avenue NE and NE 60th Street. E31 dispatched.
1928 PT
Brush Fire. West Emerson Street and 15th Avenue Wes. E20 dispatched.
1632 PT
Fire in Building. B7, E11, L13, E28, L12, REHAB1, STAFF10, A5, B5, Deputy1, E37, L3, Safety2, E27, M25, M44, Air10, E32, MAR5, MVU11 dispatched.
1124 PT
Rubbish Fire. Pike Street and Boren Avenue. L10 dispatched.
0001 PT
Transformer Fire. Taylor Avenue North and Valley Street. E8 dispatched. Small fire at the Seattle Public Utilities (SPU) Transfer Station. Fire units quickly brought fire under control. No injuries reported.
(c) 2021 NW Fire Blog
SEATTLE, WASHINGTON — Seattle Firefighters were dispatched via the Fire Alarm Center for a full response to the 6200 block of Airport Way South in the early morning hours on Tuesday, May 18, 2021.
Units arriving on-scene around 0100 PT hours reported no fire or smoke from the exterior of the three-story, multi-family and ordinary construction building.
The call in to Dispatch with reports of a fire on third floor, prompting a full fire response.
Units downgraded to a 2-1-and-1 response.
Initial full response included the following SFD Units:
A14 AIR10 B2 B5 DEP1 E11 E13 E26 E27 E28 L1 L12 M26 M44 MAR5 R1 REHAB1 SAFT2 STAF10 R1
Incident is named the AIRPORT WAY COMMAND.
This building is located at the end of the King County International – Boeing field. The $1.9 Million building is listed as being "off the market" and is approximately 7,452-square in size.
Fans were brought in by crews to vent the light haze that remained inside the upper floor.
Cause: Food on the stove.
(c) 2021 NW Fire Blog
UPDATE 2 – MAY 16, 2021 – 2329 PT
Fire crews are working to transition to an offensive strategy to conduct a primary search of floors three and down. This is the old Seattle Opera building.
The bulkhead door has been opened and an assessment has been completed.
Floors 1 and 2 primary search will be handled by Engine and Ladder 10. Other units will be searching as well.
Four additional units are en route to the incident.
Fire was listed under control at 2323 PT. Shortly, thereafter fire crews had a tap fire at 2325 PT.
Crews were directed to place foam over the building.
Sounds like they have been to the location more than two times.
Primary searches were in effect.
UPDATE 1 – MAY 16, 2021 – 2308 PT
Seattle Fire units A2 AIR 240-260 B6 DEP1 E22 E5 E8 L1 L10 M1 M44 MAR5 REHAB1 SAFT2 STAF10 have been dispatched at 2254 PT tonight, to a Fire in Building call in the intersection of Terry Avenue North and John Street. Multiple callers reporting seeing flames on the top floor of a six-story commercial structure.
This is a derelict building that the Seattle Fire Department has responded to several times already. Tonight, they are right back at it.
Last time, there were visible flames located on the fire under the bulkhead on the roof.
First due units are reporting to Command as fire on the top floor.
Units are going to deck gun the fire from the Terry side. Due to it being a derelict building, it has been recommended not to enter inside the structure.
A Ladder pipe operation was established until discovery of a high power transmission line that would interfere with their operations was replaced with a deck gun operations. Multiple units have set-up deck gun operations group.
Command states it appears several transmission lines have blown. It is a safety issue for those on the ground. A broadcast was given over the scanner.
Command Post has been relocated to Terry Avenue, named as the Alpha side. East side is Charlie side. Ten minutes on the timer.
Units reporting a top floor fire. Derelict building. No collapse zones. Deck gun to be inserted inside the third floor window. Water on the fire at 2305 Hours PT but transmission lines are causing challenges to get water dumped on the fire.
Firefighters are going to the bulkhead of the parking structure to open the door to the building.
This incident is called the TERRY AVENUE COMMAND.
(c) 2021 NW Fire Blog
MAY 5, 2021 2055 PT
A duplex fire prompted Fire units to be dispatched through the Fire Alarm Center to a structure fire in the in the block of 19th Ave S and S Stevens Street, in Seattle, Washington.
The incident was named the STEVENS COMMAND.
Seattle Fire units dispatched were A14 AIR26 B2 B5 DEP1 E10 E13 E30 E5 E6 L1 L3 M10 M44 MAR5 R1 REHAB1 SAFT2 STAF10 at 2001 hours PT.
This was originally listed as an interior fire contained to the Charlie/Bravo corner that extended into the attic. The Charlie Division was established and members were cautioned to check in with the Division before going in due to arching and downed power lines.
Fire was brought under control at 2012, about 11 minutes into the call. It was said to be burning in the overhead. On the Charlie side, there was no heat detected and at this moment considered to have the fire under control but a short report from the exterior showed light smoke coming from the Alpha side.
RIT was established at 2016 hours PT.
After overhaul was in operations, there was indication of extension above the kitchen. Active visible fire was see in the Bravo/Charlie side up to the attic. Two engine companies took up lines to the area and immediately put water on the fire.
A Decon line was established (2024 hours).
Utilities were secured: Gas for both structures (2026 hours) and power (2034).
Roof operations had a plan to cut into the roof above the kitchen but decided not to. (2028). Water on the fire (2030) and then a tap fire (2031).
Exactly at 30 minutes, fire crews egressed quickly to make sure this did not extend further or cause it to put other exposures at risk. Nice work, Seattle Fire!
Two adults and two dogs were displaced by the fire and are being assisted by the Red Cross.
No reports of injuries to the occupants or crews were reported.
Fire Marshal 5 (FIU) was called to the scene. No word on the cause or content damage is known at the time of this post.
(c) 2021 NW Fire Blog
UPDATE 2 (final) | APRIL 10 2021 2315 PT
Seattle firefighters were dispatched to a parking garage structure fire on John Street and Boren Avenue on Saturday night.
Firefighters had a difficult time when they first arrived on-scene in gaining access to the stairwell as it appeared to be down an embankment. After they gained access on the Bravo side, they were able to quickly egress and tap the fire, about twenty minutes into the incident.
A 400-foot extended line was brought in by crews and used the single line to put water on the fire.
It was said to be contained to a 130 x 20 rooftop bulkhead.
Units dispatched were A25, Air10, B2, B6, Dep1, E10, E2, E22, E25, E5, E8, L1, L10, L4, M1, M44, MAR5, REHAB1, SAFT2, and STAF10.
The cause of the fire is unknown and under investigation.
(c) 2021 NW Fire Blog
APRIL 10, 2021 | 2245 PT
Seattle Firefighters are currently responding to a working fire in a multiple story parking garage on John Street and Bore Avenue.
Incident has been named "John Command".
Engine 2 is on the hydrant and have water supply established.
Firefighters are currently laying a 400 foot extended attack line.
Heavy smoke is showing and a fire is burning in the stairwell. Crews having a difficult time accessing the stairwell.
B2 has assumed "John Command".
This incident will be tweeting on our Twitter page @nwfireblog
This is a developing story. More updates will be summarized and posted here every 10 minutes.
(c) 2021 NW Fire Blog
APRIL 9, 2021 | FRIDAY
Seattle Firefighters were dispatched to a mass casualty incident in the downtown core in the 500 block of 3rd Avanue for an unknown incident.
Units A5 AIR10 B2 B5 DEP1 E10 E2 E21 E25 E6 L1 L4 M1 M17 M18 M44 MCI1 SAFT2 STAF10 E2 B2 L1 were dispatched through the Fire Alarm Center at 1905 hours PT.
Three patients were located by first responders with two of them being coded as green and one yellow patients.
All units quickly went into service around 1930 hours PT.
(c) 2021 NW Fire Blog
SEATLE, WASHINGTON | APRIL 3, 2021
3200 block of SW Avalon Way (West Seattle) – 2-Alarm
Firefighters were dispatched to a Fire in Building call in the 3200 block of Southwest Avalon Way in West Seattle, Washington State on Saturday, April 3, 2021 around 1824 hours PT. The building is a mixed use business with retail space on floor one and apartments on floors two through six.
The original units dispatched to the fire were B7, E32, E3, L11 at 1824 hour PT.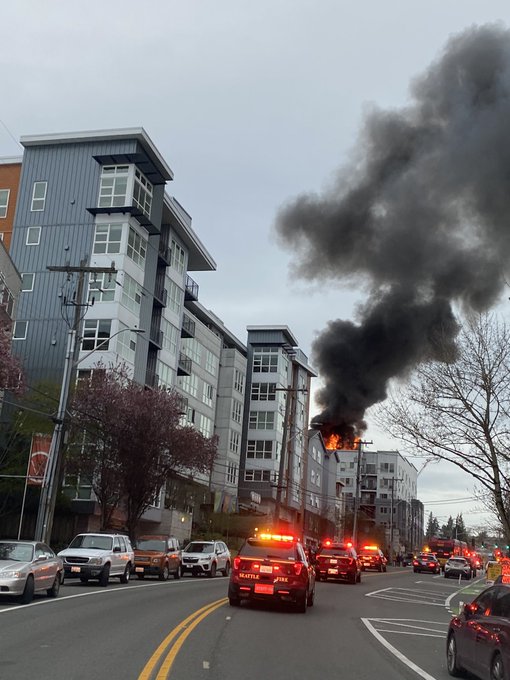 It was quickly upgraded to a full response with additional fire assets and equipment A14 AIR10 B5 DEP1 E11 E13 E37 L13 M32 M44 MAR5 R1 REHAB1 SAFT2 STAF10. (1st alarm)
At a later time, Command called for a 2nd alarm. The Fire Alarm Center or FAC dispatched E29, E5, Air240-260, B2, E10, E2, E26, E30, L1, L3 and the SFD PIO.
L9 and L10 were added to this incident prior to 2000 hours T.
Fire has been contained to the top floor but major water damage is evident on the top floors.
The cause and extent of damage is under investigation at this time.
It is unknown if there were any injuries to civilians or firefighters at the time of this post.
300 block of Bellevue Avenue East – 1st Alarm/Full-Response
Firefighters were busy chasing another fire in building call at 0421 hours PT. This was in the Capitol Hill neighborhood prompting A25, B4, E16, E22,E31, E36, E8, L13, L6, L9, M17, MAR5, B6, SAFT2, Air240, Air240-260 to be dispatched.
This was an unoccupied building that was set for demolition.
The cause was listed as "undetermined" by Marshal 5 (SFD Fire Investigator). There was no determined amount of loss given that the building was set to be destroyed.
2000 block of 23rd Avenue South (South Seattle) – 2-Alarm
At 0303 hours, Firefighters were dispatched to the 2000 block of 23rd Avenue South in Seattle on Saturday. This was a mid-rise U-shaped building under construction in the Mount Baker neighborhood. The fire had appeared to begun on the first floor and spread to the upper floors.
First arriving units were greeted by heavy flames and smoke.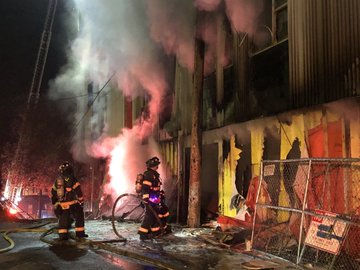 Units dispatched were B5, E30, E6, L3 then determined it to be a working fire, initiating a full response.
The full response included A5, Air10, B2, Dep1, E10, E13, E6, L1, M1, M44, MAR5, R1, REHAB1, SAFT2, STAF10.
Additional resources deployed were Air 240-260, B4, E2, E25, E28, E34, L10, L4, PIO.
Seattle FD's Marshal 5 determined this was an arson caused fire. The Seattle Police Department Arson unit is currently looking for any tips from the public. You may contact them at
(c) 2021 NW Fire Blog – Updated 2005 PT
March 26, 2021 | Friday | 1800 hours PDT
What would appear to be a big fire with Seattle firefighters responding to a full response which usually brings out a large response of personnel and assets, turned into a downgraded call with two engines, a ladder and a battalion Chief.
Fire units A14, A25, Air10, B2, B5, B6, Dep1, E10, E13, E2, E22, E25, E34, E5, L1, L10, L4, m31, M44, MAR5, R1, REHAB1, SAFT2, STAF10, E6, M10 were dispatched on Friday evening at 1746 hours PT.
It was quickly discovered after first arriving units completed their investigation, that it was a false alarm with burnt food in a toaster oven.
All units were released from this incident (Code Green), except for Engines 6 and 25, Ladder 10 and Battalion 2.
The incident was located in the block of 900 on Seneca Street in Seattle. Part of the Seneca was blocked but has since been reopened.
Seattle PD and Marshal 5 were not needed at the scene.
(c) 2021 NW Fire Blog
Sours: https://thenwfireblog.com/tag/seattle-fire/
Fire south seattle
.
Massive Beacon Hill fire one of 10 possible arsons in south Seattle this summer
.
Similar news:
.
606
607
608
609
610