Safeway cookies top Nabisco, Girls Scouts
Taster's Choice found five variations of the peppermint-oil-infused chocolate-covered wafer cookies in Bay Area markets. We then made calls to track down a box of Thin Mints for comparison.
The results might surprise you.
Our panelists' favorite cookie wasn't from the Girl Scouts or from a big-name brand like Nabisco or Keebler.
It was the humble Safeway Fudge Mint cookie ($1.89 for 9.4 ounces) that pulled off the upset, not only beating its heavyweight competition but also earning a spot in Taster's Choice Hall of Fame.
Safeway's cookies had a "thin layer of mint cream" under its "dark chocolate coating," making for a "great balance of salt, sweet, chocolate and mint." The only ones to be shaped into "big squares" rather than circles, these were "thick and substantial" cookies with a "good crunch." All five tasters would buy this brand.
In second place: Mint Oreo Fudge Cremes from Nabisco ($4.79 for 11.3 ounces at Safeway). In true Oreo fashion, these had a thick "mint cream layer" that made it more of a "peppermint patty" and provided a "wonderful" "cool edge." But while the filling was "very minty," some found the cookie "too sweet." Three would buy, one might and one would not.
Girl Scouts Thin Mints landed in third place ($3.50-$4 for 9 ounces). These well-known cookies were indeed "crispy," but they were also "dry and crumbly" with only a "mild mint flavor." One taster also described them as "salty." One would buy, two might and two would not.
In fourth place was Back to Nature ($4.39 for 6.4 ounces at Whole Foods), marketed as an all-natural cookie with Dutch process cocoa. "Nice and crispy," but "no mint" - "tastes like a chocolate-flavor-coated Oreo cookie, minus the cream." Some panelists also detected "burnt" or "molasses" notes. None would buy this brand.
Keebler's Grasshopper Fudge Mint Cookies ($4.19 for 10 ounces at Safeway) finished fifth. The chocolate on these cookies had a slight "bloom" - a "gray film" over the coating that made for a "grainy" texture and "stale aroma." Though a few tasters wondered if these were the Girl Scouts cookies, one would buy, and four would not.
Fudge mint cookies
Safeway 82
Nabisco 72
Girl Scouts50
Back to Nature 43
Keebler 40
Murray 38
Panelists were Linda Anusasananan, food writer and consultant, San Mateo; Lynne Bennett, Chronicle staff writer; John Carroll, cookbook author, San Francisco; Emily Luchetti, executive pastry chef of Farallon and Waterbar in San Francisco; Rosemary Mark, recipe developer, Walnut Creek. All products are tasted blind; a perfect score would be 100. Prices listed are the lowest found, but products may be available at other stores.
Sours: https://www.sfgate.com/food/tasterschoice/article/Safeway-cookies-top-Nabisco-Girls-Scouts-4506910.php
Chewy Oatmeal Chocolate Chip Cookies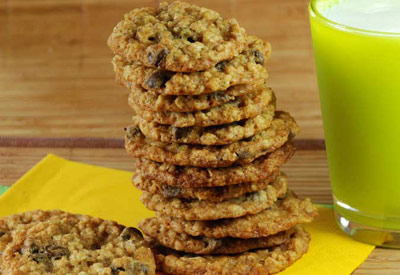 Customer Rating: 4
1 Ratings 1 Comment
Yield: about 5 dozen
Ingredients
1
cup
(2 sticks) butter, softened
1 1/4
cups
firmly packed brown sugar
1/2
cup
granulated sugar
2
eggs
2
Tablespoons
milk
2
teaspoons
vanilla extract
1 3/4
cups
all purpose flour
1
teaspoon
baking soda
1/2
teaspoon
salt
2 1/2
cups
oats, quick or old fashioned, uncooked
1
package
(12 ounce) semisweet chocolate chips (2 cups)
1
cup
chopped nuts (optional)
Nutrition Facts
Yield: about 5 dozen
Approximate Nutrient Content per serving:
| | |
| --- | --- |
| Calories: | 110 |
| Calories From Fat: | 45 |
| Total Fat: | 5g |
| Sodium: | 50mg |
Please Note: Nutritional values listed may vary from final results depending on actual measurements, products and brands used to prepare the recipe.
Directions:
Preheat oven to 375 degrees F

In a large mixing bowl, beat together butter and sugars until creamy. Add eggs, milk, and vanilla; beat well.

In a separate bowl, combine flour, baking soda and salt; add to creamed mixture and stir together. Add oats, chocolate chips and nuts; mix well. Drop by rounded tablespoonfuls onto ungreased cookie sheet.

Bake 9 to 10 minutes for a chewy cookie or 12 to 13 minutes for a crisp cookie. Cool 1 minute on cookie sheet; remove to wire rack. Cool completely. Store tightly covered.
Bar Cookies:
Heat oven on 375 degrees F. Press dough evenly onto bottom of ungreased 13x9- inch baking pan. Bake about 30 to 35 minutes or until light golden brown. Cool completely; cut into bars. Store tightly covered.
Please note that some ingredients and brands may not be available in every store.
Sours: https://www.shopsafeways.com/Recipes/Detail/337/Chewy_Oatmeal_Chocolate_Chip_Cookies
'Safeway Bear' Captured Last Fall In Kings Beach Shot Dead At Alpine County Campsite
ALPINE COUNTY (CBS13) — A problem bear with an even more problematic appetite was shot dead. A family camping in Alpine County killed the 500-pound black bear nicknamed the "Safeway Bear."
Wildlife officials say the shooting was justified. Experts say a fed bear is a dead bear.
READ MORE:
As Wet Weather Finally Rolls In, California Issues Statewide Drought Emergency Proclamation
And this particular animal had a long history of ransacking stores and scarfing down everything in sight, which they say is what ultimately led to this tragic ending.
The Safeway Bear, or "Kings Beach Bear," was known as one ravenous customer whose adventurous appetite and wild encounters were well documented with the Bear League's Ann Bryant.
"I knew when he was gathered up and taken away he was not going to survive," Bryant said.
Public safety concerns forced the California Department of Fish and Wildlife to capture the male bear last fall, and they fastened him with a GPS tracking collar before releasing him into a remote part of El Dorado County.
But by spring, that collar fell off.
"The best outcome would have been to leave him alone," Bryant said.
READ MORE:
Roseville And Woodland Make 'Top 100 Best Places To Live In America' List
But the curious carnivore was starving and returned to what he knew.
"The problem is when they become accustomed to human food—trash, birdseed, you know, whatever—that's all they know how to do,"
The California Department of Fish and Wildlife says the roughly 15-year-old bear was shot and killed in a campsite confrontation in Alpine County.
A family with small children had tried to shoo the bear away several times and feared for their safety.
Officials called the shooting "justified" describing the bear as "emaciated" with "rotten teeth."
It was a tragic end for a bold bear that advocates want the community to learn from.
"You don't feed the bears! Wherever you are, you don't teach the bears they can come up to people and ask for food. Because this is what happens."
MORE NEWS:
Caltrans May Change Speed Limits On Highway 99 To Limit Congestion
Fish and Wildlife says the family's food and trash had been properly stored and secured at the campsite at the time of the shooting.
Sours: https://sacramento.cbslocal.com/2021/10/18/safeway-kings-beach-bear-killed-alpine-county/
Professional Baker Teaches You How To Make CHOCOLATE CHIP COOKIES!
.
Cookies safeway
.
Cinnamon Roll Pie Cookies - Sweet Treats - Safeway
.
You will also like:
.
668
669
670
671
672