[Top 10] Skyrim Best Body Mods We Love
These mods will make your character (and others) look more unique than ever!
When it comes to changing your character's appearance, Skyrim mods have made the possibilities endless. Most seasoned modders know the staples: from body replacers like CBBE and UNP to the new hairstyles added with KS Hairdos. Since these are likely already going to be in your game, I'm going to cover some smaller body mods to make your game feel even more unique! 
10. BeastHHBB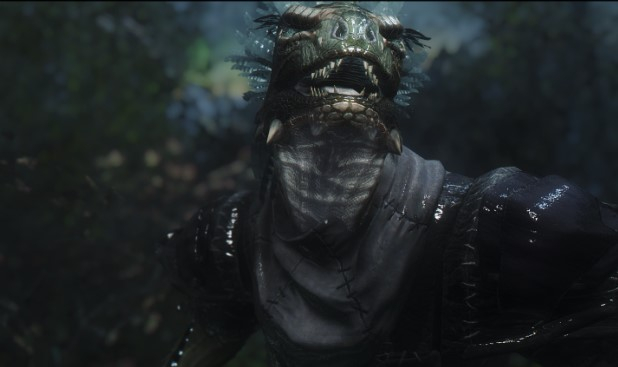 An up-close look at this Argonian's new textures.
Khajiits and Argonians have come an especially long way since the older Elder Scrolls games. With that being said, they still could stand to be improved on in Skyrim. This mod is sure to give your fuzzy or scaly friends a unique look. 
Features:
New models for beards, hair, horns, and brows for Khajiits and Argonians only 
Options to use this mod for your character only, character + NPCs, or just NPCs
Optional files to choose from for certain NPC appearances (like Kharjo), and tons of patches to help out with compatibility 
Get the mod here for SE. 
9. All Shapes Body Randomizer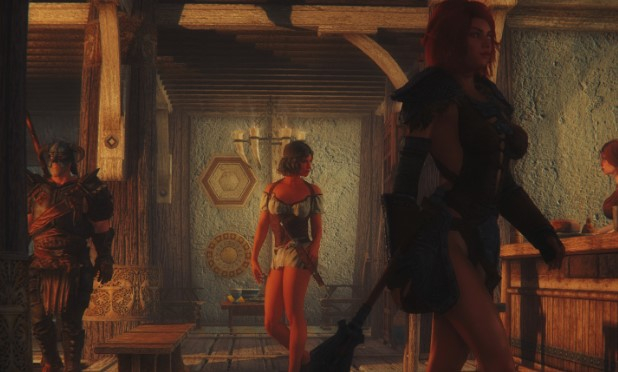 Many of the varying body types this mod has to offer. 
It makes zero sense for every character to have the same body type all across Skyrim, right? This mod gives characters different body types to make the world feel much more realistic and diverse. 
Features:
Randomizes the body types of characters all across Skyrim to be more varied
Made to work alongside SMP (physics) mods, but this is completely optional (tutorial is broken down on the mod page)
Works with any skin replacement mods of your choice, or with vanilla skin textures
Get the mod here for SE. 
8. Authentic Eyes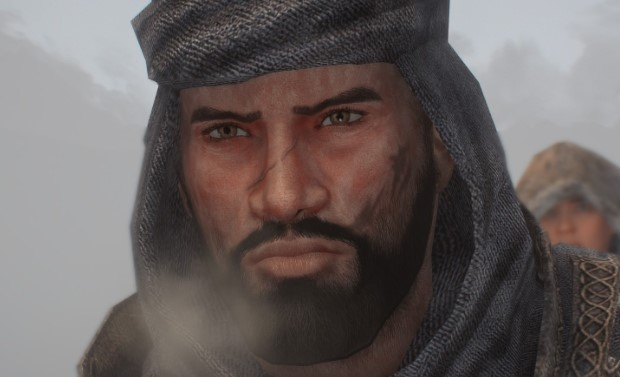 Realistic new eye textures shown on this character. 
There is certainly no shortage of eye mods for Skyrim, many of them adding new eye colors with a fantasy feel to them. Instead of focusing on things like that, Authentic Eyes focuses on more subtle, realistic eyes that would fit in best with graphics focused on realism. 
Features:
Lore-friendly eye textures that won't look out of place in your game
New custom maps including glow, environment, reflection, and Cubemap
Khajiits and Argonians are included in this mod, and these eyes will look great in all lighting environments 
Get the mod here for SE. 
7. High Poly Vanilla Hair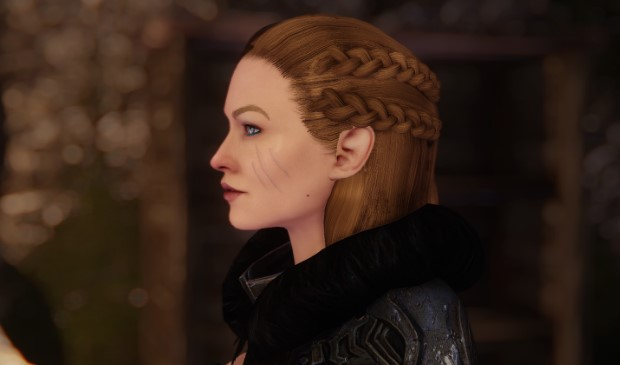 This character is sporting a braided style that is a step up from the vanilla version.
For those who like to stay pretty true to the original game but still want some visual upgrades, High Poly Vanilla hair is a good choice. The results aren't going to be super shiny and realistic as bigger hair mods, but this one will fit right into your vanilla game without looking out of place. 
Features:
Higher poly count versions of the vanilla hair meshes to make hair much more smooth
UV and bone weight tweaks
Detailed 3D braids including Khajiit styles 
Get the mod here./se version. 
6. Community Overlay 3: Bodypaints, Warpaints, and Tattoos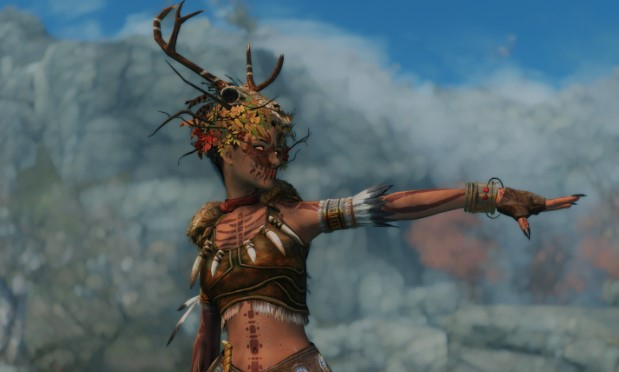 A character with new body paint on multiple body parts creating a unique look. 
There are a ton of bodypaint textures available for Skyrim, and they range from perfectly lore-friendly to modern-day tattoo styles. I would say this mod has a little bit of both. These allow for your characters to look exceptionally unique for each and every playthrough! 
Features: 
20 new overlays, with some featuring multiple layers making them even more customizable 
Many different styles/ different themes, you're bound to find one you want to try out 
Versions for UNP and CBBE body replacers, and supports characters of all genders
Get the mod here./se version. 
5. Shieldmaiden Muscle Slider: Beastmaiden Edition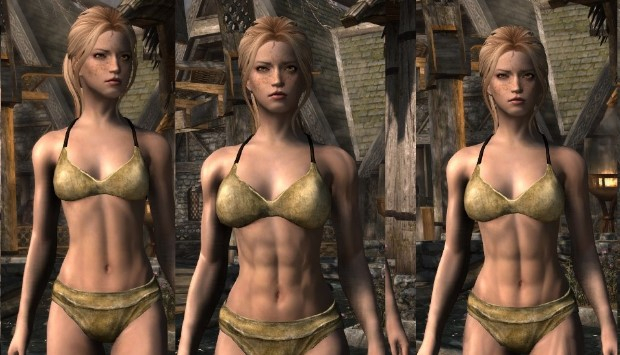 A few different levels of muscle tone available for your character.
Your female characters have been swinging around those heavy two-handed weapons… they should be able to have the muscle to show for it! This mod allows you to use the weight slider in Racemenu to change the muscle tone of female characters.
Features:
UNP body replacer support (no CBBE unfortunately) 
Supports Argonian and Khajiit characters as well
Compatible with whatever skin textures you prefer
Get the mod here./se version. 
4. Wounds Overlays for Racemenu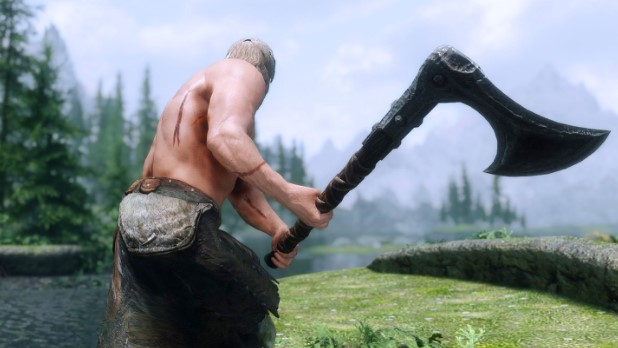 A male Dragonborn with multiple wounds on his body. 
Does your character's backstory include a huge scar from a past event? Did they get flung back from a hit from a dragon's tail? This mod will allow you to reflect those wounds with many options to choose from. 
Features:
13 incredibly detailed wound overlays accessible in Racemenu
Ability to edit the color of the wound: keep it red to look recent or make it grey to reflect a scar from the past
2k textures, compatible with skin and body textures of your choice 
Get the mod here./se version. 
3. Scarified Dunmer - Overhauled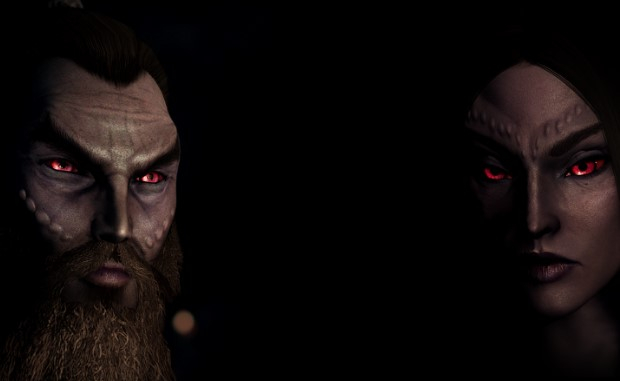 Examples of some of the scarification patterns available for male and female Dunmer. 
For those who love being fully immersed in as much lore as possible, Scarified Dunmer takes things to a new level! It adds many new complexion options (for Dunmer characters) that are modeled after the ritual scarification techniques seen in Morrowind. These are sure to add something cool for your Dunmer characters.
Features:
36 combinations for female bodies, and 27 for male bodies
Age options for each pattern
4k scaled normal maps
Get the mod here./se version.  
2. Freckles and Rough Skin Complexion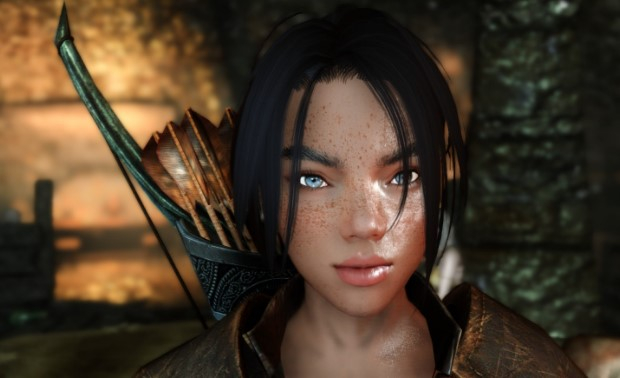 This character is showing off some of the new freckle textures in this mod. 
This mod greatly improves the textures for the different complexion options for your character. Choosing these complexion options in the vanilla game honestly just seemed to add more dirt textures to your character's face. Now those freckles can be defined!
Features:
Replaces vanilla rough skin and freckles complexion types
2k and 1k texture options available
Freckles for male characters are included as well 
Get the mod here./se version. 
1. True Faces: A Character Enhancement Project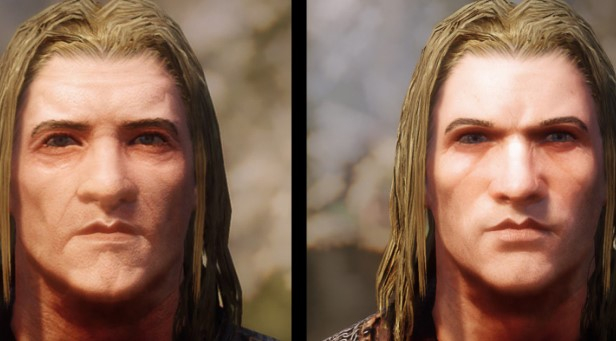 A side-by-side comparison of a vanilla face and the improved variety this mod offers. 
Modders are always working to make Skyrim look like a current-gen game. True Faces is a mod focused on completely modernizing Skyrim's aspects. The first part of the mod that has been released is focused on giving male characters new, hand-sculpted faces. The mod has more releases with other features planned. (The mod page says they are currently working on female faces.) 
Features:
New, realistic faces for humanoid male characters that naturally react to lighting 
Made to work easily with Total Character Makeover, but other mods may work just fine 
Characters now have more defined, realistic bone structures 
Get the mod here for SE. 
You may also be interested in:
Sours: https://www.gamersdecide.com/articles/skyrim-best-body-mods
9 Best Body Mods for Skyrim
Nicolas Ng
Journalism Student most of the time, one of HackerNoon's Junior Editors for the rest of it.
Image via r1goodwin/Skyrim Nexus
Looking good is an essential part of any RPG game. Having good-looking armour and weapons really help you make your character stand out from the rest and make the game far more enjoyable to play. Unfortunately, it can be hard to look good with dry, cracked skin that looks like it was made from potato peels. Skyrim doesn't come with any moisturiser to apply on your character or any fancy lotions but there is nothing to fear. This list of Skyrim Body Mods lets your character look like they're fit to be in a skincare advertisement. 
The mods on this list are both "body replacers" and skin mods for those replacers. While the textures on the body replacers look dated, they are an important part of modding the game as the vast majority of skin mods need them to function properly. Most female armors have been designed with a body replacer in mind as well which makes installing one a particularly good idea. 
Just a heads up, some of these body mods can be quite NSFW. If you're under 18, you should probably stop reading this article. Skyrim modding gets too weird for your innocent mind. 
Skyrim body Mods
UNP Female Body Renewal - A female face and body replacer
Caliente's Beautiful Bodies Enhancer -CBBE-
Bijin Skin UNP and CBBE SE
Diamond Skin - CBBE and UNP Female Textures
BodySlide and Outfit Studio
BeastHHBB - Beast Hair Horn Beard and Brow
Tempered Skins for Males - Vanilla and SOS versions
SkySight Skins - Ultra HD 4K 2K Male Textures and Real Feet Meshes
Total Character Makeover
1. UNP Female Body Renewal - A female face and body replacer by dimon99-hello santa-Reize-Shiva182
shiva182/Skyrim Nexus
The UNP Female Body is one of the two mainstays of Skyrim Modding and has just about all the features one would expect from such a mod. It comes with various options to change muscle tone and underwear options. It's also compatible with mods that enable ahem physics on the female body. 
Download Link: Skyrim | Skyrim SE
2. Bijin Skin UNP and CBBE SE by rxkx22 and Shiva182
MonkeyAngie/Skyrim Nexus
While not quite as glamorous as Diamond Skin, this mod still provides great textures for CBBE and UNP bodies while not looking so fantasy-like. This mod is used by many player presets found on the Skyrim Nexus which might be an incentive to download it. 
Download Link: Skyrim | Skyrim SE
3. Caliente's Beautiful Bodies Enhancer -CBBE- by Ousnius and Caliente
Ousnius/Skyrim Nexus
This mod is essentially identical to UNP, except that it lends itself to curvier body shapes. The installer allows you to choose the sort of nude body that would suit your character the most or if it should have underwear. Anecdotally, I've found that there are more armour mods that use the CBBE body. 
Download Link: Skyrim | Skyrim SE
4. Diamond Skin - CBBE and UNP Female Textures by r1Goodwin
r1goodwin/Skyrim SE Nexus
Diamond Skin is one of the latest and best Body Mods for Skyrim to come out and has looks to match. This skin mod really looks unrealistically good almost as if restoration magic can be used to keep skin looking young. Like many skin mods, this works with both CBBE and UNP bodies. 
Download Link: Skyrim SE
5. BodySlide and Outfit Studio by Ousnius and Caliente
Ousnius/Skyrim SE Nexus
Bodyslide and Outfit Studio is a utility that helps you get the most out of your Skyrim Body Mods. It helps ensure that all armours in the game can have a unified shape based on your body type and tweaked by you. It can be helpful when armours don't look quite like what you expected or you would like it to look a different way. 
Download Link: Skyrim | Skyrim SE
6. BeastHHBB - Beast Hair Horn Beard and Brow by Mharlek1
Mharlek1/Skyrim Special Edition Nexus
You've probably noticed that this list is centered around humanoid female characters which isn't very surprising considering that's what most of Skyrim's mods are about, really. Fortunately, BeastHHBB is an excellent mod for making Argonians and Khajiit look better. It's focused on giving the player more options in creating their Argonian or Khajiit character by giving more high quality options to add some visual variety. 
To be honest, there aren't many Skyrim Body Mods that touch on those races and this is certainly the best of all of them. 
Download Link: Skyrim | Skyrim SE
7. Tempered Skins for Males - Vanilla and SOS versions by traa108
traa108/Skyrim SE Nexus
Looking at something only slightly more common than beast races, we have a male body mod. This mod keeps a fairly realistic degree of muscle definition relative to some alternatives on the internet. It comes with both clothes and nude versions if either strike your fancy and help make males throughout the game look much better.
Download Link: Skyrim SE
8. SkySight Skins by fadingsignal
fadingsignal/Skyrim SE Nexus
Skysight Skins goes the opposite direction from Tempered Skins, building males across Skyrim like Norse gods. Seriously, it looks massive in game. The extremely high resolution textures used in this mod are easily on par with its female counterparts with the details in the body really showing. 
Download Link: Skyrim | Skyrim SE
9. Total Character Makeover by Scarla
Scarla/Skyrim Special Edition Nexus
All of the mods above are fairly precise mods that focus on a specific form of body improvement. Like many parts of modding, it can be overwhelming to get familiar with the thousands of acronyms thrown about. Fortunately, mods like Total Character Makeover exist to ease things. This mod adjusts all races, acting as a blanket improvement for the game in general.
Download Link: Skyrim | Skyrim SE
Final thoughts on these Best Body Mods for Skyrim
Body mods really show how crazy Skyrim modding can get. Modders have literally gone down to the pores just to make high-quality mods. Choosing the mods to go on this list was a real challenge just from the sheer volume of them. Still, these mods might spice up your load order if you haven't tried them before. 
More in Gaming
by Nicolas Ng @nicolasng. Journalism Student most of the time, one of HackerNoon's Junior Editors for the rest of it. Read my stories
Related Stories
Subject Matter
How to Show FPS in Apex Legends on PC by @nicolasng
#pc-gaming
Bayesian Brain: Is Your Brain a Data Scientist? by @nikolao
#bayesian-brain
5 Announced Games that Disappeared Off the Face of the Earth by @adrianmorales
#gaming
The Best Golf Games on Nintendo Switch: Mario Golf & More by @connorc
#online-gaming
Is Apple Pay Secure? - Platform Security and Privacy Overview by @jtruong
#apple-pay
The Female Faces of the Esports Industry by @afkesportsbar
#esports
Tags
#skyrim-modding#skyrim#skyrim-character-mods#pc-gaming#modding#blogging-fellowship#gaming-fellowship#gaming
Join Hacker Noon
Create your free account to unlock your custom reading experience.
Sours: https://hackernoon.com/9-best-body-mods-for-skyrim-bp11337p
Skyrim has been out for almost 8 years at this point, but that hasn't stopped a large swath of players logging in each week. This is largely due to the vibrant modding community that surrounds the game, making substantial upgrades to bring it more in-line with more modern experiences. The problem is, there are separate mods for each platform, and there are literally thousands to choose from. To help you out, we've been busy collecting a definitive list of the best Skyrim Mods for PC, Xbox One and PS4.
Outfits, Visual Mods, and More
Skyrim is a fantastic game, there's certainly no doubting it. It is a little rough around the edges, and ripe for modding, which is why it has one of the most active modding communities of any game currently available. Here's some of the best:
Unofficial Skyrim Special Edition Patch - arthmoor
Enhanced Blood Textures - DDfinder
Immersive Citizens - Dorchymont
Diverse Dragons Collection - OpusGlass
A Quality World Map 9.0 - Chesko
True Storms - Fading Signal
Realistic Water - Isoku
The Forgotten City - Modernstoryteller
More Kills and Decapitations - Sp0ckrates
Cloaks of Skyrim - Langnao
Alternate Start - Arthmoor
Xbox One Mods
Xbox has the most substantial modding support when compared to other consoles. Official mods are supported via the Bethesda modding site, and while there aren't nearly as many mods as on PC, there's plenty to work with. We've listed the best Xbox One Skyrim Mods below:
Unofficial Skyrim Special Edition Patch - arthmoor: this is the ultimate quality of life mod for the Special Edition of Skyrim. It aims to fix every bug not addressed by the developer, and does a damn good job of it. Well worth checking out for general stability fixes.
Enhanced Blood Textures -DDfinder: Skyrim is a brutal, violent experience at times, which makes the sub-par blood effects even more noticeable. This mod remedies this, adding in realistic blood spatter and textures.
Immersive Citizens -Dorchymont: This AI Overhaul is a mod whose purpose is to increase player in-game immersion by greatly improving Artificial Intelligence (AI) of friendly NPCs (citizens) in order to make them act and react like true humans in relation to their environment or to an aggressor.
Diverse Dragons Collection -OpusGlass: Dragons are a pretty big part of Skyrim, though their designs in the base game are kind of lackluster. This mod adds a bunch of new diversity to the dragons of Skyrim, including new breath attacks, and ranks.
A Quality World Map 9.0 - Chesko: This mod provides a new set of highly-detailed world map textures, complete with most roads! The roads shown were artistically selected by IcePenguin. This mod also adds a detailed Solsteim map.
Aternate StartArthmoor: Thank the Gods, this mod removes the lengthy intro sequence from Skyrim. Perfect for those wanting to jump back in with a new build.
Ordinator: If you want to add more perks to Skyrim on Xbox One, look no further than this mod by EnaiSaiaion. It adds 400 perks to the skill tree, from mage skills to warrior perks.
Skyrim PC Mods
Onto PC Mods now, and there's even more to choose from. We've included some of the best Skyrim PC Mods we could find below, ranging from quality of life upgrades, visual fixes, and more.
True Storms -Fading Signal: Skyrim already has some truly hostile weather, though this mod really takes it to the next level. It's really shines in mountain areas, and by the sea. Just remember to pack some thick fur and armor.
Realistic Water -Isoku: One of the many upgrades to Skyrim Special Edition is the new water flow system that allows water to bend around turns and change speed depending on the environment. While the water is much improved over the original edition of Skyrim, water flow was applied to most bodies of water indiscriminately resulting in odd looking water at times. With this mod, lake, pond/marsh, river and ocean water are once again visually and aurally distinct from one another.
The Forgotten City -Modernstoryteller: The Forgotten City is an award-winning, critically acclaimed expansion mod offering a unique 6 - 8 hour experience: a murder mystery investigation set in an ancient underground city. It's well worth checking out if you're looking for a new storyline to explore.
More Kills and Decapitations -Sp0ckrates: You know those awesome slow-motion kill moves that you can trigger in Skyrim? Well, this mod increases the likelihood that they will trigger. It significantly improves the combat, making it much more varied and action-packed.
Cloaks and Capes of Skyrim -Volvaga0: There's a severe lack of badass cloaks in Skyrim. Thankfully then, this mod adds a bunch in, and they sure are badass.
Apocalypse - Magic Of Skyrim - EnaiSiaian: This is a giant spell package, adding in 155 new spells to the game. Each school gets 31 new spells with high quality custom effects and animations.
Climates of Tamriel - Jjc71: Climates of Tamriel is a comprehensive weather, lighting, effects and audio overhaul for Skyrim Special Edition. The mod is widely regarded as the number one weather and lighting mod for Skyrim with the 32bit version racking up over 8 million downloads to date.
PS4 Mods
Finally, we have Skyrim PS4 Mods. Due to some frustrating Sony policies, there are significantly fewer mods for Skyrim on PS4. There are still some great ones to be found though, and we've listed them below:
Faster Levelling - RampageBW1: This mod gives you a small boost in XP earning rates. This is perfect for those who wish to get through the game faster, or those who are working on a new build or character.
Phenderix Magic Evolved -Phenderix: Phenderix Magic Evolved (PME) is the largest and most comprehensive spell mod available for the Elder Scrolls V: Skyrim. Currently, it adds approximately 400 new spells to the game. This is a massive sandbox collection of balanced spells that I strongly encourage you to download and try out.
Rain and Snow FX - Chesko: Rain and Snow FX allows your character to show frost and wetness (complete with dripping particle effects) when in the rain and in snowstorms. It really adds to the immersion of the game. Definitely worth a download.
Rich Merchants Of Skryim -Micahghost: One of the most frustrating things about Skyrim is the low amount of coins available for merchants to spend. It makes it extremely difficult to sell anything, which is why this mod is so handy. It increases Merchant gold values to 10,000.
Dolomite Weathers And Lighting Overhaul -Megaloblast: For our money, this is the best mod of its kind on PS4. It seriously improves weather and lighting, especially in green areas.
Alidon's Ultimate Armory - Alid0n: A custom armory full of tons of unique items, spells, followers, and so much more. After installing you will have a new marker for the armory called "Void Armory" right next to Riverwood.
Katana Pack - Cyan49: What's coller than a katana, nothing! this mod adds ten different types to Skyrim, perfect for striking down your enemies in style.
How to Install Mods in Skyrim
The way you install mods in Skyrim differs by platform. It also depends on whether you want to install official or unofficial mods. We've included all of the info you need to know.
Xbox One - to install mods on Xbox One, head into the pause menu and select the modding option. From here, you can browse mods that you want to add to the game.
PS4 - The same method applies here, though there are a lot less mods available.
PC - For Unofficial mods, you can install the Nexus Launcher (https://www.nexusmods.com/skyrimspecialedition/mods/). If you wish to install official mods, head to the official Bethesda website via the links provided above. You can then add mods to the library tied to your Bethesda.net account. These can then be applied in-game.
We'll be adding more and more Skyrim mods as we find them. Be sure to check back for future updates. For more on Skyrim be sure to check out our guide on locating all of the Standing Stones.
Sours: https://www.usgamer.net/articles/09-05-2019-skyrim-mods-best-skyrim-mods-for-xbox-one-ps4-and-pc
How To Turn Skyrim Into Ultimate Next Gen Game! (Only 25 Skyrim Mods 2021)
.
Body skyrim mods remastered
.
Skyrim - Top 5 Best Mods for Beautiful Characters - 2018 Edition
.
Now discussing:
.
669
670
671
672
673