Kawasaki 400 turned 450!
Back in 2003, Suzuki helped revolutionize the world of ATV racing by introducing the four-stroke Quadsport 400. At the time, Suzuki and Kawasaki had joined together to produce the same machines under different colors and company names. The Kawasaki KFX 400 is exactly identical to the Suzuki LT-Z Quadsport 400 in almost every way. These ATVs are sporty and fast with an extremely durable motor. However, with the development of 450cc ATVs, the 400cc engine can't keep up. This ATV was once at the top of the podium as a race machine, but it is now considered a trail quad. For this budget build, we wanted to bring this ATV back to its roots as a racer yet make it a blast out on the trails.
PROJECT KAWASAKI
Left over from the Kawasaki and Suzuki alliance days, we found a KFX 400 that was still in amazing shape. We wanted to add power to the engine, along with some safety and handling items to make our older ATV feel more like a newer 450. If you think that adding a bunch of bolt-on mods will make your 400 act like a sport 450, you might want to think again. Unless you plan to spend far more than the used ATV is worth, it won't be on the same level as a 450, but it will turn into a much better machine. We wanted to keep the modifications and bolt-ons as simple as possible, so we headed to Rocky Mountain ATV/MC to get all the needed parts for this project.


POWER
Increasing power from the durable 400cc engine was the first step. The lower end and valve train were all in great shape, so introducing a high-compression piston and cam shafts were a no-brainer. However, price versus gain made it clear that a full big-bore kit from Cylinder Works was the way to go. A new 434cc cylinder, a Vertex piston and Cometic top-end gasket are all included in the $529.99 Cylinder Works big-bore kit. The new cylinder looks completely stock. We gained a strong low- to mid-end power increase with the kit, and to finish it off we put in Stage 2 Hot Cams to add more power in the mid and top end for the intake ($143.99) and exhaust ($153.99) cam shafts. That completed the internal engine modifications for the build.
Next, we decided to throw on a FMF Powerbomb header and a Powercore muffler on the Kawasaki, which increased power through the whole spectrum. Now the engine is as strong, or stronger, than a stock 450 with a great throaty sound. With most exhaust upgrades, carburetor work is a must. We went with a jet kit from Dynojet that ran the project bill up another $47.99. Whenever you install aftermarket mods for the exhaust and carburetor, a new air intake will round things out. A Uni air filter replaced the stock filter for $23.99. We kept the airbox lid on this quad; with it off, it can make a bit more power, but it is also more difficult to jet and harder to get rid of the dreaded bog. With some extra effort, it could be made to work with the lid off, but we feel good about keeping it on.


HANDLING UPGRADES
Starting from the front of the KFX 400, we wanted to make the ATV feel like a very refined version of its old self. Renthal's handlebar and grips replaced the stock ones, along with a Works Connection clutch perch for $155.85. After putting on a parking-brake delete kit from Works Connection ($19.95), we moved on to installing a new chain from Renthal to help put the power to the wheels, which ran us another $63.99. The last handling upgrade was a new set of ITP Holeshot XC tires. ITP knows exactly what an ATV rider requires from their tires. These tires grip hard to help turn the ATV easily and to make sure all of its power reaches the dirt. A set runs for around $581.92 and is worth every penny.
ROUNDING IT OUT
Adding style to an ATV has always been a popular thing to do. There was no exception with this upgraded ride. Psych MX Graphics was happy to assist us with throwing on a nice custom graphics kit on the KFX. We were able to incorporate the company logos that helped us with our modifications while having a great backing design. We didn't stop there. CV4 provided some neon green Formed silicone coolant hoses, along with a high-pressure radiator cap.
Lastly, adding safety upgrades to this project was important to us. Protection against the known dangers of riding ATVs is always our first thought before we go riding. We decided to go to Tusk and installed a set of nerf bars for $99.99, a front bumper for $64.99 and a rear grab bar for $39.99. That way, the rider's feet will have an extra layer of protection from harsh terrain. The last things we installed from Tusk were a front-brake reservoir cover, along with a throttle cover for $27.98.
CONCLUSION
When most people start a project ATV, they want to install products that help the power and handling of the machine. Some like to change parts just to give their ride a better look, but we had a goal in mind with our KFX 400 project. We wanted to make the ATV feel as much like a sport 450 as possible without spending a ton of money to do it. With the help of Cylinder Works and Rocky Mountain ATV/MX, we succeeded. The power upgrades opened up the Kawasaki from the low end to the high end of the power range. The handling upgrades gave the ATV a better riding position and a more comfortable feel. Finally, the KFX got a makeover with new graphics and other stylistic parts. If you want to modify your older 400cc ATV to feel like a 450, these parts are the way to go. Nearly every major product for this project can be obtained directly from Rocky Mountain ATV/MC at www.rocky mountainatvmc.com, or call (800) 336-5437 for more details.
Sours: https://dirtwheelsmag.com/kawasaki-400-turned-450/
One of Kawasaki's underplayed machines, the KFX 400, was among the first four-wheelers to revolutionize the ATV industry by introducing 4-stroke power mills. Unknown to many, this paved the way for present-day sport quads that take the racing scene by storm.
The Kawasaki KFX400 is a nimble sport quad that resulted from the joint effort of Kawasaki and Suzuki in 2003. A replica of the QuadSport 400, this race machine featured a 4-stroke 398-cm3 engine, 85-mph top-end speed, excellent braking system, electric start system, and sporty aesthetics.
The KFX 400 may have taken a back seat since. But with its contributions to 450-cc speed demons, it certainly takes the forefront. Read on and learn more about this four-wheeler.
The Ultimate Do-It-All Machine
Before the advent of 450-cc thoroughbred racers, 400-class 4x4s like the Kawasaki KFX 400 dominated the sport riding scene. No wonder why it did – the KFX's sporty styling, unparalleled agility, and extremely durable power mill placed it on the pinnacle of race machines.
But with recent-decade developments making 450-class quads reign supreme in this category, the KFX400 has succumbed into second place and defaulted into a trail tamer.
While many see this as a form of regression, it is one of the greatest strengths of the 4×4. It is not too often that four-wheelers can pride themselves on being good hybrid models.
With the 400-cc machine, owners get to experience the joy of riding tirelessly on the trails and the adrenaline rush of besting your buddy or an official opponent in a half-mile drag race.
Best of all, rarely do quads have the prestige of once outperforming the Yamaha YFZ450R in a national MX competition – only the Suzuki QuadSport 400 replica does.
Models
There were only four models produced under this series from 2003 to 2006 before the KFX 400 retired. The debut version of the 4×4 originally came out of the Suzuki DRZ400 dirt bike and was equipped with a smaller carb, toned down cam, and different CDI with a milder curve and lower rev limit. While this setup gave riders extremely usable power delivery, it did not quite tap into the quad's full potential.
In 2005, Kawasaki made cam and carburetor updates to the four-wheeler that resulted in a night-and-day difference in its overall power. These changes strengthened the KFX 400's foothold in the ATV landscape as a high-performance machine for dirt roads, trails, and sandbanks.
Kawasaki KFX 400 Specs & Features
Engine
This 400-class machine is brought to life by a 36-mm Mikuni carburetor, later changed to a 37-mm CV-style carb with TPS designed to increase throttle responsiveness.
This carb upgrade was paired with higher lift intake and exhaust cams for the 2005 Kawasaki KFX 400, allowing the DOHC engine to breathe deeper and improving its mid-to-top-end power.
Engine Type
4-Stroke DOHC
Cylinder Arrangement
Single cylinder
Carburetion System
Carburetor, Mikuni BSR36 SS x 1
Engine Cooling
Liquid cooling
Bore x Stroke Ratio
90 x 62.6 mm (3.543 x 2.465 in)
Compression Ratio
11.3:1
Starting System
Electric
Displacement
398 cm³ / 24.3 in³
Maximum Power
28-32 hp/28.4-32.4 PS (20.9-23.9 kW, estimated)
Top Speed
65-85 mph (104.6-136.8 km/h) – owners' claim
Air Filtration
Polyurethane foam element
Lubrication
Dry sump
Engine Oil & Quantity
2.1 US quarts w/ filter
2.2 US quarts w/out filter
2.3 US quarts at disassembly
SAE 10W-40 w/ API grade of SJ meeting JASO T903 MA
Other options: SAE 5W-30, 10W-30, 10W-50, 15W-40, 15W-50, 20W-50
Maintenance: Unlike other sport ATVs, it is not advisable to use a wire to clean the jets or passageways on this quad, as Kawasaki KFX 400 parts may become damaged in the process. Instead, use a dip-type cleaning solution with a spray-type cleaner to ensure all components are clog-free.
Since it is not fuel-injected, you would need to adjust jetting every 3,300-feet increase in altitude to guarantee top performance.
Drivetrain
Thanks to its chain-drive system and vibration-reducing counterbalancer, the KFX400 has the perfect balance of power, handling, and suspension.
If it were to have one minor flaw, it would be acceleration. Stock gearing lends to the vehicle's top-end speed but does not give it the fastest 0-60-second rating.
Other than that, the machine is a joy to ride. You can start it in any gear with the clutch pulled in. The choke is easily visible on the left side of the handlebars.
Clutch
Wet, multi-plate type
Transmission Type
5-forward and 1-reverse
Gearshift Pattern
1 down 4 up, foot-operated (forward); foot/hand operated (reverse)
Drive System
Chain drive, RK 520KZO 96 links
Primary Ratio
2.960 (74/25)
Final Drive Ratio
2.857 (40/14)
Transmission Gear Ratio
Low – 2.538 (33/13)
2nd – 1.666 (30/18)
3rd – 1.238 (26/21)
4th – 1.000 (23/23)
Top – 0.846 (22/26)
Reverse – 2.153 (28/13)
Ignition
The ignition switch is on the central pod, and the fuses and battery are safely located under the seat. If you need to swap out stock batteries, a Yuasa YUAM329BS YTX9-BS Battery (view on Amazon) or any other lithium, AGM, or gel variant would be a great replacement.
Just make sure to avoid overcharging as it produces hydrogen that can cause fire when it comes in contact with a spark or short circuit. Also, never replace your stock maintenance-free battery with a conventional one.
| | |
| --- | --- |
| Ignition | Electronic CDI (Capacitor Discharge Ignition) |
| Ignition Timing | 10° BTDC @ 1,500 RPM |
| Spark Plug, Gap | NGK CR7E, DENSO U22ESR-N, gap (0.7-0.8 mm, 0.028-0.031 in) |
| Alternator Type | Triple-phase A.C. generator |
| Rated Output | 65V (AC) @ 5,000 RPM (no-load voltage) |
| Fuse | 20 Amp |
| Battery | 12V, 28.8 kC (8 Ah)/10 Hr, YTX9-BS formats |
| Battery Dimensions (L x W x H) | 150 x 87 x 105 mm (6 x 3.44 x 4.19 in) |
Tires & Brakes
The 4×4's wheel-and-tire combo makes for an excellent braking system. Stopping power is progressive and does not require death-clutching the brake levers to work. Also, the added grip of factory-installed rubber help with keeping the four-wheeler firmly planted on the tracks.
Stock tires are great on usual off-road terrain, But you may want to change to ITP Holeshot XC Sport ATV Tires (view on Amazon) if you are into desert riding and racing.
| | |
| --- | --- |
| Front Tire, off-road/road air pressure | Tubeless Dunlop AT22 x 7-10, 27.58 kPa (0.28 kgf/cm2, 4 psi) |
| Rear Tire, off-road/road air pressure | Tubeless Dunlop AT20 x 10-9,34.57 kPa (0.35 kgf/cm2, 5 psi) |
| Front Brake Type | Dual hydraulic discs w/ twin piston calipers |
| Rear Brake Type | Disc brake |
Suspension
The KFX 400 handles high-speed acceleration and bump absorption with ease without transferring hits to the handlebars. Turning is quick and precise, and ripping through wooded trails is effortless. However, more aggressive riding and dry, hard packs expose the vehicle's weakness and body roll tendency.
| | |
| --- | --- |
| Frame Type | High-tensile tubular steel alloy |
| Caster, Trail | 8.5°, 36 mm (1.42 in) |
| Steering Angle | 41° |
| Turning Radius | 3.1 m (10.2 ft) |
| Front Suspension Type, Travel | Independent, double-wishbone, coil spring, oil damped (adjustable fork preload), 215 mm (8.5 in) |
| Rear Suspension Type, Travel | Aluminum swingarm-type, coil spring, oil damped (preload, rebound and compression damping adjustable), 230 mm (9.1 in) |
Still, the strengths of the suspension system (piggyback shocks and frame strengthening for later-year versions included) outweigh its drawbacks. Bottoming the machine is not an easy task, even after jumping it multiple times – making this machine one of the best in the market.
Dimensions
From its inception, the KFX 400 has been the lightest vehicle in the 400-cc category. To continue as such, it had to offset its suspension upgrades and stronger sub-frame with a new magnesium cover for the valve, clutch, and ignition, aluminum front bumper, and rear grab bar, and aluminum shift lever.
| | |
| --- | --- |
| Length | 1,830 mm (72 in) |
| Width | 1,165 mm (45.9 in) |
| Height | 1,160 mm (45.7 in) |
| Seat Height (Unloaded) | 810 mm (31.9 in) |
| Ground Clearance | 265 mm (10.4 in) |
| Wheelbase | 1,245 mm (49 in) |
| Track (F/R) | 935 mm (36.8 in) / 910 mm (35.8 in) |
| Dry Weight | 169 Kg (373 lbs) |
| Vehicle Load Capacity Limit | 110 Kg (243 lbs) |
Exterior
For a sport quad, the machine surprisingly lacked instrumentation. It came standard with 12V 3W neutral, reverse, and coolant temp warning lights but did not have an analog speedometer/odometer.
Footpegs atop serrated footrests provide the needed support for long trail rides. Plus, the seating position on the quad accommodates both average-height and taller riders.
Dual 30-watt headlights, a 21-watt brake light, and a 5-watt taillight provide the quad superior light distribution.
Body panel color options – Lime Green, Metallic Marble Red, Blazing Orange – add a dash of flair to the machine's racy aesthetics.
Kawasaki KFX 400 Pricing
The below table shows the list price of all Kawasaki KSF400 models released from 2003 to 2006:
(Source: Nada Guides and Kelley Blue Book)
| Year – Trim – Model Number | List Price | Retail/Trade-In Values |
| --- | --- | --- |
| 2003 Kawasaki KFX 400 KSF400A1 | $5,699 | $1,625 – $2,560 |
| 2004 Kawasaki KFX 400 KSF400A2 | $5,699 | $1,755 – $2,890 |
| 2005 Kawasaki KFX 400 KSF400A3 | $5,699 | $1,890 – $3,110 |
| 2006 Kawasaki KFX 400 KSF400A6F | $5,699 | $2,025 – $3,305 |
Almost similar to retail pricing, auction listings range from $530 to $3,025, with resale units online consisting of '03 and '04 KFX models. This makes perfect sense since pre-2005 versions had premature frame issues.
On Craigslist, the range is slightly higher – the most expensive secondhand unit costing $4,000. Buyers may find it a bit of an upset that there is little to no information on trader websites about the mileage/hours, working condition, or any pre-existing problems the quad may have.
You would be in luck if you come across a pre-loved thumper with a full rundown of specs and completed mods in near-mint condition.
The Underrated Racer
Not too many riders know (or remember) the Kawasaki-Suzuki Alliance. This brief coming-together of two automotive giants led to the creation of Suzuki's LT-Z400 QuadSport and Team Green's KFX 400.
While enthusiasts recall Doug Gust riding the 400-class QuadSport and winning the national motocross championship in 2004, few realize that the Kawasaki KFX 400 is a replica of that race-winning four-wheeler. The fact that the KFX is built like the official MX champ but is unrecognized for its race-worthy qualities makes it pretty underestimated.
Magazine and consumer reviews on the KFX400 share the same sentiment. Several owners admit to initially thinking very little of the machine, only to realize that the stout quad delivers a lot of power and performs better than the Honda TRX 400EX.
Of course, this may not always be true given that most KFX 400s around are secondhand, with their working conditions largely reliant on the previous owner's upkeep and care of the quad.
But for a well-maintained unit, one would only need a jet kit, new battery and air filter, wheel spacers, taller (and wider) tires, a smaller tooth wheel to make it perfect for deep mud or rocky terrain.
Kawasaki KFX 400 Pros and Cons
Aficionados would agree that the Kawasaki KFX 400 is as close to a perfect trail machine as you can get. Naturally, it would have its fair share of areas for improvement.
Still, it is unquestionably one of the best hybrid sport quads Team Green has ever released in the market. Let's take a closer look at the lowlights and highlights of this iconic four-wheeler:
Pros:
The Kawasaki KFX 400 is not the top gun in its niche, sandwiched between the sport and high-performance categories.
Despite quick and precise turning, the 4×4 is a bit tippy when pushed too hard in the woods or any terrain with a given level of difficulty.
Brakes are excellent but still do not make the quad as good as its 450-class counterparts.
It is one sturdy vehicle but not impervious to bottoming hard, especially if coming up short on a triple or taking on a 65-foot tabletop.
Cons:
The KFX 400 is a tried-and-tested trail-track combo machine geared toward the aggro rider who occasionally tests the quad's top-end power on MX/dirt tracks.
Stock shocks are nearly as refined as aftermarket suspension, making for a smoother ride upfront.
Its dry-sump lubrication design shortens overall engine height and lends to the quad's enhanced stability and higher ground clearance.
The power delivery of the vehicle became more potent with post-2004 enhancements, improving the KFX400's already-exceptional torque curve
Lifting the front wheels to overcome obstacles is convenient and trouble-free – thanks to its snappy power and shorter wheelbase.
Its fast-revving DOHC engine makes traversing wide open spaces in a short amount of time not only fun but also possible.
With the right kind of modifications, the KFX400 can win you national championships as well as bragging rights when racing with your peers.
About Kawasaki
Founded in 1878, Kawasaki Heavy Industries, Ltd. evolved from being a part supplier for shipping businesses to becoming a prominent institution in the ATV landscape.
The maker of Kawasaki KFX400 is also known for producing industry-leading motorsport vehicles and for its massive production of transit, hydraulic machinery, motorcycles, off-road vehicles, side x sides, personal watercraft, and aerospace and energy systems.
Conclusion – Kawasaki 400 KFX Review
All in all, the Kawasaki KFX 400 delivers in excitement and performance – thanks to its powerful engine, race-type chassis, triple-disc brakes, and manual transmission.
Even today, the dependability and mod-friendly nature of the four-wheeler is more than sufficient to support various sport-riding conditions.
It may not be the cream of the crop in its niche, being a hybrid machine. But it can surely butt heads with the best of thoroughbred racer quads. With its notable strengths, this unsung off-road hero is one of the most fun and praise-worthy machines of all time.
Sours: https://offroadingpro.com/kawasaki-kfx-400/
by Cyril Demortier, on
The KFX®400 is for serious sport riders who demand high-performance for the track, trails and dunes. And the KFX400 delivers, thanks to its high-tech, four-stroke engine, manual transmission, lightweight racing-type chassis and disc brakes.
Year:

2006-

Make:

Kawasaki

Model:

KFX

Horsepower @ RPM:

Displacement:

398 L

Price:

5,799
This four-wheeled Kawasaki is propelled by a highly responsive 398cc, liquid-cooled, four-stroke engine with double overhead cams and four valves atop a chrome composite-plated aluminum alloy cylinder. Fed by a 37mm high-performance carburetor, it includes electric start and has a counterbalancer to reduce vibration.
The KFX400 engine utilizes a "dry sump" design, shortening overall engine height so it can be placed lower in the chassis for enhanced stability while providing higher ground clearance.
Transmitting power from the engine to the rear wheels is a high-performance five-speed-plus-reverse manual transmission and efficient O-ring chain.
Such power requires a chassis to match, so the KFX400 ATV engine rides in a high-tensile steel frame and subframe. Suspension duties are handled by dual front A-arms with fully adjustable shocks that provide 8.5 inches of travel, while an aluminum-alloy swingarm with fully adjustable shock provides 9.1 inches of travel on the rear. Contributing to the KFX400's low, 373-pound dry weight are competition-inspired aluminum-alloy wheels, and stopping power is provided by dual front disc brakes and a single rear disc brake.
Kawasaki KFX 400 Specifications
Engine: Liquid-cooled, four-stroke, single cylinder with DOHC and four-valves
Displacement: 398cc
Carburetion: Mikuni BSR37
Starting: Electric
Transmission: Five-speed-plus-reverse manual, multi-plate wet clutch
Final drive: #520 O-ring chain
Frame type: High-tensile tubular steel alloy
Front suspension / wheel travel: Dual A-arms with coil-over-shock, adjustable preload / 8.3 in.
Rear suspension / wheel travel: Swingarm with preload-adjustable shock / 9.1 in.
Front tires: 22x7-10 radial
Rear tires: 20x10-9 radial
Front brakes / rear brake: Dual hydraulic discus / Disc
Overall length: 72.0 in.
Overall width: 45.9 in.
Wheelbase: 49.0 in.
Ground clearance: 10.4 in.
Lighting: Dual 30W halogen
Dry weight: 373 lbs.
Fuel capacity: 2.6 gal.
Footpegs: Serrated steel
Colors: Kawasaki Lime Green, Blazing Orange
FEATURES
High-performance four-stroke engine delivers exceptionally broad torque curve for maximum traction for a variety of sport-riding conditions
Twin air intakes on the front fenders provide extra cooling to the radiator
Dry-sump lubrication allows the engine to be kept low in the chassis for superior weight distribution and handling while providing higher ground clearance
37mm carburetor increases engine performance
Electric start makes getting started easy
Five-speed manual transmission helps the rider keep the engine in the powerband
Reverse gear makes backing up convenient and easy
Efficient chain final drive provides maximum power to the rear wheel
Swingarm utilizes eccentric chain adjusters, making chain adjustment easier
Dual A-arm front suspension and rear swingarm help to soak up the bumps and jumps
Front shocks feature fully adjustable compression and rebound damping as well as adjustable preload for multiple suspension tuning options
Triple disc brakes provide exceptional stopping power
Dual halogen headlights brighten the path for nighttime riding
Serrated steel footpegs help to keep the rider's feet from slipping in wet or muddy riding conditions
About the author
Sours: https://www.topspeed.com/motorcycles/motorcycle-reviews/kawasaki/2006-kawasaki-kfx-400-ar2063.html
Kawasaki KFX 400 Review
---
07-23-2005, 04:49 PM#1

Join Date

Mar 2005

Location

hunterdon county nj

Posts

685

kfx400 reviews

hey guys i am think about getting a kfx400 and i was wondeing how u guys like them? could you plz let me kno wat you like and is like about it,and if i have 1 let me kno if any thing breaks or not thnx!

06 DVX

1997 GMC Sierra 1500,6in pro-comp suspension lift with 3in body lift with 35's

Rip-it-Racing

aim-ThorMx428

---

07-23-2005, 05:43 PM#2

Join Date

May 2004

Location

Nor Cal

Posts

315

It's a good quad. Some people have problems with the frame. It's usually the guys that case huge jumps but I have heard of others breaking their frames on 30-40 ft jumps.

I ride MX every week and have cased my fair share of 3rd and 4th gear pinned jumps. My frame is still holding up but I am also only 180 lbs.

06 LTR450

04 KFX400

05 Xtreme 125cc Pit Bike

---

07-23-2005, 07:05 PM#3

Join Date

Feb 2005

Location

indiana

Posts

1,300

hey man i love mine right now it for sale though because im getting into mx racing so i am getting rid of the xc ready quad the mods are in my sig the wheels are not flipped any more but i could put them back that way they mount righ up no drillin needed

Raptor man

2002 yamaha raptor 686: wicked prod. +2+1 arms,lonstar +4 axle,lonestar axle carrier,full yosh.exaust,t-9 rims,holeshots,aluminum airbox w/proflow kit,dyno jets,steel braided brake lines,+1burgard steering stem,pro taper bars,teather kill switch,gas tank valve,emergency brake block off,asv clutch/brake lever,nerfs,aluminum shrouds,12.1 high compression piston,w/black widow harden rockers,+1 oversised valves,stage 3 web cams,ported and polished,dg front bumper,pro-armor grab bar,kibble wite valve springs....and lots more to come

2002 honda 400ex: sold & missed

2003 z400: sold and missed

KFX400
dg front bumper,dg grab bar,pro flow kit,K&N air filter,a few stickers!

2001 400ex: gone and missed

2004 limited edition 450r: gone and missed

---

07-24-2005, 12:10 AM#4

Join Date

Aug 2004

Posts

2,545

i love mine. only problem is from day one i've have this horrible rear brake squeek that even the dealership cant figure out. but i got my manual in the mail today so this weekend i think i'll rip into it to see for myself. it's not all the time though.

other than that it's perfect. couldnt ask for more in a stock 400cc quad.

---

07-25-2005, 09:35 AM#5

Join Date

Feb 2005

Location

south carolina

Posts

184

hey i love my kfx the only problems i have with it is it i blew 4th gear out and its my falt doin burn outs and playin in deep mud but i love it and it kills honda 400EX haha.

---

08-03-2005, 11:18 AM#6

Join Date

Jun 2004

Location

WI

Posts

115

i don't think the z400 even compares to it, its way better, way cooler, and faster............

2003 red 300ex, 20x11x9 razr2 rears, renthals, dg front bumper, uni airfilter

1997 yz80 FOR SALE pro circuit pipe, renthals, Have pics, PM me if interested.

Email me at

[email protected]

if you would like to sell your z/kfx/dvx400 for less than 3500... really interested

---

08-03-2005, 02:12 PM#7

Join Date

Jan 2004

Location

St Louis MO

Posts

209

hey man the kfx is the best 400 out there. i love mine, ive had no problems except my brakes drag and they squeak sometimes but its nuthin major. if u get the kfx, get the hmf full system. it gives u a huge power increase and is f'in loud.

'02 Powerstroke haulin a '08 450R

Full rossier exhaust
K&N filter w/outerwear

---
Posting Permissions
You may not post new threads
You may not post replies
You may not post attachments
You may not edit your posts
Forum Rules
Sours: http://www.atvriders.com/vbb/
Reviews kfx 400
Kawasaki's 2005 KFX400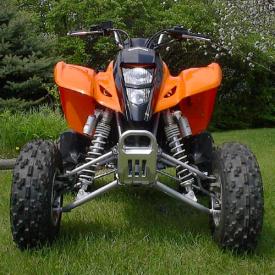 photos by Cuck DeBault
Carburetor and cam updates have made the 05 KFX a freer revving and more powerful machine. The new Blazing orange added some extra flair to the KFX already mean styling.Early on in our sport and now in 2005, with the exception of a few models — sport quads have been divided into two distinct categories, sport and high performance. The once venerable 400EX has been slated by most riders as a sporty trail machine, while Yamaha's YFZ and the newer Honda TRX 450R are considered to be more thoroughbred racers. Somewhere in the middle lies the KFX400. An exact replica of Suzuki's Z400 this machine is also shared by Arctic Cat, although the Arctic Cat did not benefit from this year's updates that grace the 2005 KFX and Z models.
Even if you haven't been following the race scene very closely, you're probably still aware that Doug Gust won the national motocross championship on this machine in 2004. OK it was actually a Suzuki, but like we said, the KFX is an exact replica. How is it possible that a 400cc class machine can beat the mighty new Honda and Yamaha race quads at the most competitive level? Is the KFX400 a hopped up sport machine, or a detuned racer? Could this be the ultimate do it all machine for the average rider? Read on as we give you the skinny on this orange machine from Team Green.
| | |
| --- | --- |
| | |
| Not just for looks, the KFX piggyback reservoir shocks with adjustable compression and rebound damping have taken both the KFX and the 400cc class to the next level. | Heavy metal; while the KFX swingarm is constructed of aluminum in order to keep weight down, this beefy unit looks like it could survive a nuclear war. Chain adjustment is acceptably simple. |
Coming right at you, the KFX dual halogen headlights offer plenty of light for the casual night cruise.
2005 updates
When this motor originally came out of the Suzuki DRZ400 dirt bike, it was detuned with a smaller carb, milder cam, and different CDI with a milder curve and lower rev limit. Perhaps they felt that the DRZ dirt bike motor had too much power for the chassis/suspension package on the ATV, or maybe they were just trying to make the machine more affordable. Either way, the 03/04 KFX motor had plenty of room to add horsepower and for 2005 they took advantage of it.
On the intake side, the KFX now features a 37mm CV style carburetor with a throttle positioning sensor, (TPS) designed to increase throttle response and increase top end power. A TPS works by adjusting the ignitions timing to match the throttle position. To allow the four valve double overhead cam motor to breathe deeper, higher lift intake and exhaust cams were installed. These changes are good indicators KFX is destined for more mid to top end power, but we will have to wait for some ride time to know for sure. Looking for better clutch operation and feel, one additional clutch plate was added bringing the number up from 8 to 9.
Going for more then just motor mods, the KFX front shocks are now equipped with piggyback reservoirs which feature adjustable compression and rebound damping. Wheel travel remains the same at 8.5 up front and 9.1 in the rear and the front shocks are now rebuildable and revalveable. To keep things all together, gussets were added to the upper front shock mounts and the subframe was strengthened a bit. This should help fix those premature frame issues what popped up early in the machines life.
Wanting to remain the lightest machine in the 400 class, Kawasaki's KFX went through some weight shaving in order to offset the piggyback shocks and frame strengthening process. For the engine, on went a new magnesium valve cover, clutch cover and ignition cover. In the bolt on department, a new aluminum front bumper and aluminum rear grab bar replaced the old steel units. Finally for better shifting and even further weight savings, the steel shift lever was swapped out for a lighter stronger aluminum piece.
Pushing too hard on hard packed terrain can result in body roll and two wheeling due to the machines super sticky radial tires. Throw in some loose soil and powerslide to wheelee combos are a snap on the very nimble KFX.
Mounting the high low light switch, on off switch, and choke lever on the left side of the handlebars puts all of the necessary controls right at hand.
Test time
While the high performance 450s are geared more toward all out cross country racing and occasional MX use, the 400cc class sport machines are geared more toward the aggressive trail rider. However, to assume that a skilled trail rider will never venture his or her way onto a motocross track would be foolish. For this test it's the good old trail/ track combo platter and there is no better place to get started then in the environment for which the KFX400 was designed.
For the trail part of our test we loaded up our 05 KFX400, test riders Robby (BIG-G) Frede, and Nathan Delabar and headed for Big Rock ATV Park in Maysville, KY. Big Rock has plenty of tight trails as well as lots of wide open prairie trails, to test the Kawasaki's low and high speed manners. After which, we took the machine to Earlywine's Indoor Motocross to let Chris Earlywine put the KFX through its paces on his lipped up SX layout.
Rocks, boulders, and trees, oh my!
Having arrived at Big Rock ATV Park and with the arguments of who gets to ride first behind us, it was time to fire up the KFX for the first time. The machine can be started in any gear with the clutch pulled in. The choke is a snap to locate as it is conveniently located on the left side of the handlebars. After allowing the Kawie to warm for a few minutes, off went the choke, in came the clutch, Robby clicked the machine into first gear and off he went.
To get used to the machines power and handling characteristics, we started in some of the Parks more wide open sections. Both of our test riders were quick to note the machines quick revving yet extremely usable power delivery. Nathan, (our more experience test rider) was surprised at how large a difference the cam and carburetor updates made to the KFX's overall power. Although the machine is not a torque monster, it carburets well at lower RPMs. A beginner can ride a gear high and lug if he or she wants, but the KFX does its best from one third throttle up. The overall power delivery is quite smooth, not 400EX smooth, but then again the KFX is notably faster. Overall, it's a mid to top powercurve with a smooth midrange surge and enough top end to keep all but the most ham fisted trail riders happy. In the tight sections the free revving KFX was a blast to rocket between corners and climbing steep hills with little run was a breeze as long as you can keep the front end planted.
Its as steep as it looks, yet the KFX awsome brakes allow Nathan Dalabar to maintain complete control.
Suspension wise, the KFX is a joy on the trail. The suspension handles high speed acceleration and braking bumps with ease. On Big Rocks tight trail sections there are plenty of sharp edged rocky climbs and decants and plenty of exposed roots. While you can feel the obstacles you are rolling over the suspension never transferred any square edged hits to the handlebars. Heading out we managed to find a puddle jump that provided a few feet of air and we jumped it multiple times landing on both the front and back wheels. We never bottomed the machine, and no matter how we landed it the impact was supple and totally controllable. For trail use this may be the best suspended machine on the market.
Handling on the machine is mostly all good. Turning is quick and precise. At lower speeds you can rail through the trees without effort. Everything on the machine feels just right. However, as we begin to approach race speeds in the woods, or maneuver aggressive in wide open spaces, our test riders noticed a bit more body roll then they liked. While this might not offend the casual to intermediate level trail rider, you will have to get more radical with your body english as speeds increase. It was also sometimes difficult to get the rear end to break loose on dry hard pack. Switching to a lower profile set of rear tires will go a long way in solving both of these issues. A good weight balance with a wheelbase shorter then the 450 class machines seems to work well in most trail conditions. Lifting the front is as easy as leaning back and nailing the gas. This makes crossing ditches and fallen logs a snap. On the flipside, climbing extremely steep rough hills with little run is a bit tricky.
For slowing down or descending steep hills, the brakes are awesome. Steep decants are far less intimidating when you know you have this much braking power at your disposal. Feel is progressive making it possible to dial in just the right amount of braking power while you never have to death grip the levers to bring the machine to a halt. Good stopping power is also aided by the machines sticky Dunlop Radial tires, which do an excellent job of keeping their knobs planted firmly in the soil.
It doesn't take long to get used to the seating position on the KFX. The ergonomics are spot on for various sized riders. While the machine fits riders 5 ½ feet tall just fine, Nathan Dalabar at 6'-5″ didn't complain of being cramped. All of the controls work flawlessly. Throttle action is quite light and the clutch requires just a finger or two to pull it in. Vibration is not a problem on the KFX, making the machine even more comfortable on long rides.
We took our KFX puddle jumping to see how the suspension worked. No matter how bad we intentionally messed it up, the suspensions plush yet progressive travel kept the landings smooth.
Back to the track.
Next we took our KFX to the great indoors at Earlywine's Indoor Motocross to put it through some moto punishment. While Robby and Nathan are both beginner level Motocross riders, Chris Earlywine, our Expert level MX tester was more then up to the challenge of seeing what the KFX had, on his tracks high banked peaked out course. One by one our test riders went out on the track and rode according to their ability level, here's how it turned out. Chris has extensive experience modifying these machines, and he was eager to see how changed the machine was for 05.
The motor was more then a match for most of Earlywine's obstacles. Chris jumped everything except a 65ft triple with an extremely short run. Like Nathan, Chris was surprised at how much more potent the machines power delivery became with the new updates. Although he felt the power was much faster then the 03/04, and much smoother then the 05 YFZ we tested there a few months ago, However, Chris was willing to jump the triple on the YFZ that he decided to forego on the KFX. Jumping everything else was a snap for Chris and he even made short work of the tracks 60ft tabletop.
The suspension department was a big surprise on the track. Hitting your marks, the suspension feels rock solid. All but the ugliest landings are absorbed without any hard bottoming. Robby dropped from 8ft in the air to a flat landing and was amazed at how well it was soaked up. Chris was doing every obstacle as though he was riding on aftermarket suspension. While we are in no way claiming that the stock shocks are as refined as aftermarket units, we are saying that you can definitely have fun with it at a motocross track. The only time we bottomed hard was when we had Nathan purposely come up short on a double just to see how it felt when the suspension went clunk, it wasn't fun, but it was a lot better then it would have been on a 400EX, and perhaps as good as the 450s. Action on both ends is good, but it's just a bit smoother up front. We would definitely call it balanced though, great shocks. Handling on the track is fun and predictable, although if you push it too hard you will be gently reminded that you are not on a 450 class machine. As we mentioned from our woods test, turning is quick and precise, however the machine is a bit tipsy when pushed too hard in the turns. We're not really complaining, in fact the KFX is so good, you sometimes think you are on a mild 450 rather then a super strong 400. As we mentioned earlier, the brakes are excellent and nothing different turned up on the track.
| | |
| --- | --- |
| | |
| Wide open spaces are traversed in surprisingly short time thanks to the quick revving double overhead cam water cooled four stroke engine. Your friends that own 400EXs will have to drop some serious dollars to outrun your stock KFX. | Ascending this meadow hillside, Robbie is grinning from ear to ear and why not? The KFX is one of the most fun to ride machines of all time. |
Snappy power and a wheelbase shorter than the 450s, makes lifting the front wheels of the KFX for obstacles as simple as hitting the gas.
The bottom line
While we feel we have never ridden the "perfect" machine, when it comes to finding a machine that will serve the majority of sport/trail riders the best, the Kawasaki KFX400 comes darn close. The power, suspension, and handling are very balanced.
There is no stand out weakness in the overall package that holds the machine back. While the machine is spot on for trail riding, it still has enough in the tank for some moto or dune excursions.
With the right mods you could win national championships and if you're looking for a machine you can take to the trails next weekend and race your buddies for bragging rights, the KFX may be as close to perfect as you can get in 2005.
Kawasaki KFX 400 Specs
Engine
Type:
4 stroke liquid cooled
Engine:
Liquid-cooled, four-stroke, single cylinder with DOHC and four-valves
Displacement:
398cc
Carb:
Mikuni BSR37
Starting System:
Electric
Transmission:
Five-speed-plus-reverse manual, multi-plate wet clutch
Drive Train:
 #520 O-ring
Lubrication:
Oil injection
Chassis
Dimensions:
Overall Length:
72.0 in
Overall Width:
45.9 in.
Suspension/Front:
Dual A-arms with coil-over-shock, adjustable preload/8.3 in.
Suspension/Rear:
Swingarm with preload-adjustable shock/9.1 in.
Brakes/Front:
Dual hydraulic disc
Brakes/ Rear:
Hydraulic disc
Tires:
Front: 22 x 7-10 radial
Rear: 20 x 10-9 radial
Frame:
High-tensile tubular steel alloy
Foot Pegst:
Serrated steel
Wheelbase:
49.0 in.
Ground Clearance:
10.4 in.
Fuel Capacity:
2.6 gal.
Dry Weight:
373 lbs.
Other
Lighting:
Dual 30W halogen
Colors:
Blazing Orange, Kawasaki Lime Green
Warranty:
1 Year Limited Factory Warranty
MSRP:
$5899.00
Tags:
Related posts:
2005 Kawasaki KFX400 Ride ReviewNathan Dalabar
Sours: https://atvscene.com/kawasakis-2005-kfx400/
FIRST RIDE ON A KFX 400
.
Similar news:
.
724
725
726
727
728